Actionable Items:
CEF Weekly Review: On average, the 13 closed-end fund (CEF) types registered a share price increase of 1.1% for the week ending 1/20/12. The high-low spread (average percentage price change difference between the highest and lowest fund types) registered this week was +2.8% versus +1.9% the previous week. On an aggregate unweighted basis, the weekly average price change for the 500 plus CEFs in the GrowthIncome database was up 0.9%.
The PowerShares CEF Income Composite (NYSEARCA:PCEF), an ETF that invests in taxable income CEFs, increased 1.9% for the week. PCEF is up 3.1% YTD. S&P 500 advanced 2.0% this week and up a robust 4.6% YTD.
CEF Weekly Fund Type Performance: All of the CEF fund types experienced weekly share price appreciation. In particular, all of the equity-oriented CEFs fund types posted share price appreciation greater than the average while fixed-income sectors register below.
WrldEqFnds was the fund type leader for the second week in a row advancing 2.9%. The gains were broad based with the Korea Fund (KF) leading the group. KF's share price appreciated 6.2% for the week. GenEqFnds poled second with an average 2.3% weekly price appreciation.
The stocks comprising the WrldEqFnds were last year's fund type losers on a price appreciation basis. Typically, there is a rotation from the bottom of the pack to closer to the top in the subsequent year. It's a fund type that deserves some investors' attention.
A couple of quick observations include that most of the fund types generated on average positive PrcNAVSprds. This may indicate investors were in a positive mood as the change in the underlying NAV lagged.
Secondly, HiYldBndFnds didn't get the typical "equity kick" they usually do in an ebullient equities environment. This may indicate an anticipation of rising rates—although the Fed has indicated that investors should anticipate a low interest rate environment and possibly another round of quantitative easing. However, the ProShares Short 20+ Year Treasury ETF (NYSEARCA:TBF) was up 3.3% for the week.
images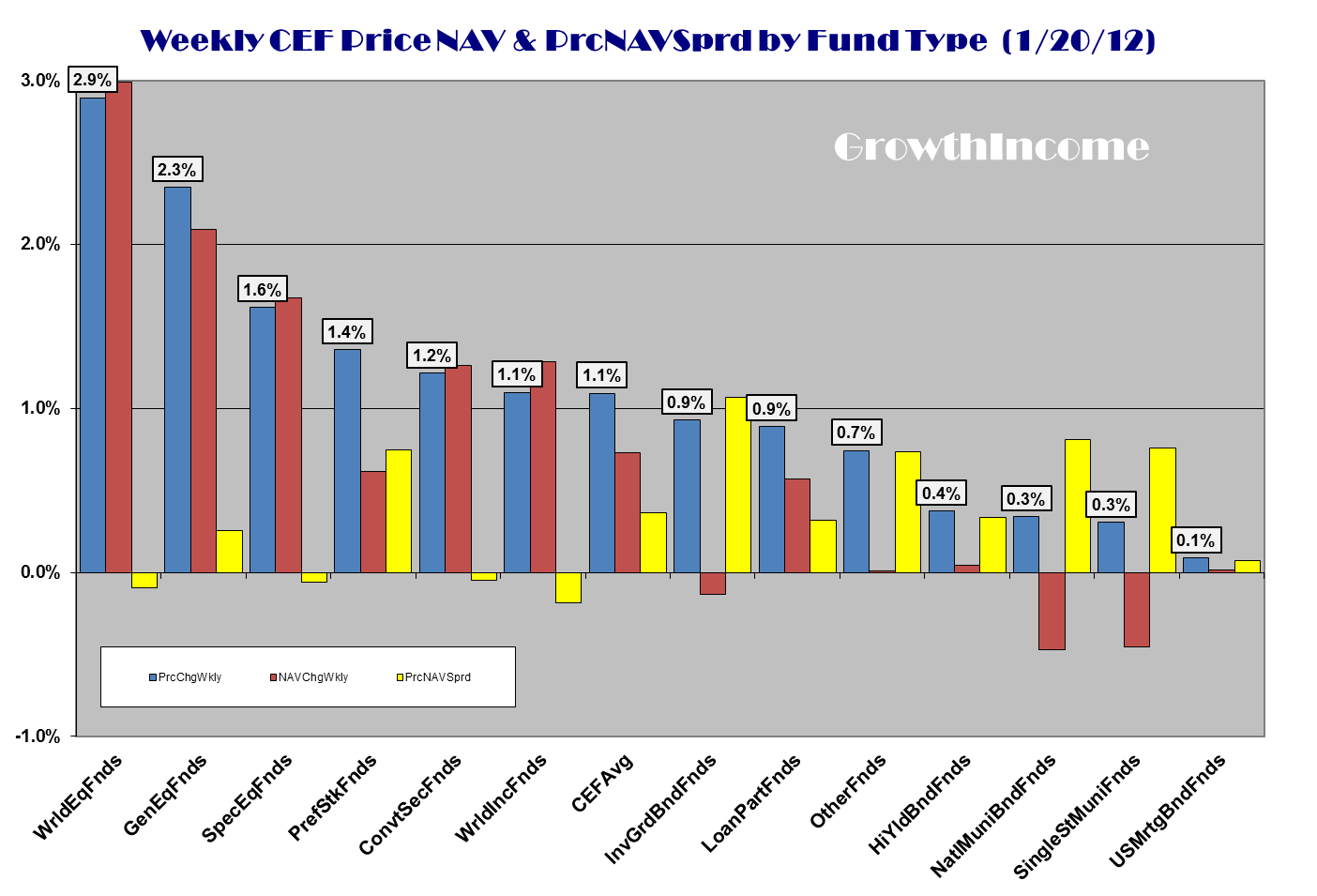 Weekly CEF Winners and Losers: One of the CEFs with the greatest positive PrcNAVSprd for the week was last week's CEF with the greatest negative PrcNAVSprd: Eagle Capital Growth Fund (GRF). GRF's price increased 13.9% while its NAV advanced a more modest 1.6%, generating a positive PrcNAVSprd* of 12.3%. Insiders continue to be accumulating shares (see commentary below, "Insider Trading").
One of the CEFs with the greatest negative PrcNAVSprd for the week was Pioneer High Income Trust (PHT). PHT's share price decreased 4.7% while its NAV advanced 0.9% generating a negative PrcNAVSprd of 5.6%.
PHT's shares saw extremely heavy trading volume during the week. PHT's average 3 month daily volume is around 100,000 shares. Last week the average daily trading volume was closer to 375,000 shares. On Monday, 544,400 shares were traded in PHT and 632,700 shares were traded on Tuesday knocking the stock down 6.6%.
So, almost 1.5 million shares were traded in PHT last week. A quick scan of the institutional holders shows that the largest holder is Cohen & Steers Capital Management, Inc. holding about 304,000 shares as of the end of the 3rd quarter 2011. Based on 12/30/11 13-G filings, Morgan Stanley held 23.8% of PHT and UBS owned 12.6%. Year-end 2011 13-G's will likely be filed later this month.
PHT trades at a 30.8% premium to its NAV and generates an annualized monthly distribution of 9.7%. It has approximately $500 million in total net assets and is leveraged with $151 million in ARPS. The distribution yield for its peer group is 7.9% and its premium is 3.7%.
Economic & Earnings Outlook: (Click here for next week's economic calendar; click here for earnings' announcements and estimates.)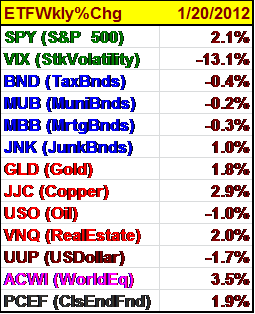 ETFs: For a more detailed EFT performance by sectors, click here; see "Research" Menu; "ETF Weekly Information" tab.)
Insider Trading: (Click here for a hyperlink to the Joe Eqcome's CEF Weekly Insider Report—see "Research" Menu; "CEF Weekly Information" tab.)
CEF Distribution Announcements This Week:. (Click here for Joe Eqcome's Weekly CEF Distribution Announcements—see "Research" Menu; "CEF Weekly Information" tab.)
CEF Focus Stock(s) for the Week: Our focus stock for the week is Sprott Physical Silver Trust (PSLV). PSLV is a newly created CEF in October of last year. Its objective is to own physical silver. PSLV is unique because large shareholders are able to redeem shares on a monthly basis in exchange for silver bullion. The CEF's silver is stored by the Royal Canadian Mint. Originally offered at $10 per unit, the shares have been as high as $22 in April of last year.
On Thursday of last week, PSLV sold an additional 23,000,000 transferable, redeemable units of the Trust in a follow-on offering, at $13.20 per share with an overallotment option of 3,450,000 units.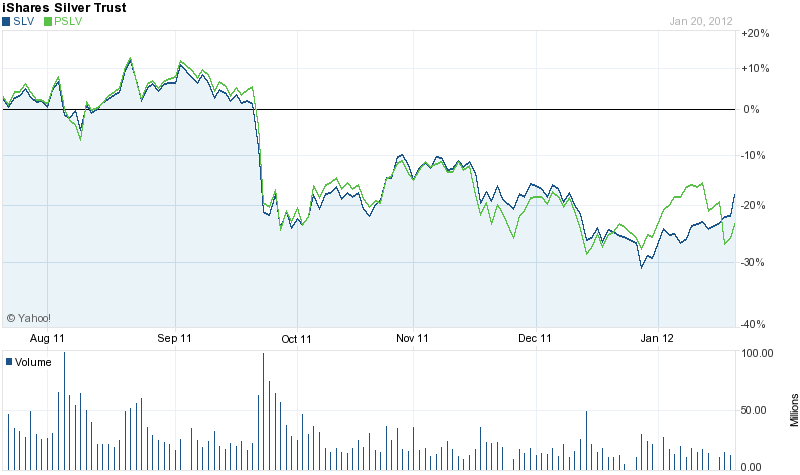 The stock sold-off 9.4% the day of the offering. The stock is currently selling at a premium to its NAV at 14.4% which is below its 52 weekly average of 18.2%.
The adjacent chart tracks the share price of PSLV (in "green") with that of the Silver ETF iShares Silver Trust (NYSEARCA:SLV). The chart shows the impact of the offering and the divergence of the two investments.
While PSLV was down 2.5% for the week, SLV was up 8.3% for the same period. If PSLV goes back to "tracking" SLV, then it's likely we may see some interim price appreciation in the shares.
The three major ETFs that track silver (SLV, DBS, SIVR) appear to have climbed above the 50-day moving average which is a constructive indicator for the upside. Ultimately, the price of these investments that hold silver will depend on the expansion of global economies as silver is an industrial metal used in the manufacturing process as well as for jewelry and a storehouse of value opposite fiat currencies.
Last Week's Focus Stock(s): Our focus stock both for the last two weeks was Nuveen Global Value Opportunity Fund (JGV). The stock closed the week up 0.5% with a weekly interim high of 1.4% mid-week.
---
[*] All things being equal, price and NAV should move in tandem. A price movement greater than the NAV generates a positive PrcNAVSprd and may be interpreted as negative on a near-term basis and indicate that the stock is overvalued relative to its NAV which in theory is the stock's intrinsic value. The opposite would be true for a negative PrcNAVSprd.
Disclosure: I am long PCEF, PSLV, SPY. I own a diversified portfolio of CEFs and ETFs and am long stocks in the CEFBig10™ and CEFMuni10™.) The first is a balanced equity-income portfolio (CEFBig10™) and the second a tax-exempt income portfolio (CEFMuni10™).