Netflix (NASDAQ:NFLX) is scheduled to report earnings on January 25 after the market closes. Last quarter, Netflix saw a major price move after reporting and while I am expecting a big enough price move to profit off this trade, I do not see the same scenario unfolding.
Netflix provides subscription based internet services for TV shows and movies in the United States and internationally. The company allows its subscribers to watch unlimited TV shows and movies streamed over the internet to their televisions, computers, and mobile devices.
Netflix is currently trading at $100.24/share. The 52-week range is $74.25 - $304.79.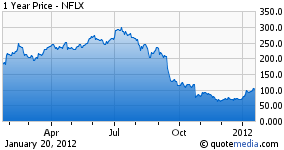 | | |
| --- | --- |
| 52wk high: | 304.79 |
| 52wk low: | 62.37 |
| EPS: | 4.40 |
| PE: | 22.80 |
| Div Rate: | N/A |
| Yield: | N/A |
| Market Cap: | 5.26 B |
| Volume: | 7.7 M |
Before reporting last quarter Netflix closed at $118.84, so the price-per-share was significantly more than where the stock is trading at now. The stock has been moving up a lot recently from its lows. These are factors that do play a role in how I am going to trade this earnings release.
Overall, I am more bearish than bullish with Netflix. I looked into the 'reverse iron condor' spread as a possible play here, using weekly options. There is a major problem with this trade, however. Almost all my trades using the 'reverse iron condor' require much less than a 10% move to the upside to profit, but this is exactly what needs to happen after Netflix reports earnings, with only three full trading days left in the week. This is too risky.
Instead, I am going to purchase what is known as a 'strip' options strategy, which is a bearish version of the 'straddle' strategy.
Here is how the 'strip' strategy is accurately placed. (Note: I am using only the minimal amount of contracts for explanation purposes):
Strip construction:
Buy 1 at-the-money call option
Buy 2 at-the-money put options
A large profit is realized when the stock price makes a significant price move favoring a bearish position.
At its current price, I will be purchasing the following contracts with a February 2012 expiration, which will give plenty of time necessary to profit.
Buy (5) NFLX February 2012 $100.00 call options.
Buy (10) NFLX February 2012 $100.00 put options.
Based on Netflix's wide 52-week price range and its current volatility, I see this trade as very solid. In fact, Netflix may trade down ahead of its earnings release. This may provide the opportunity to exit the trade early.
If you have any questions, please leave a comment or e-mail me.
Disclosure: I have no positions in any stocks mentioned, but may initiate a long position in NFLX over the next 72 hours. I will be entering this trade early next week.