I sat down with a client this week. We talked at length about risk and about taking on an income investing strategy with the markets in the current, extended condition. I think that price risk is very real right now, it's always real, and it's hard to know what to do if price is an outsized part of the decision process. If an investor can wait before adding an income strategy, then some waiting seems best right now.
SA writer Eric Parnell recently wrote that "Cash is King." I understand the position, and I thought it was a well-written article. However, I like thinking in terms of new cash, for me new cash is the successor King. The origin of that new cash is important and must keep on giving me new cash for me to spend or invest, and then it needs to keep giving me larger amounts of new cash. Waiting to start that process costs real money.
I would never argue against holding a portion of one's wealth in cash, that's an important thing that needs to happen. We are not going to talk about that here.
What I want to look at is investing for dividend growth with the broad market that is historically extended.
The long-term S&P 500 price-to-earnings ratio average is about 15.5. Today, the S&P P/E ratio is about 20.8 (shown below by the straight red line). In a historical sense, the markets are extended. You will see that this level of valuation in the broad market signals some risk. Are the same drivers in place today that created the historical pullbacks, or does the economy have the muscle to move forward?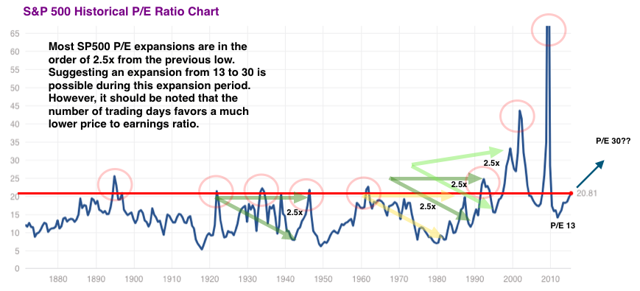 The business cycles in the past have often created an upward move in the S&P 500 P/E ratio of 2.5x the previous low P/E, shown by the green and yellow arrows. The market always attempts to price in the future earnings growth, and that predictive stance expands the willingness to overpay for current earnings. Disappointments in those earnings are met with a correction.
Let's take a look at a few measures of the broad economy in the time frame that captures the market correction in 2008/9.
Home Prices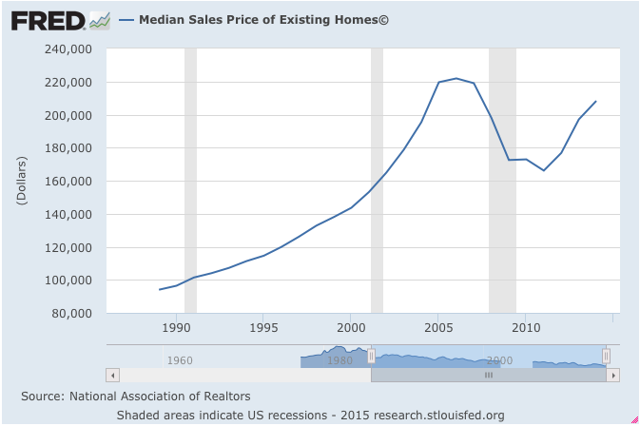 This does not resemble the acceleration into the price top in 2005/6. Mortgage-backed securities were a type of "iceberg for the Titanic" in the last market swoon, topping in the housing market, and the subsequent home price decline exposed a great weakness in the credit markets.
Family Mean Income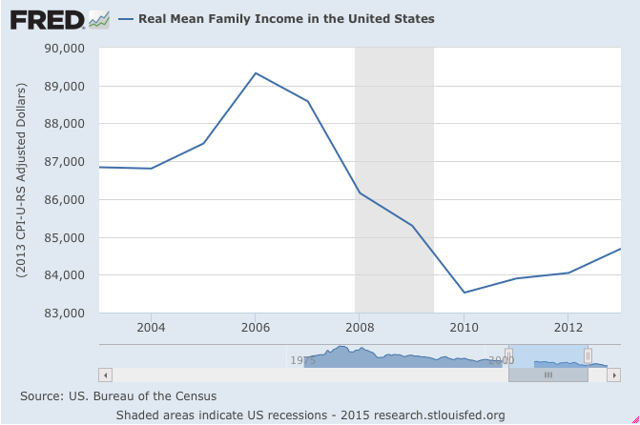 Income is on the rise. Small increases in disposable income have strong effects on profits reported. The strong dollar has basically flat-lined inflation as import prices have stayed flat to lower.
Energy And Oil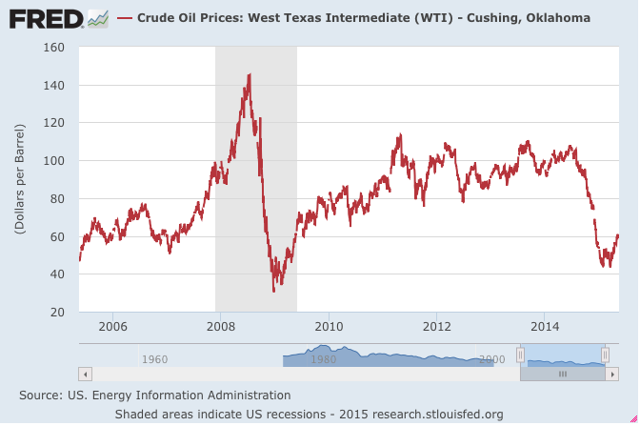 Oil and energy costs are very low right now; that was much different the last time the markets were extended in 2007/8. Oil is a major input cost of many businesses, so as lower oil prices work through the supply chain, profits will rise (think United Parcel Service (NYSE:UPS)).
Interest Rates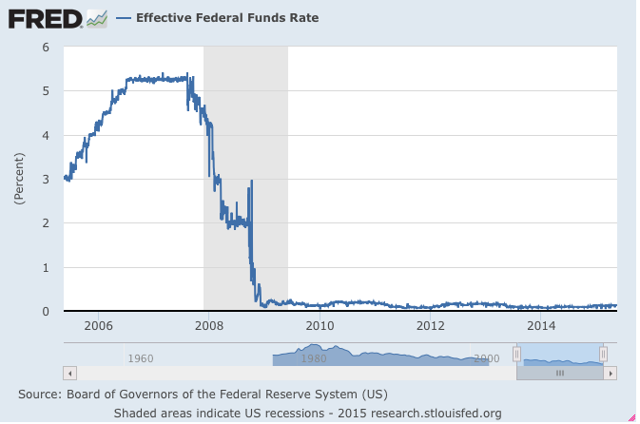 In 2007, the Fed was finishing a rate cycle. Today, it appears we are starting a rate increase cycle. An organic need for higher rates is a part of economic expansion. It is difficult to predict the effects of this cycle starting at a long-term Zero. The importance of the yield from sectors like utilities and REITs could decline if risk-free assets become more competitive.
Leading Economic Indicators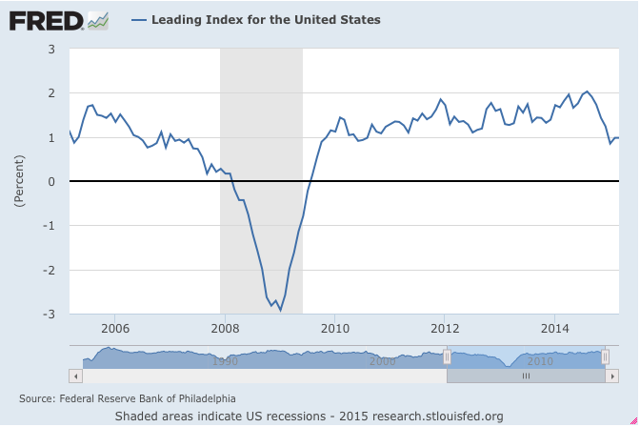 Now the Leading Economic Indicators are more interesting; in the past, recessions have been signaled by a sustained downtrend, and the level today is not a negative. Keeping an eye on the LEIs is a good idea at this point.
Bubbles?
Does a certain market sector have some insanity going on? In 2000, it was a tech bubble and in 2007, the debt and finance markets had truly lost their way. Do we have a bubble about to blow up?
Margin and leverage are high, so it's not all clear sailing, but is it ever all clear? Looking at the macro situation, we look much more like the economy that launched the much higher P/E ratios in the S&P 500 in 1999 and 2006 than the 'verge of the cliff' we had near the great recession. In retrospect, peaks are easy to see, but the last decade has a liquidity drive that can and will continue as monetary policy continues to be used as stimulus. Note the rapid change in P/E ratio over the last 15 years from the first chart, wow. I would think monetary policy will push the nominal macro numbers higher than the past peaks before an important top is reached.
Does all that mean anything? No, not really. The market could go down or it might go higher. The odds are for a correction at this point, but its magnitude should be nothing like we had in 2008/9 (but it's great to plan for that anyway).
What it does mean is that Dividend Growth Investors need to keep the focus on the long-term goal of a dependable income growing faster than inflation. Younger investors need to overweight in growth.
The counterpoint to elevated price risk is income safety. With an income goal, DG Investors are succeeding as the market moves mostly sideways (like this year) and if properly structured with quality stocks these investors have a great chance of meeting these goals in a market correction.
Look at the charts from two of my largest DG holdings, 3M (NYSE:MMM) and General Mills (NYSE:GIS). I love FAST Graphs.
3M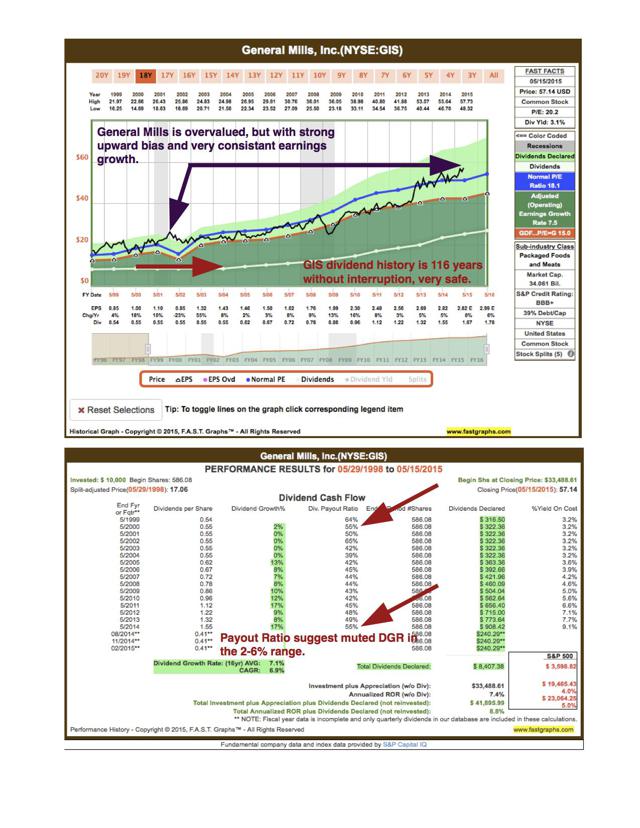 Price is at elevated risk, however, the dividends here look rather safe. Look at the light colored line with the red pointers on both charts, that's the dividend line on FAST Graphs. This increasing dividend line is where I plan to succeed. The details of price are a matter of time in the market. Every single investor has a different time frame/idea/need/feeling. Wisdom is best found in the specifics of each situation. For some investors, it's time for cash secured put options, for others it's time to wait, and for even others, selective purchasing is prudent. I tend to average into positions in small steps.
One of the most important details in an extended market is that an investor assuming price risk as part of a Dividend Growth Strategy must have sufficient capital to allow a safe dividend that is high enough to avoid selling shares. Always remember that nobody cares more about your money than you do. Do your own due diligence and get started.
Disclosure: The author is long MMM, GIS.
The author wrote this article themselves, and it expresses their own opinions. The author is not receiving compensation for it (other than from Seeking Alpha). The author has no business relationship with any company whose stock is mentioned in this article.