The past year has been very difficult for Abraxas Petroleum (NASDAQ:AXAS), with the stock losing over 40% of its market cap due to the decline in prices of crude oil and natural gas. The weakness in oil pricing clearly reflects in Abraxas' Q1 results, as its revenue declined 27% from last year to $18.7 million, while losses adjusted for non cash items came in at $0.01 per share as compared to a profit of $0.07 last year.
The reason behind Abraxas' weak performance is clearly seen in the following table:

Thus, despite reporting an increase of almost 60% in production year-over-year, Abraxas' financials took a solid hit due to the massive decline in energy prices as shown above. Moreover, despite lowering its lease operating expenses to $10.61 per barrel of oil equivalent from $15.23 last year, its bottom line slipped into the red.
Improving oil demand in key markets will ease the oversupply
Hence, in order to improve its financial performance, Abraxas needs oil prices to improve, without which its production gains and cost savings won't be of any use. The good news is that crude oil prices have recovered sharply this year, and recent market indicators suggest that the trend will continue. More importantly, crude oil demand is rising despite the recent surge in prices. According to a CNBC report:
"Global oil demand continues to surprise to the upside, with April data showing no signs of slowdown despite a pick-up in prices," Energy Aspects said."
The pick-up in oil demand is being driven by rising imports in China and Japan. In fact, China imported a record 7.4 million barrels of oil per day in April even though the country's GDP growth is slowing down. This was a result of an improvement in car sales. Looking ahead, this trend is slated to continue as Chinese imports are expected to clock a run rate of 7.5 million barrels of oil a day, driven by the build-up of the country's strategic petroleum reserves.
Moreover, Chinese crude oil imports are expected to remain strong in the long run as consumption in the country is way higher than production as shown in the following chart: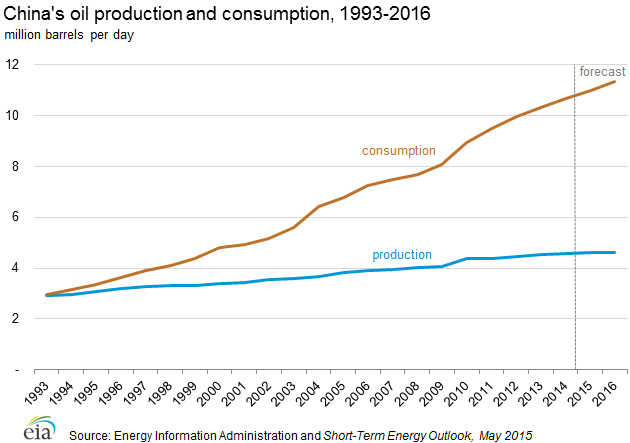 As evident in the chart, there is a growing gap between oil consumption and production in China. Now, China accounts for 43% of global oil consumption growth, so an increase in the country's oil imports will ease the oversupply situation in the oil market. Demand for oil in China will grow due to higher car sales and strategic petroleum reserves, and in order to satisfy this demand, the country will need to continue importing more oil.
Along with China, demand for crude oil in the U.S. is also rising due to the advent of the driving season, which will lead to record gasoline consumption this year as shown below: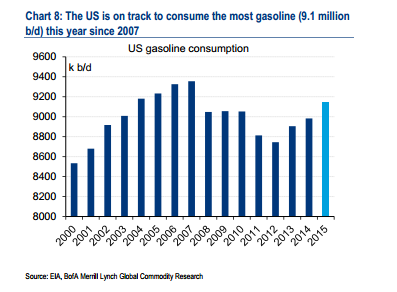 Political tensions in Libya will lead to a drop in crude supply and support the price recovery
Thus, crude oil demand is improving, and this will have a positive impact on pricing. Additionally, there are political tensions in Libya, which will hurt oil exports from the North African country due to the civil war. As reported by Gulf News Energy:
"Libya is unlikely to increase its oil production in the near future and that could create an impact on global oil prices, energy experts said. "They are currently producing about 600,000 barrels per day and are exporting in the range of 400,000 to 500,000 barrels per day but the exports are coming from storage and not from the current production. The current production is disrupted on a daily basis," Porter said."
Disruption in oil production in Libya will hamper the country's exports, and this will ease the oversupply situation in the oil market further, thereby supporting the oil price recovery and a rebound at Abraxas. Considering these end-market developments, it is not surprising to see that oil prices are expected to get better as shown below: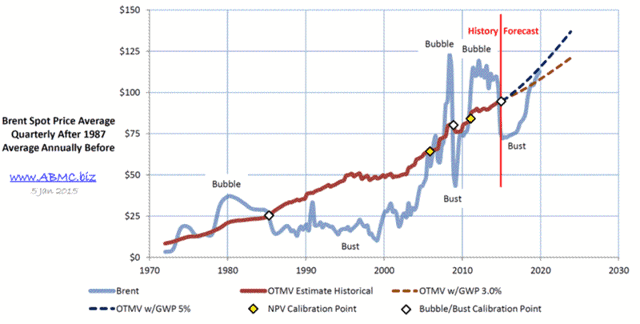 Now, Abraxas' performance in the previous quarter suffered because of a massive decline in energy prices as shown earlier in the article. Looking ahead, as oil prices are expected to get better due to improving demand-supply conditions in the end-market, Abraxas should be able to improve its financial performance.
More importantly, Abraxas has reduced its cost profile, which will allow it to strengthen its margins as oil prices recover. For instance, Abraxas' costs have declined over 35% since late last year. As a result, the company has now decided to complete the 9 incomplete wells spread across the Bakken, Permian, and the Eagle Ford.
Conclusion
There's no denying the fact that Abraxas Petroleum has lost a lot of value in the past year, but this looks like an opportunity. The company's results have been under pressure due to weak energy prices, but the recent recovery in crude oil indicates that Abraxas is capable of executing a turnaround. Moreover, the company's costs have come down rapidly, and this will allow it to strengthen its margin performance. Thus, despite recent weakness, Abraxas Petroleum looks well-positioned for the long run.
Disclosure: The author has no positions in any stocks mentioned, and no plans to initiate any positions within the next 72 hours.
The author wrote this article themselves, and it expresses their own opinions. The author is not receiving compensation for it (other than from Seeking Alpha). The author has no business relationship with any company whose stock is mentioned in this article.