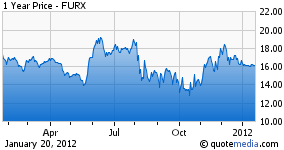 Furiex Pharmaceuticals (NASDAQ:FURX) is a small drug-development company with a market cap of $160 million. This stock has quite a few developments occurring throughout the next few years, especially in 2012.
Currently, Furiex has four separate treatments past their Phase III trials looking for FDA approval. The most developed, thus far, is Priligy. Priligy is an erectile dysfunction-treating oral tablet marketed by Janssen-Cilag. Furiex is already beginning to generate some revenue from royalty payments. In their 3rd quarter report, the company noted that royalty revenues increased to $1.3 million from a measly $400,000 in Q2 2011. Due to the drug's struggle to get approved in the United States, Furiex has given the commitment to another company (Janssen) which has taken the full financial responsibility of conducting additional Phase III trials. On the bright side, Furiex will still receive milestone payments.
The other three treatments in development are showing much more promise, and revolve around a single compound. Nesina (Alogliptin) is a compound that has been shown to improve pancreatic beta-cell function, which is particularly useful for patients with type-2 diabetes. This individual compound has already been approved in Japan, and is being marketed by Takeda Pharmaceuticals. Furiex is entitled to milestone and royalty payments from this drug alone, which will grow quickly if the drug reaches larger diabetes markets. After receiving a response letter, Takeda resubmitted the NDA for Nesina. Under the PDUFA, the FDA is obligated to have a response on April 25, 2012.
Takeda, in concert with Furiex, is marketing Alogliptin in two other forms where it is combined with a preexisting drug. One is Alogliptin/Actos, which is already approved in Japan and has been submitted alongside pure Alogliptin to the FDA for treatment of type-2 diabetes. Hence, the PDUFA date for this drug is also April 25, 2012. Alogliptin/Metformin is another combination that has been tested. The NDA was submitted as of November 23rd 2011, but since it is a new submission we will not see the response letter until the third quarter of 2012 at the earliest. Due to the importance of Alogliptin to Furiex, the FDA decision for Alogliptin and the mixed Alogliptin/Actos drug on April 25th should be a significant factor in the stock's price.
Disclosure: I have no positions in any stocks mentioned, and no plans to initiate any positions within the next 72 hours.