There is no doubt that the last six years have been great ones, at least for the Retirement Portfolio For Do It Yourselfers. After that success, I have to believe that the next six years are going to be just as good, if not better.
You might be asking yourself, "Why does he think that?" Well, like I've said before, I don't have a crystal ball and I'm not a psychic. What I am is a Dividend Growth Investor.
That means I invest in companies that pay dividends. Companies that have raised those dividends every year for a long periods of time. And companies that have the earnings power to sustain those dividends moving forward.
Now before anyone gets all pushed out of joint, I will be the first to acknowledge that there have been many dividend paying stocks in the past that stopped paying dividends. I've read criticisms of Dividend Growth Investing with people saying things like, "How do you like Bank of America's (NYSE:BAC) dividend today?" Some will argue that picking stocks is a tricky business and picking dividend stocks is even trickier. They will argue that your portfolio is "cherry picked" or that you must be some kind of a "genius" to have picked the stocks that you put into your portfolio.
In reality, even Dividend Growth Investors make mistakes. Sometimes we purchase a stock that has gotten overvalued - but we love its dividend. Sometimes we buy a stock that goes down in price and loses value [ Frontier Communications (NYSE:FTR), CenturyLink (NYSE:CTL), and AFLAC (NYSE:AFL)]. Most of the time, we have "winners" and we have "losers" in our portfolios - very much like the growth investor. The only difference is that income and growth over time are more important to us than just pure capital appreciation.
It has been my experience, however, to come to see that a company that has been increasing dividends for a number of years has as part of its corporate culture a dividend paying mentality. Do things change? Sure they do. When the company stops paying/raising the dividend, it no longer is as attractive to me and normally, it gets sold very soon after that event. But there are companies out there that are committed as part of their corporate culture to continue to pay shareholders a dividend.
The Retirement Portfolio For Do It Yourselfers
Six years ago, my kids and I put together a portfolio of dividend paying stocks. We believe that this portfolio is good for older people like me and younger people like them. The portfolio got its name from the notion that my kids are "do it yourselfers" and this is the portfolio that they will use to provide income in their retirement years.
Let's take a look at how the portfolio finished the year. To refresh your memory, the portfolio began with a $10,000 investment in 10 different dividend growth stocks.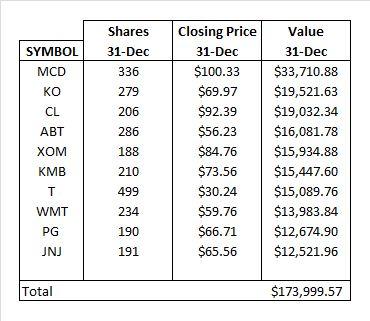 As you can see, the portfolio did very nicely over the last 6 years, with dividends being reinvested. The table above shows each of the original components of the portfolio and how they ended the year. The big gainer was McDonalds MCD. The original 100k portfolio grew to 174k in 6 years!
Changes In The Portfolio
The plan has always been to expand the portfolio beyond 10 core holdings. In order to do that, without adding additional capital, it was decided that we would trim our positions, in order to raise enough money to purchase five new holdings. So, right after the New Year, we put together sell orders and this is what we did.
On January 3rd, I placed sell orders for McDonald's (NYSE:MCD), Coca-Cola (NYSE:KO), Colgate-Palmolive (NYSE:CL), Abbott Labs (NYSE:ABT) , Exxon Mobil (NYSE:XOM), Kimberly-Clark (NYSE:KMB), AT&T (NYSE:T), Wal-Mart (NYSE:WMT), Procter & Gamble (NYSE:PG), and Johnson & Johnson (NYSE:JNJ). Here are the results of those sales and the money generated: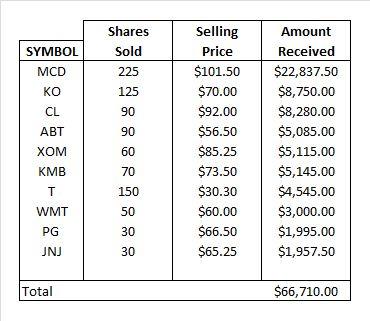 By pruning the portfolio, we were able to capture $66,710 dollars to reinvest in new positions.
Last year, we told you that we had identified five stocks that we wanted to add to the portfolio. We were going to add 4 Dividend Champions and 1 Dividend Contender to our mix.
On January 4, we initiated purchase orders for Intel (NASDAQ:INTC), Harris Corp (NYSE:HRS), Emerson Electric (NYSE:EMR), Illinois Tool Works (NYSE:ITW), and AFLAC (AFL). Here is a recap of those transactions.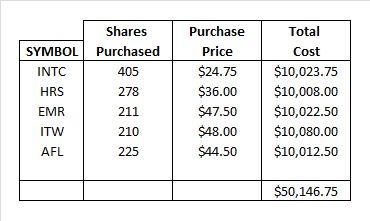 How The Portfolio Looks Now

For simplicity, I have listed the new portfolio with the additions at the top of the table. These are in bold print and are above the line. The performance of these stocks from the time of purchase, through the close of the market is listed for your review.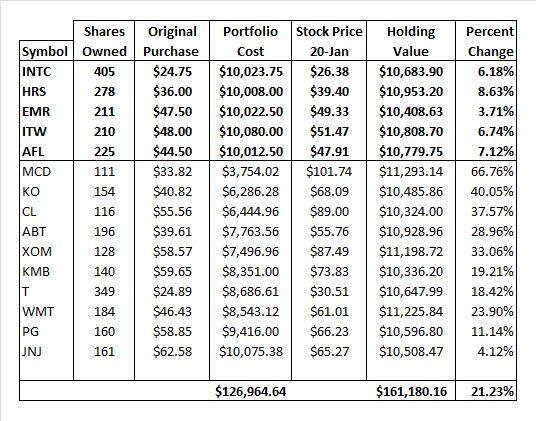 The portfolio currently has a value of $161,180 in the equities held. The changes in the portfolio left us with $16,564 in cash. As a result, as of the close of the market on January 20, the total portfolio was worth $177,334, mostly due to the market advance through the month of January.
The cash amount will be used as opportunities present themselves during the year ahead. We may add to existing positions, but my inclination is to look for opportunities in another stock choice or two.
Conclusion
The goal here was to show the transactions that we have completed, with our sales and purchases. In coming articles, updating the portfolio activities, we will discuss any trades, dividend payments and the current status of the portfolio.
If you were to take the closing price of the original companies, for January 4, the year-to-date performance of the portfolio would be 2.4% positive.
That would translate into $3,603 without any dividends applied. The big winners (capital gain) have been in the new stock additions while the original companies have not done as well.
But, then again, dividend growth investing is about dividends and their growth first, capital gains maybe, second.
It is our intention to make sure that we do a quarterly update and we will keep you informed as to how things are going with the portfolio moving forward.
Disclosure: I am long ABT, KO, JNJ, PG, KMB, WMT, T, MCD, CL, XOM, AFL, HRS, ITW, EMR, INTC.