Ocean Power Technologies (NASDAQ:OPTT) was formed by Dr. George W. Taylor and the late Dr. Joseph R. Burns in pursuit of their vision of harnessing the boundless energy of the world's oceans. Starting in 1994 the company has focused on its proprietary PowerBuoy® technology, capturing wave energy using large floating buoys anchored to the sea bed and converting the energy into electricity using innovative power take-off systems.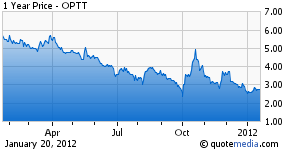 Tested at Sea
Commencing in 1997, ocean trials have been conducted off the coast of New Jersey to demonstrate the concept of using a floating buoy to capture wave energy and convert it into electricity. The technology is on a growth curve towards full-scale commercial application, recent examples of which are the 40 kW-rated PowerBuoys installed in Hawaii and New Jersey.
Ready for Market
The company has begun the initial phase of installation of a 1.39 MW wave farm off the northern coast of Spain. The project is a joint venture with the Spanish utility Iberdrola SA. A full size demonstration plant of up to 5MW capacity is planned for installation in UK waters.
Two Different Products
The company currently offers two products as part of their line of PowerBuoy systems. A utility PowerBuoy system and an autonomous PowerBuoy system. The utility PowerBuoy system is capable of supplying electricity to a local or regional electric power grid. And the autonomous PowerBuoy system is designed to generate power for use independent of the power grid in remote locations. The company believes there are a variety of potential applications for this system, including homeland security, off-shore oil and gas platforms, aquaculture and ocean-based communication and data gathering, such as for tsunami warnings.
Industry Trends
Global demand for electric power is expected to increase from 18.8 trillion kilowatt hours in 2007 to 35.2 trillion kilowatt hours by 2035, according to the Energy Information Administration's Annual Energy Outlook 2010 (AEO 2010). To meet this demand, the International Energy Agency, or the IEA, estimates that investments in new generating capacity will be $6.8 trillion in the period from 2007 to 2030, of which new renewable energy generation equipment is expected to account for approximately half of the total projected investment in electricity generation.
The company views the total worldwide market size for ocean power as of $50 billion.
Why Ocean Energy?
Due to the tremendous energy in ocean waves, wave power stations with high capacity of 50 megawatts (MW) and above can be installed in a relatively small area. The company estimates that, upon completion of the development
of their 500kW PowerBuoy system, they would be able to construct a wave power station that would occupy less of the ocean surface than an offshore wind power station of equivalent capacity.
Financials
The company reported revenues of $3.4 million for the six months ended October 31, 2011. The company's contract backlog as of October 31st 2011 was $8.8 million.
On October 31, 2011, the company had total cash of $39.9 million. The company has incurred net losses since they began operations in 1994, including net losses attributable to Ocean Power Technologies, Inc. of $20.4 million in fiscal 2011, $19.2 million in fiscal 2010, and $18.3 million in fiscal 2009. As of April 30, 2011, the company had an accumulated deficit of $110.8 million.
Conclusion
I recommend buying this stock under its cash position of $3.39 per share as a speculative buy. It is still uncertain when the company will turn profitable.
Disclosure: I have no positions in any stocks mentioned, but may initiate a long position in OPTT over the next 72 hours.