HKN, Inc. (HKN) is an independent energy company engaged in the active management of energy-based investments.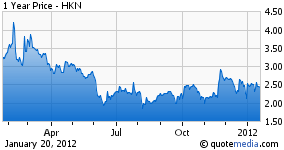 Investments
HKN's two largest current investments are its investments into BriteWater International and Global Energy Development (OTC:GBEYF).
Investment in BriteWater International, LLC
BriteWater International is a wholly-owned subsidiary of HKN. BriteWater is pursuing opportunities to commercialize their patented OHSOL emulsion-breaking technology and have began the planning and design of two plants which will utilize this technology. These plants will allow the recovery and sale of oil volumes from refinery and oilfield emulsion waste materials which are lost through current waste disposal methodologies in the industry. I am estimating the current value of this investment to be between $5-$10 million based on the purchasing prices of this investment by HKN.
Investment in Global Energy Development, PLC
Global Energy Development PLC is a petroleum exploration and production company focused on Latin America.
As of September 30, 2011, HKN owned 12,127,768 / 35,766,774 or 34% of Global's ordinary shares. Market value of HKN's investment in Global as of January 20, 2012, is 12,127,768 x £1.00 x 1.55 = $18.85 million.
Investment Into Main Pass 35
On November 17, 2011, HKN through its wholly owned subsidiary, Xplor Energy SPV-1, Inc. completed the sale of its Main Pass 35 assets in offshore Louisiana to Texas Petroleum Investment Company for $19.75 million in cash, prior to certain purchase adjustments. The Main Pass assets are located six miles offshore Louisiana in the Gulf of Mexico and consist of 65 wellbores and a ten-platform facility. The sale carries an effective date of October 1, 2011.
HKN has also entered into an agreement in principle for the sale of its remaining Gulf Coast oil and gas properties. The divestiture, if completed, will carry an effective date of September 1, 2011. Following the completion of the divestitures of these Gulf Coast assets, HKN will hold no further interests in any producing oil and gas properties.
Total Assets
The company's cash balance at September 30, 2011, was $25.8 million. HKN's cash position has since increased by $19.75 million as the company sold its Main Pass 35 investment on October 1, 2011. Based on the 3rd quarter 2011 financials, HKN had total assets of $73,734,000 and 18,726,901 shares outstanding. That equals to $73,734,000 / 18,726,901 or $3.94 per share.
Conclusion
I recommend buying HKN below its assets of $3.94 per share. I think that the main driver for HKN's share price in the future will be how their largest current public investment in Global Energy Development trades going forward.
Disclosure: I have no positions in any stocks mentioned, but may initiate a long position in HKN over the next 72 hours.