Introduction
Originally, Green Technology Solutions (OTC:GTSO) started out exploring oil and gas fields in Ukraine. In June 2010, however, the majority of the shares were bought by a company from Panama. From then on, GTSO's business model changed drastically: the company tried to develop environment-friendly mining technologies and paint products for a while. After some time, and without ever having generated any revenue, Green Technology then switched business models again. It now claims to be a health and wellness company, specifically with regards to enabling growers of medical cannabis.
Since the change of power in 2010, Green Technology has, in my opinion, never been about helping the environment or medical cannabis; it has been about the largely unidentified creditors of the company making money at the expense of the company's shareholders over and over again in every possible way. I believe regulators should have shut down trading in GTSO years ago.
Equity
The real story behind Green Technology, which operates from a virtual office in San Jose, California, can be found in its equity structure and its balance sheets, not in its business model. Per its latest SEC filing, the company is generating no revenues, has only $ 1,352 in cash as of March 31, 2015, and has no employees except for its CEO.
The company has little over 4.9 million shares outstanding, which, at the current stock price of $0.36 per share, gives it a market cap of approximately $1.75 million. That sounds generous for a company that seems incapable of generating any revenue, but for OTC standards, it's not that bad. Let's face it; there are several OTC-listed companies out there without any viable business idea whatsoever currently worth well over $10 million.
Three reverse splits in five years
The share count of Green Technology wasn't always that low. The company has executed three (!) reverse stock splits since 2010. For those of you that are new to this concept: a reverse stock split is, in fact, the complete opposite of a forward stock split. The company reduces its number of shares by giving its shareholders one "new" share in exchange for a larger number of "old" shares. For example, in a one-for-10 reverse split, 10 "old" shares are exchanged for one "new" share. This transaction in itself does not change the value of the company, but it does have an effect on the stock price (times ten) and on the total number of outstanding shares (divided by ten). In the above example, a share price of $1.00 pre-split equals a share price of $10.00 post-split.
I don't have to explain the theory behind a reverse split to Green Technology management; they know all about it, having gone through three of them in five years. In November 2010, January 2012 and September 2014, the company did a one-for-200 reverse split, a one-for-300 reverse split and another one-for-300 reverse split, respectively.
To illustrate the devastating effect of these reverse splits: a shareholder who held 20 million shares of GTSO as of November 1, 2010 would, as of today, own only one whole share.
So it's obvious that shareholders in Green Technology have been having an awful time these last five years. But then again, reverse splits are quite common in OTC-land. What makes this story so remarkable is how well the company's creditors have done over the years, while shareholders have been completely wiped out.
Toxic convertible notes
Green Technology has never had any serious cash on hand, as it never had any cash-generating activities in the first place. To pay the bills and to do an acquisition every now and then (more about that later), the company issues convertibles notes to both related parties, as well as to supposedly unrelated (and unidentified) third-parties. These notes bear 10% interest per year, and are convertible at the request of the lender. Interest is routinely added to the principal sum. Over the period 2010-2014, Green Technology has issued many of these convertible notes with a conversion price of $0.01-0.02 per share, at a hefty discount to the share price in the open market.

Source: SEC filing 10-Q
These notes with a very low conversion price are a warning sign to shareholders in itself, as when converted, they can easily be dumped in the open market and depress the stock price.
Unfortunately, however, that's not all. Green Technology has disclosed the exact terms and conditions of its first convertible note in 2010 in an SEC filing. It's very important to note the following clause:

Source: SEC filing 8-K
While it hasn't made any disclosure for convertible notes that were issued after that date, the balance sheet of the company in later years clearly shows those later notes also contain the same clause.
Normally, a reverse stock split calls for a proportional adjustment of the conversion price of the outstanding convertible notes (see a recent example of this). However, the clause listed for the GTSO convertible notes explicitly forbids such an adjustment. To fully appreciate the enormous benefits of such a clause to note holders, let's take a look at what happened with the GTSO stock price around its latest reverse split.
Shareholders get cleaned out, while creditors get rich
The latest reverse split was declared effective on 2nd September, 2014. On 29th August, "pre-split" GTSO closed at $0.01 per share. On 3rd September "post-split" GTSO closed at $4.80 per share because of the massively reduced number of outstanding shares.
What does this mean to holders of convertible notes? On 29th August, holders of GTSO convertible notes held notes with a conversion price roughly equal to the current share price. On 3rd September, holders of GTSO convertible notes suddenly held notes with a conversion price which was 99.8% below the current share price. A transaction that in itself is value-neutral created enormous wealth for its creditors.
Not surprisingly, in the months leading up to the reverse split, none of the holders of the convertible notes were converting their notes, as the conversion price wasn't lower than the share price. Probably even less surprising: after the reverse split, note holders suddenly started actively converting.
Based on Green Technology's most recent SEC filings, I have come up with a table (see below) that shows all of the conversions from note to common stock in the period from September 2014 to March 2015. It totals twenty-four separate transactions; in total $10,270 of outstanding debt was converted into 950,000 newly issued common shares. Taking into consideration the closing price of GTSO stock on the date of conversion, and assuming the converted stock was immediately sold in the open market, I very roughly estimate these conversions in those seven months resulting in a windfall of about $2.4 million to the holders of the convertible notes.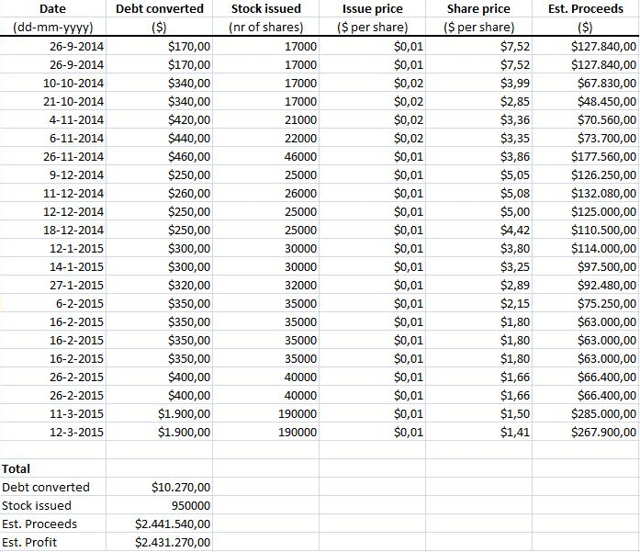 Source: Data derived from SEC filing 10-K and 10-Q
Again, this is an estimate for only seven months; I haven't taken into account the profits derived from two previous similar reverse splits. To make matters even worse, the conversions hardly improved Green Technology's debt situation.
And that's not all. As of March 31, 2015, GTSO still has over 86 million (!!) potentially issuable shares to holders of convertible notes.
Source: SEC-filing 10-Q
As a reminder, this is twenty times the current share count of the entire company. This number will only increase as the years go by, as the ten percent interest on the notes themselves also become eligible for conversion.
Acquisitions
As if this wasn't enough, there are other ways in which common shareholders in Green Technology are continuously being mistreated. For example, by the way the company has the tendency to announce mysterious acquisitions for relatively big sums of money without disclosing any relevant details.
In March 2015, Green Technology announced that it had bought a Clean Room in Colorado for "hygienic testing and quality control services to cannabis growers and retailer". It incurred a cost of $2.5 million for this approximately 1300-square foot room, payable partly in shares (three million of them) and partly in monthly cash installments.
Green Technology is only allowed to use the Clean Room after paying all of the installments (which it hasn't yet, and it wouldn't surprise me if the company defaults somewhere along the way). That doesn't appear to be a problem, though, as the company hasn't even found a place where to have the Clean Room installed at this point.
The complete lack of detail makes it impossible for any shareholder or outsider to properly evaluate this deal in a meaningful way. Also, the three million shares that will be issued as a part of this deal are effectively a majority stake in the company. This means the seller of the Clean Room, SRN Properties from Texas, has suddenly become a majority shareholder in Green Technology out of nowhere. It doesn't look like that company is in it for the long run, though. It filed an S1 Form with the SEC at the end of April, registering the three million shares SRN obtained for resale in the open market. Part of these shares have probably been sold already; another part can't be sold for another six to eight months, but will no doubt depressing the stock price even further at that time.

Source: SEC-filing 8-K
Spending large amounts of money on acquisitions without properly disclosing what exactly was bought seems to come naturally to Green Technology. As of November 3, 2014, it closed the acquisition of California-based Mother Parker's Soil. It paid $125,000 for a company without any tangible assets (or a working website, for that matter). The only asset that was bought was intangible: a supposed soil recipe to be used for the cultivation of medical cannabis. No further information or context was provided as to why this recipe would be worth anything, let alone $125,000.

Source: SEC-filing 10-K
Voting power through preferred shares
To be able to keep on managing Green Technology for the sole benefit of its unknown creditors, and not its shareholders, obviously controlling a majority of outstanding voting stock is a requirement. Eastern Rim Funds, a Panama corporation, used to hold a majority interest in the common stock, thereby guaranteeing a voting majority as well. However, as a result of the purchase of the Clean Room from SRN and the shares issued to fund it, Eastern Rim has lost its majority interest. It also sold part of its holdings over the last few months, and hardly owns any common shares (a little over 100,000, according to the last reported number) at this point.
Without a majority vote, Eastern Rim wouldn't be able call the shots anymore, and, for example, wouldn't be able to do a reverse split at its own whim like it did in 2014. But apparently Eastern Rim saw this coming and came up with a creative solution. On 16th September, 2014, it convinced Green Technology to issue 1,000,000 shares of Series E preferred shares to Eastern Rim in exchange for unidentified services valued at a measly $20,000. These Series E preferred shares have voting rights that equal twice the total number of votes of all outstanding shares of common stock.

Source: SEC-filing 10-K
Essentially, common shareholders are left without any sort of voting power; Eastern Rim is now in a position to decide whatever it wants with regard to Green Technology, without actually having to own any common stock.
Conclusion
I would love to ask Green Technology, and specifically its CEO and only employee Wallace Browne, a number of questions - about that ridiculous non-adjustment clause in the terms of its convertible notes, the mysterious Clean Room the company bought, and about the rationale behind giving away full voting power of a company worth a few million dollars for only $20,000. Also, I would be very interested to know what Browne's view is on the fiduciary duties a board member of a public company supposedly owes its shareholders.
However, until now, Green Technology has not responded to my requests. E-mails went unanswered, and a phone call went to an answering machine.
I'm amazed at the straightforwardness with which Green Technology has been throwing common shareholders under the bus for over five years now without any regulatory intervention. I'm equally amazed that there are apparently still people out there buying shares in this company, preventing the share price from tanking straight to zero.
Over the last few months, shares in GTSO have dropped considerably, currently trading at $0.36 at the time I'm finishing this article. I'm convinced shares will drop further in the direction of $0.01. There have been a few isolated stock promotions around Green Technology, but the most recent one appears to have been in 2013. Such a promotion might offer some short-term resistance to any further price drops, but other than that, there are just way too many shares out there looking to be dumped at any price over $0.01.
I'm also convinced Green Technology, when its share price eventually hits rock-bottom, will keep issuing enormous amounts of new shares and announce yet another reverse split - giving yet another free ride to holders of the convertible notes. This will, in turn, trigger yet another immediate sell-off (as well as yet another unique opportunity to short the stock), and history will repeat itself yet another time. Who knows, the company might also change its business model again; after all, Green Technology has never been about the business model anyway.
I have sent a copy of this article to the SEC for review; hopefully an investigation can shed some much-needed light on the identity of the holders of the convertible notes, and possibly their relation to Eastern Rim and Green Technology management. In the meantime, it's probably no surprise that I'm very much short GTSO.
Disclosure: I am short GTSO through an owned entity. I have no business relationship with any of the companies mentioned in this article. This article is not an advice to either buy or sell; it expresses my own personal opinion.
Editor's Note: This article covers one or more microcap stocks. Please be aware of the risks associated with these stocks.