It appears investors are getting more comfortable with risk over the last few months. It also looks like the pace of M&A activity is healthy and likely to remain so as long as the credit markets don't deteriorate. One sector it appears will benefit is biotechnology given the need of the large pharma firms need to replenish their pipelines. Here are two high risk/high reward stocks agressive investors should consider within the sector.
NPS Pharmaceuticals (NASDAQ:NPSP), a clinical-stage biopharmaceutical company, engages in the development specialty therapeutics for gastrointestinal and endocrine disorders. The company's primary clinical programs consist of two therapeutic proteins to restore or replace biological functions, including GATTEX (teduglutide) that is in Phase 3 clinical development and is intended for parenteral nutrition dependent short bowel syndrome; and NPSP558 (parathyroid hormone 1-84 [rDNA origin] injection), which is in Phase 3 clinical development and is intended for use as a hormone replacement therapy for hypoparathyroidism." (Business Description from Yahoo Finance)
4 reasons NPSP is worth a gamble at under $7 a share:
Insiders are showing confidence by gobbling up 70,000 shares in fourth quarter of 2011.
The median analysts' price target is more than double the current price at $14 a share. S&P has a "Buy" rating and a $13 price target on the stock.
Gilead Science's (NASDAQ:GILD) acquisition of Pharmasset has kicked off an M&A surge in the biotech space. Given NPS's late stage pipeline and valuation, it would hardly be a surprise to see this company be bought out at a large premium.
The company has plenty of cash on the balance sheet and improving cash flow, so it has the financial strength to easily survive until some of its late stage drugs are approved.
Human Genome Sciences (NYSE:CVG) operates as a biopharmaceutical company. Its principal products in development include BENLYSTA for systemic lupus erythematosus; and raxibacumab for inhalation anthrax." (Business Description from Yahoo Finance)
4 reasons HGSI is worth a flyer at $9 a share:
Credit Suisse has an "outperform" rating on HGSI as well as a price target of $25 on the stock. Maxim Group just initiated the stock as a "buy" as well.
Several insiders bought shares in the $15 to $16 range in August.
Although still losing money, HGSI's revenue has gone from under $26mm in FY2006 to a projected $300mm in FY2012.
The stock looks like it has bottomed and is gaining technical strength as it has just crossed it 50 day moving average.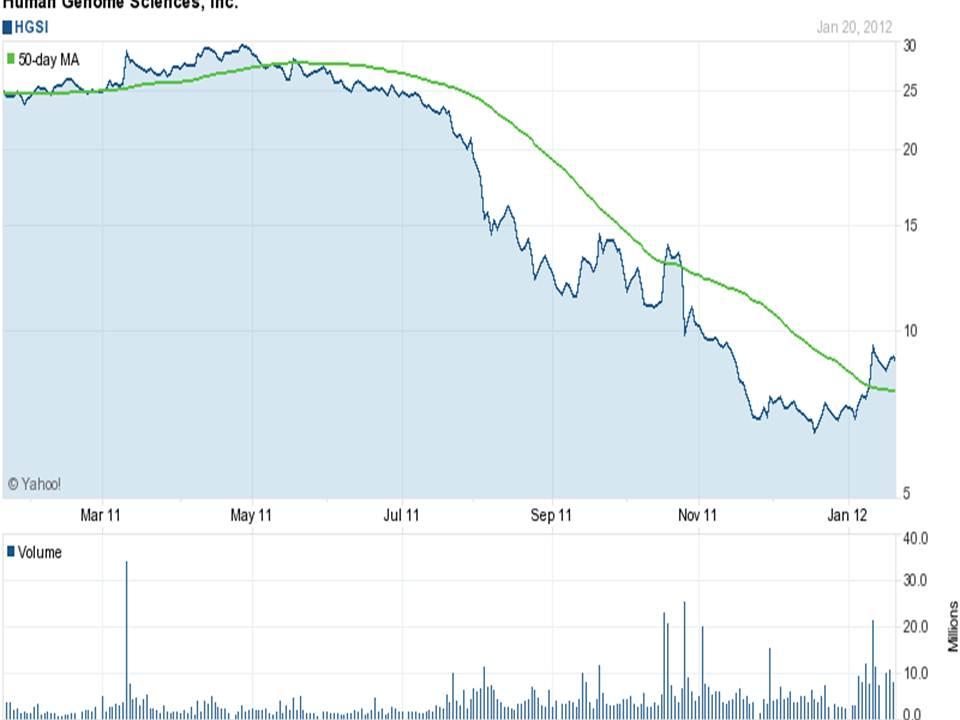 Disclosure: I have no positions in any stocks mentioned, but may initiate a long position in NPSP over the next 72 hours.