There is a common belief among most precious metal investors that the gold and silver mining shares should outperform the physical metal in a bull market. The shares offer leverage to the metal and should in theory outperform the metal in an up trending market. However, based on historical data, this has not always been the case, and judging the current performance of the shares, it is questionable whether the shares will outperform the metal itself in this current bull market.
The average senior gold mining company has done far better than the general market over the past decade and certain shares have shown phenomenal returns, outperforming both gold and silver by far. Nevertheless, most mining stocks have lagged behind both gold and silver over the past 12 years.
To measure the performance of gold and silver mining share most investors watch the Philadelphia Gold and Silver Index (XAU) and the NYSE Arca Gold BUGS Index (HUI), which are composed of some of the biggest and best gold and silver mining companies in the industry. By dividing the price of gold with the index we can measure the performance of the shares against gold. The chart shows that gold has outperformed both indices since their inception. There have been short periods when the shares have done better than gold, but over a longer time span gold is still ahead. Gold is up by 249% against the XAU and up by 50% against the HUI.
The chart shows the Gold/XAU, and Gold/HUI ratio, since their inception in 1984 and 1996, respectively.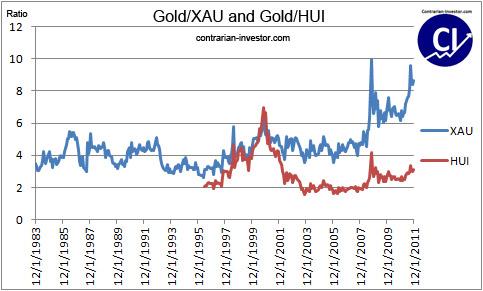 Both these indices came into existence during a bear market in gold and to get a longer time line the next charts shows the Barron's Gold Mining Index (BGMI). The chart shows the performance of senior gold mining shares since the beginning of the last bull market that started in year 1971. During this time span, of more than 40 years, gold has outperformed the shares by more than 3,000%.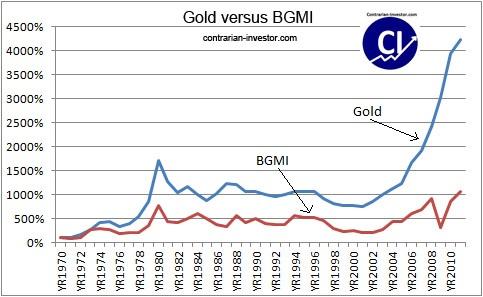 To get a perspective of the performance of these different asset classes, the following chart compares the performance of gold stocks against gold, silver, and the S&P 500 since the last gold bull market that began around year 2000. The XAU and BGMI are lagging behind, but the HUI has outperformed gold and silver by a narrow margin.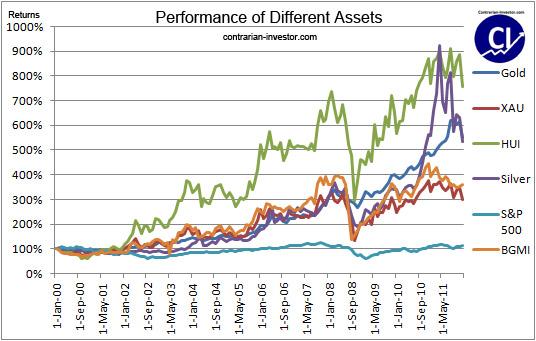 The data suggest that gold mining shares in general do not always outperform the metal itself in a bull market, and to truly profit from the gold mining shares you need the foresight to pick winning stocks rather than to hold a diversified portfolio of gold mining equities. Given the inherent risks of the mining shares, the easiest and safest way to participate in this bull market is by simply owning gold (NYSEARCA:GLD) and silver (NYSEARCA:SLV).
Disclosure: I am long GLD, SLV.