Biotech Buyout Portfolio- Seattle Genetics
Bristol-Myers Squibb Company's (NYSE:BMY) recent $2.5 billion acquisition of Inhibitex (NASDAQ:INHX) has me searching for the next biotech buyout. The 163% premium BMY paid is just too enticing not to dedicate a good percentage of my days and most of my nights to analyzing the merits of a long list of potential acquisition targets. There is no denying bigger pharma's appetite for gobbling up their smaller rivals once a significant portion of the work towards getting a hot new drug to market is already completed. Just months before BMY's purchase, Gilead (NASDAQ:GILD) coughed up $11 billion for Hep C upstart Pharmasset (VRUS). I want in on the fun and the first purchase for my Biotech Buyout Portfolio is Seattle Genetics (NASDAQ:SGEN). The more I read about the company the more there is to like.
Seattle Genetics
Interest in SGEN began to ramp more significantly when the company made headlines with approval of its lead drug Adcetris for limited indications reported in this Reuters press release from August 19, 2011:

The Food and Drug Administration approved Seattle Genetics' Adcetris to treat two types of relatively rare blood cancers -- Hodgkin's lymphoma and anaplastic large cell lymphoma (ALCL) -- with a broader label than expected and ahead of the deadline for the decision on the drug.

This is the first drug approved for Hodgkin's lymphoma since 1977 and the first one ever specifically indicated to treat ALCL. About 9,000 Americans a year are diagnosed with Hodgkin's lymphoma and 3,000 with ALCL. The National Cancer Institute estimates some 1,300 people will die of Hodgkin's lymphoma in the United States this year alone.

The FDA, which was due to decide on Adcetris by August 30, granted priority review status for the drug, meaning the agency believes the medicine is a potentially significant advance over existing therapies.

The company is now conducting more trials to both satisfy the FDA requirement for full approval after such accelerated, or conditional, approval and to reach its own goal of getting Adcetris to more patients and earlier in their treatment.
This promising outlook for Adcetris and the longer term plans and potential for the drug are discussed in more detail in Luke Timmerman's article on December 9, 2011 at Xconomy.com:
It's all part of the long-term strategy at Seattle Genetics (NASDAQ: SGEN), which will be on display next week at the American Society of Hematology's big annual meeting in San Diego. The company will have a handful of presentations this year about its antibody drug, brentuximab vedotin (Adcetris), for lymphomas. The treatment was initially cleared in the U.S. for patients with relapsed and treatment-resistant forms of Hodgkin's lymphoma and anaplastic large cell lymphoma. But now Seattle Genetics and Millennium are preparing to release some results at ASH from a small trial of patients with a much healthier prognosis-those getting their first line of therapy for Hodgkin's disease.

Genentech followed a similar strategy with its hit rituximab (Rituxan) for non-Hodgkin's lymphoma, says Seattle Genetics CEO Clay Siegall. It started with relapsed, treatment-resistant patients, moved into the standard of care for newly diagnosed patients, and became part of maintenance therapy. If Seattle Genetics can duplicate the feat, it will significantly expand the potential market for its drug, and provide the first advance for this group of patients since the existing chemo regimen was established in 1977.
And:
About 9,000 patients in the U.S., and a similar number in Europe, are diagnosed with Hodgkin's each year, and are generally prescribed a cocktail of four chemotherapy drugs that essentially effective for 80-90 percent of patients, Siegall says. The bet for Seattle Genetics and Millennium is that the new antibody drug can raise the bar even higher on effectiveness, while reducing some of the nastier side effects of chemotherapy, including lung scarring.

The standard of care is a combination of chemotherapy drugs Adriamycin, bleomycin, vinblastine, and dacarbazine, known as ABVD. Based on feedback from top researchers, Seattle Genetics is testing the idea that the "B" in that regimen (bleomycin) might be the nastiest ingredient in the mix. The idea is to swap out bleomycin, and swap in the Seattle Genetics drug, Siegall says.

Researchers are keen to test this idea based on how the Seattle Genetics drug has performed in the sickest patients. The Seattle Genetics drug provided significant tumor shrinkage in 75 percent of patients with relapsed forms of Hodgkin's disease in a clinical trial, and in about 86 percent of patients with anaplastic large-cell lymphoma. Researchers are still following patients to see how long those responses really do last, and to what extent they may help people live longer.
Adcetris is the First Approval for SGEN
While Adcetris has the spotlight right now the company has a robust cancer pipeline and an impressive list of partners. SGEN is not a one trick pony, the company has a variety of oncology drugs in different stages of clinical trials using its antibody-drug conjugate ADC technology. See a detailed chart of the company s internal pipeline programs at its website.
SGEN's Proprietary ADC Platform is Attracting the Attention of Industry Heavyweights
The merits of ADC is outlined in this press release from April 2011:
ADCs are monoclonal antibodies that selectively deliver potent anti-cancer agents to tumor cells. With over a decade of experience and knowledge in ADC innovation, Seattle Genetics has developed proprietary technology employing synthetic, potent cell-killing agents called auristatins (such as MMAE and MMAF) and stable linker systems that attach auristatin to the antibody. Seattle Genetics' novel linker systems are designed to be stable in the bloodstream and release the potent cell-killing agent once inside targeted cancer cells. This approach is intended to spare non-malignant cells and reduce many of the toxic effects of traditional chemotherapy while enhancing antitumor activity.
The promise of the company's ADC platform has caught the attention of a variety of pharma's larger oncology players and brought on board a series of potentially lucrative partnerships that has significantly expanded SGEN's pipeline. These partnerships have already delivered significant revenue to the company. As from the company s website:
ANTIBODY-DRUG CONJUGATE TECHNOLOGY COLLABORATIONS

Seattle Genetics has entered into multiple collaborations for its antibody-drug conjugate (ADC) technology with industry-leading biotechnology and pharmaceutical companies. There are currently 12 collaborator ADC programs in clinical development utilizing Seattle Genetics' technology. We have two types of ongoing ADC collaborations:

ADC License Agreements

Under our ADC license agreements with Abbott, Agensys, Bayer, Celldex, Daiichi-Sankyo, Genentech, GlaxoSmithKline, Millennium, Pfizer and Progenics, Seattle Genetics is entitled to receive upfront payments, milestones and royalties on net sales of any resulting ADC products. We have the potential to receive more than $3 billion in future milestone payments across our ADC collaborations. Our licensees are responsible for all development, manufacturing and commercialization activities under these collaborations.
Partnerships for ADC Platform Offers Potential for Significant Future Revenues
These partnerships are detailed in a series of articles at FierceBiotech.com:
Pfizer Partnership

Seattle Genetics' antibody-drug conjugates are hot. Fresh from delivering a batch of promising mid-stage results for an experimental cancer therapy--the antibody-drug conjugate SGN-35-Pfizer (NYSE:PFE) has now stepped forward with an $8 million upfront payment and promises of more than $200 million more in milestones to use its technology on a single cancer target.

Abbot Labs Partnership

Seattle Genetics has racked up another collaboration pact involving its closely-watched antibody-drug conjugate technology. The red-hot ADC company is pocketing $8 million from Abbott Laboratories (NYSE:ABT), which is promising up to $200 million more as it focuses on a single cancer target.

"This is the second ADC collaboration with a multinational pharmaceutical company that we have announced this year, further illustrating the important role that our ADC technology is poised to play in the treatment of many types of cancer," says Eric Dobmeier, the chief business officer of Seattle Genetics.

Abbott is responsible for research, product development, manufacturing and commercialization of any ADC products under the collaboration. Seattle Genetics has 11 active ADC collaborations which have spawned payments of more than $155 million from ADC licensing deals to date.

Genentech has anted up $12 million to expand its development pact for Seattle Genetics' antibody-drug conjugate technology. And the Seattle biotech will now be able to play for a pot of cash that could swell to $900 million in fees and milestones.

Genentech has already shelled out $30 million to Seattle Genetics over the past eight years. Impressed by the technology's ability to match a tumor-targeting antibody with a cancer-killing toxin, Genentech now wants to expand its group of antigen targets. And in addition to the potential haul of fees and milestones--contingent on the commercialization of all the therapies covered in the expanded pact--Seattle Genetics can earn mid-single digit royalties on any products.
The Full List of Partners for SGEN and ADC from the Company s Website: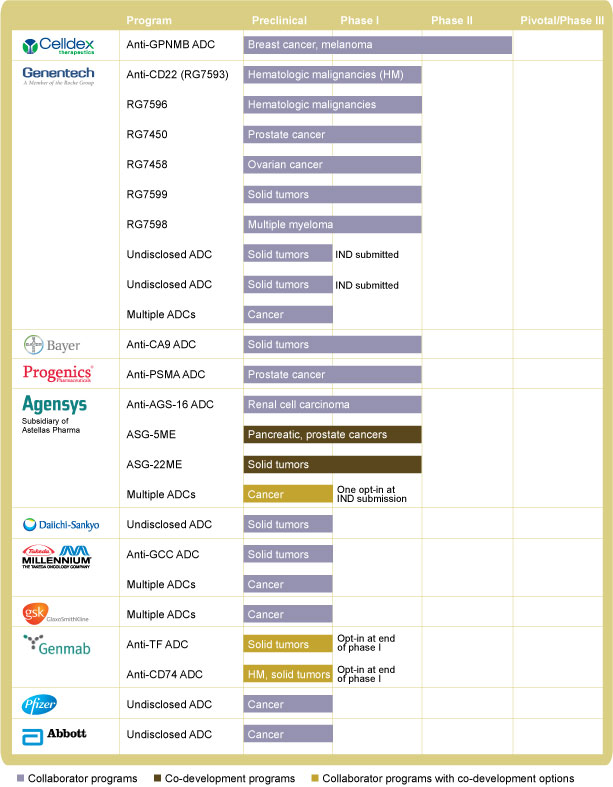 Insider Buying Adds to the Appeal
On top of all the positive business developments and partnerships, there has been a series of significant insider purchases over the past 6 months suggesting people closest to the action are also expecting continued success and higher share prices ahead. See chart of insider purchases here
Conclusions
Betting on acquisitions is a risky proposition but I believe SGEN stands on its own merits as a strong investment in the biotech space. The company belongs in a Biotech Buyout Portfolio because of its broad cancer pipeline, the recent approval of Adcetris and expected revenue ramp, the group of deep pocketed and impressive partners attracted to SGEN's ADC technology and significant recent insider buying. I am doing a work up on a list of other potential portfolio candidates and will report more findings soon. Please feel free to send along your suggestions.
Disclosure: I am long SGEN.