Apple (NASDAQ:AAPL) will be releasing earnings on January 24, 2012 after market close. This will be a critical event for Apple and the entire stock market. Apple is also expecting a huge quarter by both the Street and Industry analysts, mostly magnified by the latest iPhone 4S release and the holiday shopping season.
It will mark Apple's largest quarter ever, in revenues and earnings. But does that translate to a good investment in AAPL? The answer is no. In this article, we'll make that case from price and volume perspective of the chart of the AAPL stock. A large portion of AAPL's fate will come from money flow and professional trading activity, both easily spotted on the chart using trained price-volume analysis.
CHART ANALYSIS
Bar-by-bar analysis
The current chart of AAPL does not show much strength. It's been weak during the past 4 months.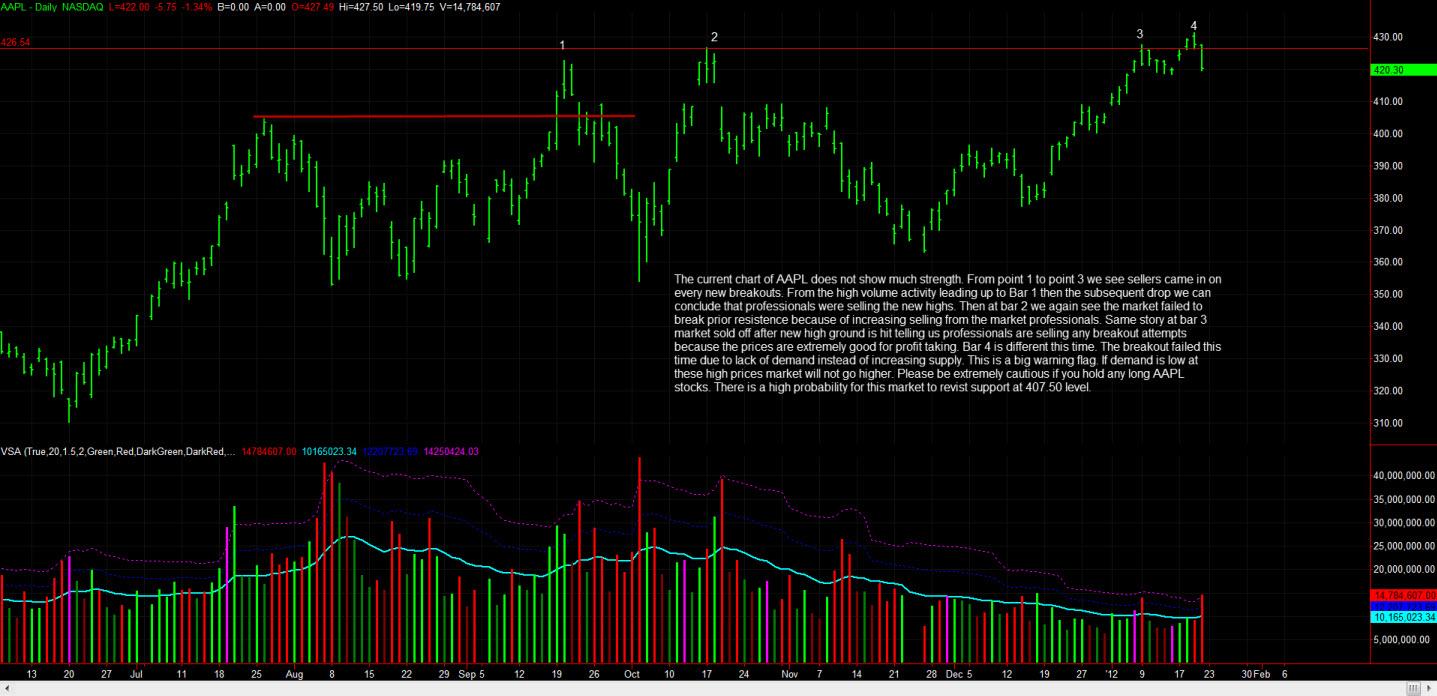 From point 1 to point 3 we see sellers come in on every new breakouts. Professionals are selling the stock whenever price was "attractive." Whether it's due to the uncertainty Apple without of Steve Jobs or increasing market competition, it does not matter. The fact of the matter is that the chart tells us exactly what is happening with the stock.
Bar #1: There was high volume activity leading up to bar 1 then the subsequent drop we can conclude that professionals were selling the new highs.
Bar #2: Then at bar 2 we again see the market failed to break prior resistance because of increasing selling from the market professionals.
Bar #3: Same story at bar 3 market sold off after new high ground is hit telling us professionals are selling any breakout attempts because the prices are extremely good for profit taking.
Bar #4: Bar 4 is different this time. The breakout failed this time due to lack of demand instead of increasing supply. This is a big warning flag. If demand is low at these high prices market will not go higher. Please be extremely cautious if you hold any long AAPL shares. There is a high probability for this market to revisit support at $407.50 and $395.00 levels.
TRADING STRATEGIES
With this analysis in mind, we can create a plan. Successful and sustainable trading is about winning the battle before it begins. That said, it is important to know your entries and exits as well as the condition that market throws at you prior to earnings release tonight.
AAPL Short-term trading strategy:
If AAPL gaps up: Sell AAPL if you're already long. There will likely be a large interest in AAPL selling if prices gaps up after earnings. However, this is not a recommendation for a short trade, but definitely a great idea to sell it at the attractive prices, especially given the clues of the stock's weakness during the last 3-4 months. For ideas to short stocks, refer to the worst-ranked stocks in the proprietary AlphaCloud Stocks Rankings Lists that I have created as a culmination of a decade of stocks experience and research. Shorting a stock like AAPL, which has very strong relative performance against its benchmark in the medium- and long-term is not a good proposition. In summary, if you're getting better prices after earnings, sell a chunk if not all of AAPL.
IF AAPL gaps down: This scenario gets a bit more complicated. You will have to pay attention to a couple of things:
1) Pullback/Retrace: AAPL's long-term stock price upside can only be built after a healthy retrace. During a gap down scenario, we expect the stock to test two key support areas: The first one being $407/sh and the next one at $395/sh. It should be quick and painless to see if these levels hold. For a one-sided (bullish) stock like AAPL, a turnaround in the future direction of the stock will come in spectacular and not-so-subtle fashion the majority of the time.
2) Long-term consolidation: AAPL breaks below the two key support levels mentioned above. Even the worst of cases for AAPL, it will not be a stock that will spiral down into oblivion given the secured business momentum it has built in the past decade. Instead, it would consolidate for many months, if not for the rest of 2012. During this time, you're likely better off invested in other companies. Some suggestions can be found using the AlphaCloud Stocks Rankings system.
In summary, AAPL's recent weakness is an opportunity to lower exposure in the stock, if you already own it, especially if the stock gaps up after earnings.
AAPL Long-term trading strategy:
Quantitative (Bullish) - From a technical perspective, AAPL is still outperforming its benchmark (Technology Sector) in the long term. Refer to the ratio chart below for the last 11 years. The chart is constructed to show relative performance against its peers (Technology sector, XLK. This uptrend has not been broken for 11 years. Until this trend is broken, this stock is a keeper for the long-term. However, when this trend is breached, we must reconsider this stance. The best time for this trend to change is during impactful company changes, such as the passing of Steve Jobs, new management, and higher market competition.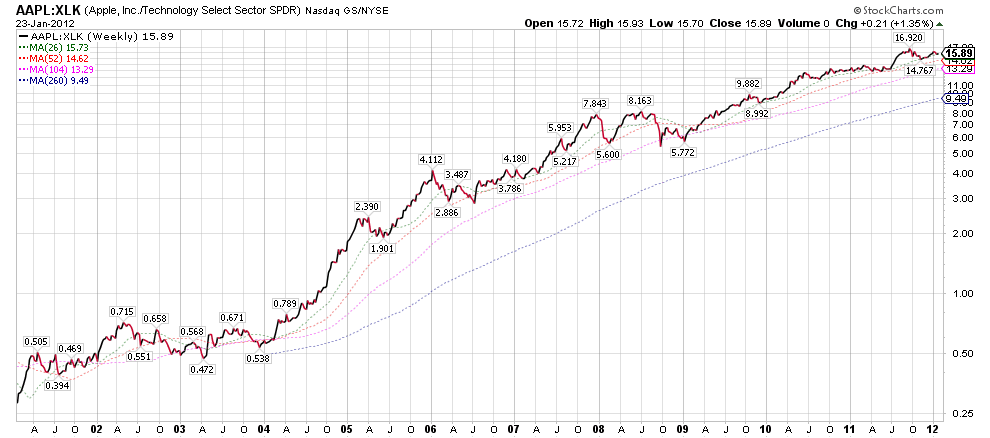 Qualitative (Neutral) - With the obscurity of the future of AAPL after the passing of Steve Jobs, investing in Apple for the long run is certainly not as attractive. Perhaps we discount the magnitude of what Steve Jobs provided to Apple -- innovation, creativity, drive, passion, and relentless execution. I do believe Apple has a capable team to execute and continue the company's current momentum, but the lack of a catalyst figure will begin to contribute to a slow down for the company in the next couple of years.
CONCLUSION
Apple's stock is under attack in the short term. Sure, it's a great, growing, and stable company, but it could be the case that the party is over. During the short-term, if you're long, look for opportunities to take profits. If you're not, it's probably best to stay away for a bit and watch for a better entry setup. If you're thinking long-term, Apple is a very strong company relative to its peers, but proceed with caution given the massive fundamental impact due to the departure of Steve Jobs, easily the single most obvious reason why AAPL became a $400 billion company from a $1,000 start-up.
Regardless, if AAPL isn't going to be the fastest horse in your portfolio, it's easy to find a handful using the AlphaCloud Stocks Rankings List. AAPL is currently ranked #36 in the S&P 500, which means there are potentially 35 better candidates out there. In the future, I will begin coverage of strong candidates from this list.
For now, good luck trading!
Disclosure: I have no positions in any stocks mentioned, and no plans to initiate any positions within the next 72 hours.