Introduction
The stock price of Precision Castparts (NYSE:PCP) is riding a wave of momentum that has sent it soaring past its all-time high. Perhaps fueled by this performance, analysts believe PCP can do no wrong, and they have high expectations for PCP's December quarter results. We believe investors and analysts are being complacent and not fully analyzing PCP's business trends. We expect that complacency to be replaced by concern when PCP reports this Thursday.
Revenue estimates for PCP look too high.
Consensus is expecting 7% sequential revenue growth, which implies 4.4% organic growth1 quarter to quarter: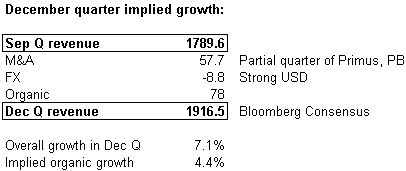 The implied sequential organic growth of 4.4% would be quite an achievement. In the past nine years, revenues in the seasonally weak December quarter have declined sequentially by a median of 1.6%: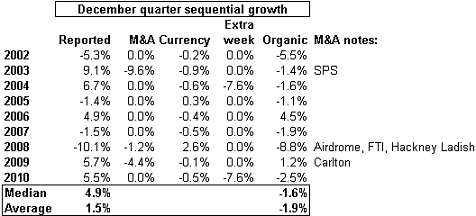 By our estimates, only two December quarters in the past nine have shown positive sequential organic growth, and in both instances this was driven by metal pricing. Metal costs are equivalent to approximately 25% of PCP's revenues, and PCP generally passes through the bulk of these costs to customers with a lag. Metal prices rose throughout the year leading up to the December quarters in 2006 and 2009, which accounts for the sequential organic growth in these quarters. Metal prices in calendar year 2011 dropped throughout the year, so it will clearly not be a tailwind for revenues like it was during those two quarters.2 There is no historic precedent for the organic growth that consensus is expecting in this typically seasonally weak quarter.
Perhaps analysts are being bullish due to perceived end market strength, as evidenced by backlog and production plans at Airbus and Boeing. We acknowledge this near term strength and estimate that around 32% of PCP's sales are influenced by it.3 There are several offsets to this OEM strength, however:
The 32% number above includes OE fasteners (around 5% of total PCP sales), which are experiencing a multi-year inventory correction after PCP and others oversupplied the industry during the recent downturn.
Around 19% of PCP's sales are industrial, which is impacted by the weak macro-environment. We point to Alcoa's Engineered Products and Solutions Division, which saw a sequential decline of 15% in their Industrial Products end market in the December quarter. See page 48 of Alcoa's recent earnings presentation.
Around 5% of PCP's sales are Seamless Pipe, where the bull story on growth in India appears to be disintegrating. This article from Bloomberg highlights the flaws in India's energy policy and how it is stifling investment.
Around 11% of PCP's sales are Industrial Gas Turbines, where trends show modest growth. Alcoa recently reported 1% sequential growth in their IGT business which competes with PCP. Bulls point to the long term opportunity in IGT in the US due to low gas prices, but both SPX and GE recently talked down any notion of strength in the US in the near term.4
Around 28% of PCP's sales are aerospace outside of Boeing/Airbus OE builds, where trends are mixed. Military sales have been weak due to budget constraints, and commercial aftermarket trends have been stable. There is no reason to expect strong sequential growth.
When analyzing these trends, it becomes apparent why Alcoa's Engineered Products and Solutions Division (PCP's most relevant peer) saw a 1.3% sequential revenue decline in the December quarter despite strong OE aerospace growth. Over 2/3rds of PCP's businesses appear to be stagnating.
We conclude that the 4.4% sequential organic sales growth expected by analysts has no precedent and doesn't reflect the mediocre trends in PCP's businesses. Perhaps consensus is not adjusting for the extra week that PCP benefited from (but didn't disclose in their slide presentation or earnings release) in the December 2010 quarter. Or perhaps they have been thrown off by the lack of disclosure around organic revenue trends in the most recent earnings call.5 Either way, these lofty expectations should lead to disappointment when PCP reports.
Earnings estimates for PCP also look too high.
It is more difficult to forecast an earnings miss at PCP because of the low quality nature of their earnings. Our write up detailing PCP's poor earnings quality can be found here, but suffice it to say that any company where the CEO says "I think we understand our LIFO layers abundantly clear" can probably pull a rabbit out of its hat on any given quarter. That being said, we are expecting a profit miss to accompany a sales miss. Even if PCP managed to buck typical seasonality to grow organic sales 2% sequentially in the quarter, operating profit would still come in below the consensus expectations:

If we assume a healthy 35% incremental margin on the weak organic growth, we get to EBIT of $456mil vs. consensus of $480mil, a miss of 5% that would result in EPS coming in at $2.12 vs. consensus of $2.21. In fact, consensus has margins improving from 24.4% to 25.0%, despite the drag from lower margin acquisitions. If we assume the same margins on M&A and currency as detailed above, this implies that consensus expects incremental margins on the 4.4% organic growth of around 50%.
Perhaps consensus believes the company's argument that maintenance shutdowns artificially lowered margins in the September quarter. Normally this is the case, as shutdowns lead to the company selling from inventory instead of being able to spread fixed costs over more production. But a look at inventory shows that the company didn't suffer from this in the September quarter this year. Despite the shutdowns, the sum of WIP and Finished Goods inventory grew $14mil organically, or slightly less than 1% - see slide 9 of PCP's most recent earnings presentation.
Whatever fixed cost absorption hit they took from the maintenance shutdowns was offset by WIP and Finished Goods growth in other areas of the business. For example PCP claimed in the September quarter to have been building safety stock for "a significant project we have planned for this upcoming summer" as well a strike that never materialized. We see no basis for the aggressive margin expectations imbedded in consensus, and expect a margin miss. We will be paying close attention to inventory trends, since Nickel declined once again throughout the quarter and margins could benefit from further inventory purchases.
Conclusion
The momentum in PCP's stock price has emboldened analysts and, fueled by ever-optimistic commentary by management, they appear to be ignoring the lack of momentum in PCP's businesses. We believe that a sales and/or earnings miss in the December quarter should force a more sober re-assessment of PCP's business prospects. While this note has been focused on forecasting this quarter's earnings performance, there is a bigger picture here. In the past year, PCP's FY12 earnings forecast has barely budged despite $1B of acquisitions that weren't in consensus earnings models.
Additionally, in the past year the company has temporarily boosted earnings by unexpectedly increasing inventory. The acquisitions and inventory additions should have increased consensus numbers, but nearly all this potential benefit was offset by continued earnings misses in the core business. We believe this points to earnings pressures in the core business that will continue to manifest, as described in our initial write-up. We continue to question both the quality of PCP's current earnings as well as the 20x6 multiple investors are willing to put on them.
Footnotes:
1 Organic growth defined as growth excluding M&A and FX.
2 The price of Nickel is a good proxy for PCP's metal cost, and it was up 250% in calendar year 2006 and 60% in calendar year 2009. 2011 saw Nickel prices drop 24%.
3 PCP has disclosed that 40% of revenues are from large commercial aerospace. We gross this up to 43% to account for the recent aerospace acquisitions (mostly Primus) but then cut this by 25%, which is our estimate of aftermarket mix. The result is approximately 32%. All estimates of end market exposures in this section are pro-forma for their recent acquisitions.
4 SPX said the following at their analyst day last week: "We believe several factors have restrained near-term power investments, including the uncertain economic situation in Europe and the slow growth expectations in the United States." On their call last week, GE said the following about the outlook for near term gas turbine sales in the US: "the U.S. hasn't really started yet. So someday, there's going to be a U.S. market."
5 We note that December quarter revenue estimates weren't changed after PCP's 10Q included aggregate sales impacts from acquisitions.
6 P/E uses fiscal year March 12 consensus estimates; therefore it assumes PCP manages to meet December and March quarter estimates.
Disclaimer: This report is intended for discussion purposes only. It is neither a recommendation nor a solicitation to purchase or sell any security or private fund offered by Temujin. The analysis and opinions of Temujin presented in this report are based on publicly available information sourced from SEC filings, earnings call transcripts, and other public sources that we believe to be reliable. Judgments have been made based on information sourced on or before the issuance of this report. There may be information concerning Precision Castparts that is not publicly available, which could lead the company to disagree with our analysis and opinions. Temujin expressly disclaims all liability for errors or omissions in, or the misuse or misinterpretation of, any information contained in this report.
Disclosure: I am short PCP.