The rural economy continued to move forward this month, reaching its highest level since June of 2007. The farmland price index fell to a still growth positive reading after reaching a record high level in December 2011.
The Rural Mainstreet Index (RMI) advanced to 59.8 from 59.7 to remain growth positive for the fifth straight month and above the 59.3 it posted 12 months prior. The growth is largely due to the areas of the country tied to agriculture and oil.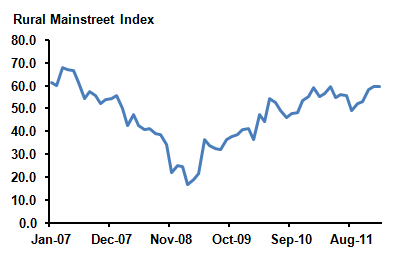 Fred Bauer, president of Farmers Bank in Ault, Colorado, responded to the bankers reporting, "Oil and ag income continue to push our area economy up."
Bankers were asked what the largest economic challenge will be for 2012. Over one fourth, 26%, indicated that a decrease in agriculture commodity prices is the largest threat to the Rural Mainstreet Index.
Agriculture
The farmland price index fell to 74.3 this month from its record high 84.1 in December. This marks the 24th straight month the index has been above growth neutral. The farm equipment sales index decreased to 72.3 from 73.8 in December.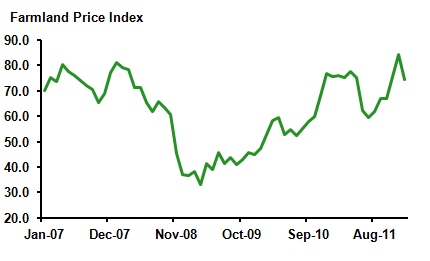 Only 9% of bankers expect the ending of the blender's tax credit for corn-based ethanol to have a significant negative impact on the Rural Mainstreet economy. The majority, 51%, thought it would have a modest negative impact.
Banking
The loan volume index decreased to 45.5 from 50.8 a month prior. The check deposit index decreased to 68.2 from 68.9 in December and the certificate of deposit and savings instruments increased to 47.8 from 37.0 last month.
October's job index decreased to 51.5 compared to 54.6 in December. "Year over year job growth for Rural Mainstreet communities is approximately 1 percent compared to 0.8 percent for urban areas of the region," said Creighton University economist Ernie Goss.
The economic confidence declined to 56.1 from December's 61.8 as outside markets continue to affect the economic outlook, "Difficulties in Europe and potential conflicts with Iran combined to push economic confidence lower," said Goss.
Survey
This survey represents an early snapshot of the economy of rural, agriculturally and energy-dependent portions of the nation. The RMI is a unique index covering 10 regional states, focusing on approximately 200 rural communities with an average population of 1,300. It gives the most current real-time analysis of the rural economy.
Disclosure: I have no positions in any stocks mentioned, and no plans to initiate any positions within the next 72 hours.