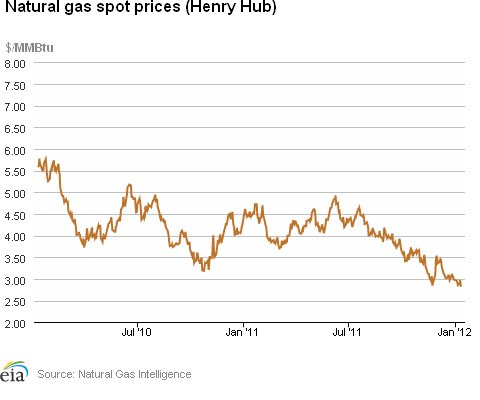 Of all the business interests that dislike this President, it may be the energy industry that dislikes him the most.
Environmentalists love to harp on the "dirty oil money" going into Republican campaigns, and it's true Republican politicians are jumping all over one another trying to be more pro-fossil fuel than the other.
But there's another way of looking at it. This is an industry that prefers the last Administration, and is fighting the current one with everything it's got.
Trouble is, while their political contributions may be leaning against Obama, the energy industry's business instincts are doing him, and the economy, an enormous favor. Your voice says no-no but your eyes say yes-yes.
You can see it in the chart at the right, which shows spot prices for natural gas going back two years. They have nearly been cut in half. The Energy Information Administration notes that the working gas in storage is also near a record high, and thanks to a warm winter it's not falling as fast as it usually does, meaning prices are likely to remain low.
Pipeline constraints in some areas may keep you from seeing these prices in your bills, but for industrial users of gas these are heady days. And it's reflected in the list of 52-week lows, which are dominated by companies that drill for and produce natural gas.
The glut can be worked off, but that means economic growth. T. Boone Pickens, for instance, is no friend of this President, but he's making a ton of money right now converting trucks to run on compressed natural gas. It's easy money, given the price differential between gas and oil. And his customers like the savings, which they can pocket right away and use to grow their businesses.
But the fact remains low natural gas prices are providing a huge tailwind to the U.S. economy right now. The glut means new industries are hiring, and users of gas have a big economic advantage over competitors in other countries. The U.S. remains the world's manufacturing powerhouse, low prices on key inputs mean growth, growth means jobs, jobs means lower unemployment, and lower unemployment will make the President a favorite for re-election if it continues.
Will it? There are no signs of the natural gas glut ending any time soon.
Disclosure: I have no positions in any stocks mentioned, and no plans to initiate any positions within the next 72 hours.