Coca-Cola (NYSE:KO) has a strong commitment to hiking its dividends, having paid them consecutively every year since 1920 and increasing dividends for 49 consecutive years.
Number 50 is on its way. In February, Coca-Cola will almost certainly raise the dividend again. It does that every February: The only question is how much. That's a little more tricky.
Initially, I was inclined to forecast a healthy bump. The reason: Coca-Cola's payout ratio is at a remarkably low 31% for the first three quarters of the year. During the comparable period in 2010, payout was at a far higher 50%. To reach those numbers, Coca-Cola could likely hand over a much higher boost from 47 cents to 52 cents, a convincing 10.6% lift.
However, there's a trend afoot, one which is unlikely to be considered by investors. I'm sure it is front and center in Coca-Cola's view: Increasingly, much of Coca-Cola's holdings lie overseas. Coca-Cola has been piling up off-shore profits. That's happening for two reasons: over 2/3 of Coca-Cola's sales come from overseas and foreign income is more lightly taxed than here.
However, Coca-Cola's U.S. capital may be running low and just might cramp its abilities to keep raising the dividend. The heaping $20.8 billion in undistributed earnings held by its foreign subsidiaries is (for the time being) off-limit for dividend purposes. Per its 10K:
As of December 31, 2010, undistributed earnings of the Company's foreign subsidiaries amounted to $20.8 billion. Those earnings are considered to be indefinitely reinvested and, accordingly, no U.S. federal and state income taxes have been provided thereon. Upon distribution of those earnings in the form of dividends or otherwise, the Company would be subject to both U.S. income taxes (subject to an adjustment for foreign tax credits) and withholding taxes payable to the various foreign countries. Determination of the amount of unrecognized deferred U.S. income tax liability is not practical because of the complexities associated with its hypothetical calculation; however, unrecognized foreign tax credits would be available to reduce a portion of the U.S. tax liability.
Coca-Cola has been ramping up its foreign undistributed earnings: They tower over its cash and short-term investments. We don't know how much of Coca-Cola's cash is held by its foreign subsidiaries. It may be sizable.
The graph below chronicles the rise in undistributed foreign earnings together with the company's cash and short-term investments.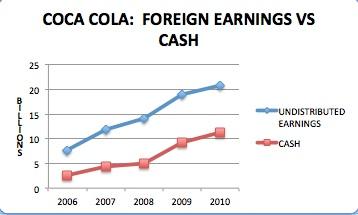 While Coca-Cola has so far only paid out 31% of its income, its dividend payout of U.S.-generated earnings might be as high as 400%.
For instance, in 2010, Coca-Cola's operating income derived from its North American segment came to $1.5 billion before taxes. It paid shareholders $4.1 billion in dividends, an amount significantly exceeding its U.S. profits.
Being a multinational has its benefits: Witness the 17% tax rate the company enjoys. But, there's also a downside: Eventually, you've got to bring the money you earn there, back here.
Coca-Cola isn't alone in. Other multinationals face similar overseas cash dilemmas. I've highlighted Apple (NASDAQ:AAPL), Microsoft (NASDAQ:MSFT), and Cisco (NASDAQ:CSCO) in these pages recently.
Coca-Cola, a perennial dividend machine, may be reaching its limit.
Disclosure: I am long AAPL.
Additional disclosure: Disclaimer: The opinions in this document are for informational and educational purposes only and should not be construed as a recommendation to buy or sell the stocks mentioned. Past performance of the companies discussed may not continue and the companies may not achieve the earnings growth as predicted. The information in this document is believed to be accurate, but under no circumstances should a person act upon the information contained within. We do not recommend that anyone act upon any investment information without first consulting an investment advisor as to the suitability of such investments for his specific situation.