Xerox Corporation (NYSE:XRX) is on deck to release last fiscal quarter's results before the opening bell on January 25, 2012.
Xerox Corporation engages in the development, manufacture, marketing, service, and finance of document equipment, software, solutions, and services worldwide. The company operates in three segments: Technology, Services, and Other. The company was founded in 1906 and is headquartered in Norwalk, Connecticut. XRX trades an average of 9.5 million shares per day.
52 Week High: $11.50
52 Week Low: $6.55
Book Value: $9.45
Float Short: 0.87%
Analysts are expecting an improvement of $0.06 in earnings per share compared to last quarter's results of $0.26. Investors will be looking to top $0.32 per share, based on the estimated mean earnings. Analyst estimates range between $0.31 and $0.34 per share.
The current trailing twelve months P/E ratio is 8.3. The forward P/E ratio is 7.56. Xerox has beaten estimates for the last five quarters in earnings, but revenue has been more of a challenge. Of the two, of course we want to see the bottom line growing, but a difficult top line often works its way to the bottom line at some point. The share price is currently banging on the 200 day moving average and has been for the last three days, through Monday. A break above the 200 day moving average would spell a very large technical shift from bearish to bullish. Most breaks do not "stick" on the first try, so keep that in mind if you are looking to chase this one higher. You are likely to get a second chance if you are willing to wait.
There is next to zero in short interest, which is likely the biggest indicator Xerox is positioned to move higher. I consider short sellers to be the smart money, and short sellers have been busy covering positions. I would not add shares right here in the upper $8s, but would be willing to add shares on a pullback just above $8 for a target gain of over $1.00. With a dividend of almost 2% an investor can get paid to wait for the stock to move higher as well. This is a great name at a very attractive price and is on my watch list for a dip.
Investors have been rewarded with an increase of year-over-year revenue. Revenue reported was $21.63 billion for 2010 vs. $15.18 billion for 2009. The bottom line has rising earnings year-over-year of $606.00 million for 2010 vs. $485.00 million for 2009. The company's earnings before interest and taxes are rising, with an EBIT year-over-year of $815.00 million for 2010 vs. $627.00 million for 2009. Rising revenue along with rising earnings is a very good sign, and what we want to see with our companies. Be sure to check the margins to make sure that the bottom line is keeping up with the top line.
Here is a look at the fiscal year revenue: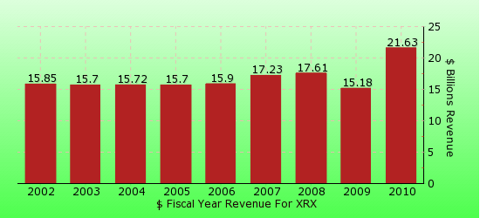 Gross reported revenue compared to the mean estimate (rounded):
| | | | | |
| --- | --- | --- | --- | --- |
| Fiscal Quarter Ending Month-Year | Revenue Estimates | Actual | $ Difference | Difference % |
| Sep-11 | $ 5.57 B | $ 5.58 B | $ 10.28 M | 0.18% |
| Jun-11 | $ 5.63 B | $ 5.61 B | $ -11.60 M | -0.21% |
| Mar-11 | $ 5.48 B | $ 5.46 B | $ -14.18 M | -0.26% |
| Dec-10 | $ 5.98 B | $ 5.98 B | $ -2.37 M | -0.04% |
| Sep-10 | $ 5.45 B | $ 5.43 B | $ -18.26 M | -0.34% |
M = millions, B = billions.
Differences are rounded.
Some one-time items are often excluded in reported EPS.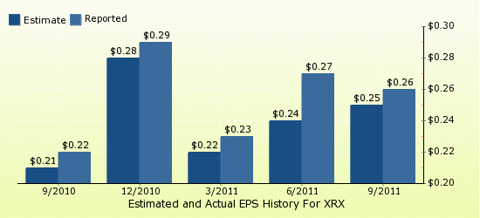 Reported earnings per share compared to the mean estimate. Differences are rounded.
The total short interest number of shares for XRX:


The number of days to cover short interest based on average daily trading volume for XRX:



I use a proprietary blend of technical analysis, financial crowd behavior, and fundamentals in my short-term trades, and while not totally the same in longer swing trades to investments, the concepts used are similar. You may want to use this article as a starting point of your own research with your financial planner. I use Seeking Alpha, Edgar Online, and Yahoo Finance for most of my data. I use the confirmed symbols from earnings.com that I believe to be of the most interest.
Disclosure: I have no positions in any stocks mentioned, and no plans to initiate any positions within the next 72 hours.