I have been a big advocate for Teva Pharmaceuticals (NYSE:TEVA) for quite some time. Among the core reasons driving that view - other than low valuations - are the long-term secular trends (aging populations, blockbuster drugs coming off patent, budget pressures pushing governments to focus on cutting costs in the their entitlement programs) that are providing tailwinds for the sector. Another generic drugmaker I like at these price levels is Mylan.
Mylan (NASDAQ:MYL) - "Mylan Inc., together with its subsidiaries, engages in the development, manufacture, marketing, licensing, and distribution of generic and branded generic pharmaceuticals, specialty pharmaceuticals, and active pharmaceutical ingredients (APIs) worldwide. It operates in two segments, Generics and Specialty. (Business Description from Yahoo Finance)
(Click chart to expand)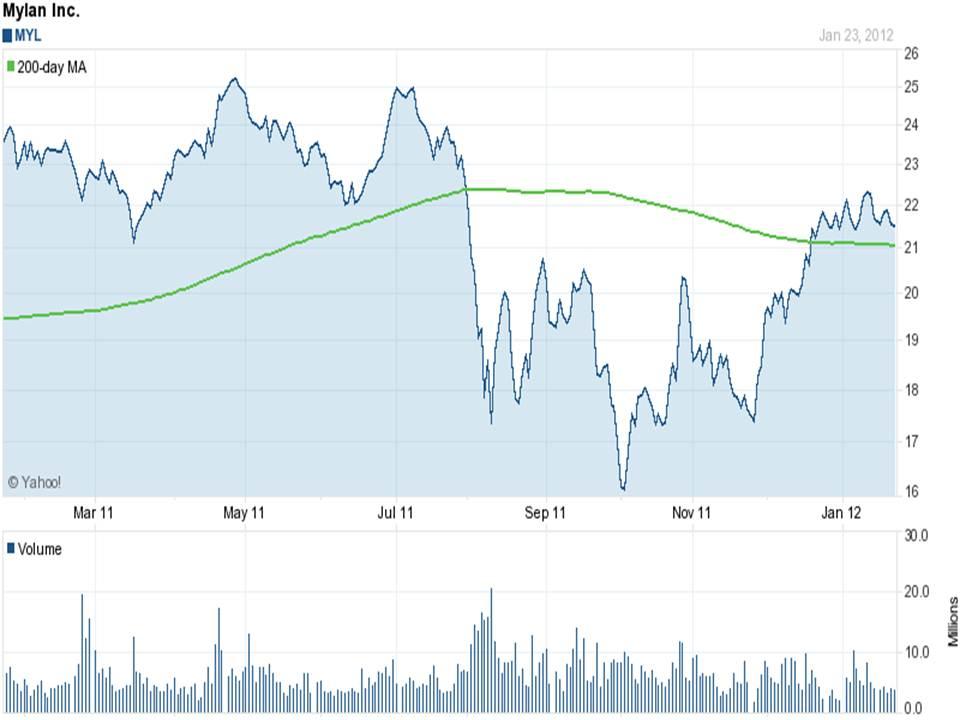 6 reasons Mylan is a solid value at $21.50 a share:
The stock appears to have gone through the bottoming process and is gaining technical strength as it just passed its 200-day moving average (See Chart).
The company is ramping up earnings. Mylan earned $1.61 in FY2010, is scheduled to make $2.01 in FY2011 and analysts have it earning $2.39 a share in FY2012.
Several insiders bought new shares in August and consensus earnings estimates for FY2011 and FY2012 have crept up over the last two months.
Mylan has a low beta (.87) and a five-year projected PEG of under 1 (.92). It also sells for just 9 times forward earnings.
Credit Suisse has an "Outperform" rating and a $28 price target on Mylan, S&P has a "Strong Buy" and a $29 price target on MYL and Barclays initiated the shares as "Overweight" in December.
New generic versions of key drugs are powering sales growth. Mylan should book double-digit revenue growth, according to analysts in FY2011 and FY2012.