Corning (NYSE:GLW) is a global, technology-based corporation. The company products can be found in liquid crystal displays, fiber-optic cables, automobiles, and laboratory products. It traces its origins to a glass business established in 1851. Annual revenue is more than $7 billion and the company employs more than 26,000 people. Production happens in approximately 60 manufacturing plants and processing facilities, of which about one-half are located in the U.S. Corning operates in five business segments:
Display Technologies - manufactures liquid crystal display glass for flat panel displays.
Telecommunications - manufactures optical fiber and cable, and hardware and equipment components for the telecommunications industry.
Environmental Technologies - manufactures ceramic substrates and filters for automotive and diesel applications.
Specialty Materials - manufactures products that provide more than 150 material formulations for glass, glass ceramics and fluoride crystals to meet demand for unique customer needs.
Life Sciences - manufactures glass and plastic consumables for scientific applications.
Display technologies and telecommunications account for 65% of revenue. Overall Corning has a good diversified revenue base across multiple industries. Graph 1 provides an overview of the percentage of revenue per business segment (source: Latest 10Q filing). Operating profit is driven by the Display Technology business segment (around 80% of total profit). There is a high dependency on this segment for earnings.
Graph 1: Revenue percentage per segment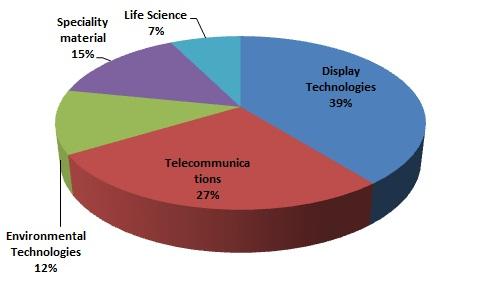 Corning is an interesting stock to consider for your portfolio. Below are 4 reasons that make Corning a buy and a few items to keep an eye when evaluating the company.
1. Stock is cheap
The stock is cheap. Let's look at a range of measurements to compare the stock price (around $14) against intrinsic value:
Book value per share is $14. The company is currently trading at book value.
I estimate reproduction value of Corning to be more than $16. At current prices it is trading below reproduction value.
Discounted cash flow analysis (growth rate of 5%, discount rate of 10%, based on average owner's earnings over the last 5 years) gives an intrinsic value of $18.
Average EPS of the last 5 years is $2.06. This implies the company is trading with a P/E of 7 based on 5 year-average historical EPS.
Forward P/E is 8 based on analysis consensus of 2012 EPS.
2. Solid balance sheet
The balance sheet is very solid: Total debt of $2.3 billion versus $6.4 billion in cash and more than $20 billion in equity. The debt-to-equity ratio is 10%. Over the last 5 years the company has invested on average 60% of operating earnings to cover expansion of manufacturing capabilities. Capital expenditures are expected to slow down in the coming years. This will increase free cash flow and allow the company to return more cash to shareholders.
3. Market Leader in key segments
Corning is the market leader in the display technology and telecommunications segment. Corning, including Samsung Corning Precision, is the largest worldwide producer of glass substrates for active matrix LCD displays. Its proprietary fusion manufacturing process produces glass that is larger, thinner and lighter, with exceptional surface quality and without heavy metals. In the telecommunications segment the company is the largest producer of optical fiber and cable products.
The market for phones and tablet computing is growing rapidly. This will drive demand for sophisticated glass products in the Specialty material division, like Corning's Gorilla Glass. Sales in this division have almost doubled in 2011 compared with 2010. The long-term trend toward phones and tablets with touch screens will drive growth in the coming years.
4. Technology Leader
Corning invests around 9% of revenue in research and development. Inventions by members of Corning's research and engineering staff have been important to the company's growth. At the end of 2010, Corning and its wholly owned subsidiaries owned more than 4,300 unexpired patents in various countries of which about 2,300 were U.S. patents. Worldwide, Corning has more than 6,750 patent applications in process, with about 1,900 in process in the U.S. The patents not only help the company to innovate and stay ahead of the competition, it also is a source of royalty income ($51 million in Q3, 2011).
There are a few risks investors should keep an eye on. The Q3 2011 earnings were slightly disappointing due to price declines, lower equity earnings and a decrease in royalty income. Price erosion is a risk that might further squeeze profit margins. The company products are highly correlated with consumer spending. A slowdown or recession will significantly impact sales. The company has 10 customers that account for 55% of the revenue. Loss of 1 or 2 of these customers will have a material impact on the results.
Disclosure: I have no positions in any stocks mentioned, but may initiate a long position in GLW over the next 72 hours.