For those that follow the commodities market closely, yesterday's +10% run on Natural Gas (NYSEARCA:UNG) certainly did not go unnoticed.
Since natural gas has had such an incredible plunge over time, naturally the question has to pop up. Is this the bottom? After all, the argument could be made that natural gas is so far from oil in terms of energy equivalent for the price, that there has to be some kind of bottom.
In the past, I've explained the main reason behind the plunge in natural gas. In short, this plunge is happening because stagnated demand is meeting strongly increased production, due to the successful exploration of shale gas, using fracking techniques.
So what explains yesterday's run? Unfortunately, yesterday's move can mostly be ascribed to short-term speculation. Basically today the President is going to talk about natural gas in his state of the union address, and traders thought it was a good idea to speculate on natural gas, given that reason.
Obviously, it is a very short-term reason, and a quick look at the inventory picture paints a very different market. One where, come the next storage cycle, isn't sure whether there will even be enough storage to keep all that natural gas. Given this picture, it's still likely that the bottoming process on natural gas has further to go.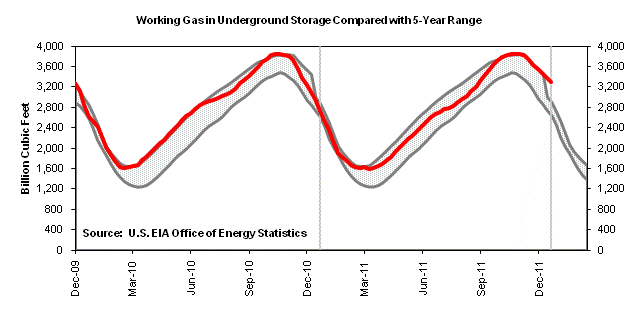 Further important data can be found in EIA's site. The bottoming process, in a way, has already started, with natural gas rigs down 10% yoy. However, given the supply and inventory picture we cannot talk of a bottom yet.
Disclosure: I have no positions in any stocks mentioned, and no plans to initiate any positions within the next 72 hours.