Biostar Pharmaceuticals (NASDAQ:BSPM) is a China-based developer, manufacturer and marketer of pharmaceutical and health supplement products for a variety of diseases and conditions. The company's most popular product is its Xin Aoxing Oleanolic Acid Capsule, an over-the-counter [OTC] medicine for chronic hepatitis B, a disease affecting approximately 10% of the Chinese population.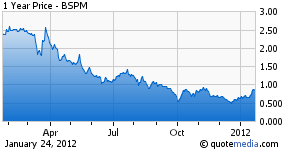 Insider Transactions
There have been two officers Mr. Wang and Mr. Pan buying shares of Biostar during the last 12 months.
Mr. Wang is the Chairman and CEO in the company. He bought more than 100,000 shares during the last 12 months. He currently helds 9,166,973 shares or 9,166,973 / 28,196,627 = 32,51% of the company.
Mr. Pan is the CFO in Biostar. He has bought 30,000 shares on May 19th 2011.
Financials
On November 14th 2011 Biostar Pharmaceuticals announced its financial results for the third quarter and nine months ended September 30th 2011.
Ronghua Wang, Biostar's Chief Executive Officer and Chairman commented, "Net sales for 2011 third quarter and nine months increased by approximately 23% and 27%, respectively, as compared to the same periods of 2010, due to our ongoing efforts to gain market share in our current locations as well as to expand our operations into new provinces."

Biostar's CFO, Zack Pan noted, "Our balance sheet remains strong. Total current assets at September 30, 2011 were $59.6 million vs. total current liabilities of $11.3 million for a 5.3:1 current ratio. We continue to fund our business from our free cash flow. As of September 30, 2011, we had cash and cash equivalents of approximately $24.0 million. Net cash provided by operating activities through September 30, 2011 was approximately $11.8 million; net cash used by investing activities for the nine months ended September 30, 2011 was approximately $2.3 million.
Future Growth
Mr. Wang added, "We continue to execute our strategy to grow our Company organically and through acquisitions. On the organic side, during the first nine months of 2011 we have expanded our geographic coverage by adding three new provinces into our network, for a total of 25 provinces, and have increased our rural presence in the province of Shaanxi to over 11,800 sales outlets. To further increase our market share, we have expanded our sales force to over 300 people and increased our advertising spending. Additionally, we continue to invest in the development of several innovative products. Our team of 30 scientists and researchers continues to develop new products and we currently have seven OTC products and prescription drugs in our pipeline. Clinical trials for all seven have been completed and await State Food and Drug Administration approval."

Mr. Wang concluded, "In addition, we recently completed the acquisition of Shaanxi Weinan for an aggregate cash price of RMB 61 million (approximately $9.62 million). This acquisition increased our portfolio of drug approvals and permits by an additional 86 drugs (60 prescription drugs and 26 OTC drugs) and one health product. Currently, we are manufacturing seven products at Shaanxi Weinan's facilities and we plan to start manufacturing four more in early 2012. As previously announced, we expect to generate at least $5 million in net sales in 2012 from the newly acquired product line."
Reaffirming 2011 Guidance
Biostar reaffirmed its previously announced 2011 guidance for top-line growth of 20-25%. By year end, the tompany expects to have 13,000 rural sales outlets, an increase of 3,000 from 2010 year-end.
Conclusion
I recommend buying this stock under $1.50. Biostar has $0.45 net cash per share. All the insider buys were above $1 during the last 12 months.
Disclosure: I am long (BSPM).