As of its latest earnings release on January 24, Apple (NASDAQ:AAPL) now has a total of $103 in cash ...
That's per share. The total amount - including cash, short-term investments, and long-term marketable securities - now adds up to just under $100 billion.
These charts show how that cash hoard has grown over the past few years, both total and per diluted share: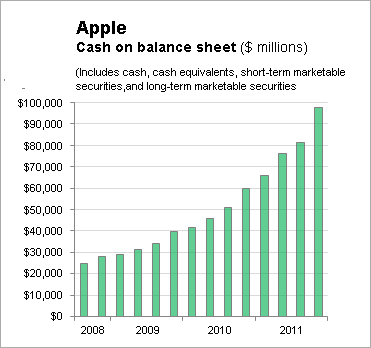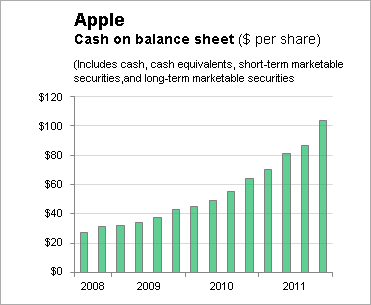 That's a lot of cash, but right now it's all locked up in the shares. It's there, of course, but shareholders are starting to get a bit frustrated as to how the money will be used and whether it might be best to return some to shareholders.
The AAPL "Condo"
Here's a way to look at it. Let's say you own a condominium. We'll assume there are 100 units in the complex, each exactly alike. Yours is worth about $420,000, so in theory all of the units in the complex are worth $42 million.
But this condo building is special, because there's a safe in the building's basement - and it's filled with about $10 million in cash, which belongs to all the owners.
As an owner in the complex, you essentially own about 1% of that cash, about $100,000 worth, just like you own 1% of the pool, parking lot, etc.
There's just one problem - you can't access that cash. One percent of it is yours, of course, but only as a member of the condo association. After all, it's not like you can take your 1% share of the swimming pool and sell that to someone else.
So when you sell your condo, you're selling it based on all its amenities. That $100,000 in cash? That has to figure into the price of your condo, but it many ways it's a theoretical asset as it's not cash that's available to you. In other words, you can't take the cash and sell the condo for $100,000 less.
The condo association could use that cash for a wide variety of purposes - making improvements, lowering the condo fees, or even distributing it to condo owners either as a special bonus or on an ongoing basis.
You trust the condo association to make the right decisions. They may. They may not.
It may be frustrating because this $100,000 you own in many ways isn't worth $100,000 because you can't separate it from your investment in the condo and spend it as you see fit.
On the other hand, your "Apple" condo is worth twice as much today as it was two years ago and four times what it was worth three years ago.
And that's probably the best news of all for Apple shareholders.
Disclosure: I am long AAPL.