Most of the developed world has gone through a lot in recent years. Economic, political or social. There are many areas where things have changed, sometimes in a negative way. One side effect of all of this is that it has led some people to look elsewhere for another place where they can live or work, either temporarily or permanently.
One destination that has received more traffic than most other places is probably the country of Singapore. In fact, Singapore has a relatively large expat population with lots of foreigners, especially if you account for the fact that Singapore is not that big a place.
Despite its lack of size, quite a few companies and individuals have decided to make Singapore their new home or at least their new base from which to operate. Jim Rogers is probably familiar to many investors, but he is by no means the only one. There are many others with similar backgrounds who are now in Singapore.
Why Singapore attracts foreigners
There are many reasons why Singapore is the number one choice for people, depending on the individual. Singapore offers many qualities that may appeal to people who feel that their own country is deficient in that regard. Favorable tax policies and a business-friendly environment are a few examples.
Another contributing factor is the fact that Singapore has a high standard of living, which can be important to those not used to anything else. This relative prosperity is no coincidence. There are several reasons why Singapore has managed to achieve the success it has.
However, the most important reason is arguably its location. Anyone who has ever dealt in real estate should know how important location is. It's why an acre of prime real estate in Manhattan, New York is so much more valuable than thousands of acres of barren desert land in the Sahara. Location is crucial.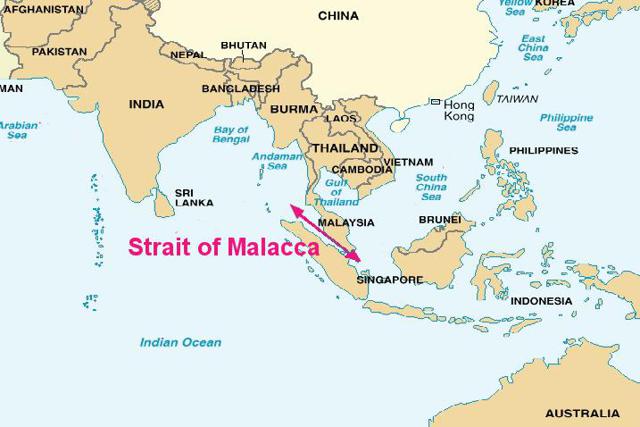 Source: Wikimedia [Public Domain]
Singapore is strategically located with regards to global trade
Singapore lies at the southern end of the Malay Peninsula, near the Strait of Malacca which connects the Pacific Ocean with the Indian Ocean. As a result, as much as one fourth of all global trade has to pass through the Malacca Strait. Included are ships destined for some of the biggest trading nations such as China and Japan.
Singapore is able to take advantage of this situation in various ways due to its close proximity. For instance, all the traffic that has to make use of its port facilities generate substantial fees. It's no wonder Singapore is one of the busiest ports and a very important financial and commercial hub. There are many companies with regional headquarters in Singapore.
Basically, Singapore's favorable location very much enables it to be the country that it is. At least, as long as there are no other viable alternatives to the Strait of Malacca for shipping. However, there have been signs recently that may be about to change and competition may be on the horizon.
New infrastructure could help bypass the Malacca Strait
For instance, China has recently announced it will invest $46 billion to set up the China-Pakistan Economic Corridor ("CPEC"). This involves the setting up of everything needed such as port facilities, roads and other infrastructure to enable some of the trade that currently flows through the Malacca Strait to go through Pakistan instead.
This initiative would basically give China the ability to access the Indian Ocean through an overland route without having to access the Strait of Malacca. For instance, Chinese goods could be sent to the port of Gwadar in Pakistan, where they can be shipped to countries in the Middle East. At the same time, crude oil from the Middle East could be offloaded at Gwadar to be sent to China.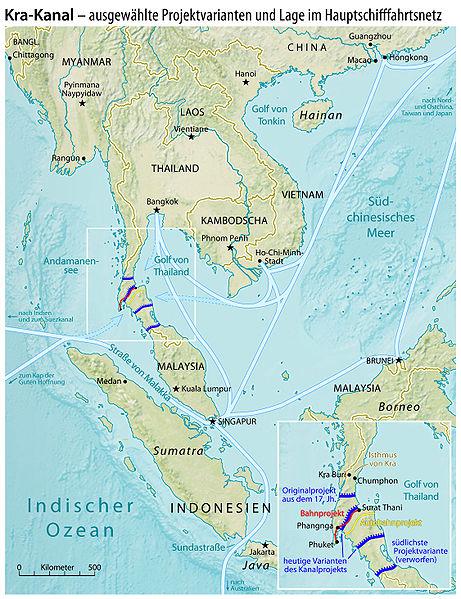 Source: Wikimedia [Public Domain]
Another possibility is the building of the Kra Canal through Thailand, which would cut the time and distance needed to travel between the Pacific and Indian Ocean in comparison to the Malacca Straits. Compared to the CPEC which will probably be used primarily by China, the Kra Canal could appeal to many more countries.
There are no definite plans with firm timelines at this point, but it's very much possible that the Kra Canal may one day be build. Recent news reports out of Thailand do indicate that people are at least discussing the possibility of closing a deal. There are too many potential benefits not to consider the idea.
All attempts to bypass the Malacca Straits are no good for Singapore
All these developments have the potential to drastically change the fortunes of a country like Singapore which has benefited so much from its proximity to the Malacca Straits and all the traffic that passes through it. Just a reduction of the traffic would be felt in Singapore. Take all of that away and it's very hard to imagine that Singapore will not be affected in a negative way.
Singapore will still have other strengths, but none of them are as much of a game changer as its current location is relative to global trade. While the full impact may still be years away and a lot can happen in the meantime, it's definitely something to keep an eye on. It has too many ramifications for Singapore not to.
Conclusion
Singapore today has a number of comparative advantages. The biggest that has made the most difference is arguably its strategic location. If or when the day comes that it can no longer rely on that advantage, Singapore will have to find something else to replace it. However, it's not clear that there is something else out there that can make up for it.
Singapore could go into a decline due to the loss of revenue and other benefits accrued from all the traffic that passes nearby. That will have consequences for anyone who has something invested in the country. Whether it's a home, a business or even an ETF such as EWS (NYSEARCA:EWS) that tracks Singapore. If Singapore goes down, everything invested in Singapore will go down as well.
Disclosure: The author has no positions in any stocks mentioned, and no plans to initiate any positions within the next 72 hours.
The author wrote this article themselves, and it expresses their own opinions. The author is not receiving compensation for it (other than from Seeking Alpha). The author has no business relationship with any company whose stock is mentioned in this article.