Eaton Corporation (NYSE:ETN) is scheduled to release last fiscal quarter's results before the opening bell on January 26, 2012. Eaton Corporation operates as a power management company worldwide. The company was founded in 1916 and is headquartered in Cleveland, Ohio.
52 Week High: $56.49
52 Week Low: $33.09
Book Value: $23.11
Float Short: 1.55%
Analysts are expecting an improvement of $0.03 in earnings per share compared to last quarter's results of $1.08. Investors will be looking to see a number north of $1.11 per share, based on the earnings estimates. Analyst estimates range between $1.07 and $1.15 per share.
The P/E ratio has been discounted, as the current trailing twelve months P/E ratio is 13, while the forward P/E ratio is now 10.71. It appears based on the lower PE that investors are pricing in less growth. In the last month, the stock has increased in price 9.06%, and moving in price -3.44% from one year ago. The stock has done well as compared to the overall market. When comparing to the S&P 500, the year to date difference is 6.26%.
After a recent break in the trend line it appears Eaton once again found its footing. The faster moving averages are moving higher nicely and the bullish break above the 200 day moving average appears to be well intact. The 2.9% dividend yield is attractive, and with natural gas and coal prices low all would appear well for the electric power industry. While only part of the business, more growth can be expected. There is just not much to dislike about Eaton given the low earnings multiple and the super low short interest. The stock is bullish technically on the chart and by the numbers. I would look for pullbacks to add to positions with.
For the same fiscal period year-over-year, revenue has improved to $13.72 billion for 2010 vs. $11.87 billion for 2009. The bottom line has rising earnings year-over-year of $929.00 million for 2010 vs. $383.00 million for 2009.The company's earnings before interest and taxes are rising with an EBIT year-over-year of $1.17 billion for 2010 vs. $444.00 million for 2009. Rising revenue along with rising earnings is a very good sign and what we want to see with our companies. Be sure to check the margins to make sure that the bottom line is keeping up with the top line.
Here is a look at the fiscal year revenue.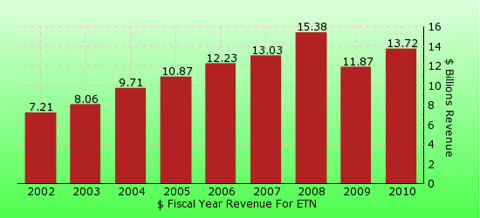 Here is the last few quarters to get an idea how well they perform compared to estimates.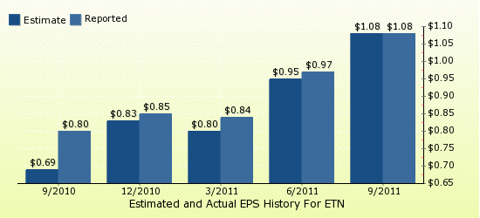 Reported earnings per share compared to the mean estimate. Differences are rounded.
The total short interest number of shares for ETN.


The number of days to cover short interest based on average daily trading volume for ETN.


Thank you for reading my article. Please also feel free to share your thoughts and comments.
Disclosure: I have no positions in any stocks mentioned, and no plans to initiate any positions within the next 72 hours.