While we remain unrepentant InterOil bulls, the stock needs a couple of days to cool down technically. The nice thing is, the company is drilling again, having spud the much anticipated Triceratops 2 well last week. While results are not certain, this well should strike fear in the numerous shorts because the structure in which they are drilling (Bwata/Triceratops) already has proven gas per a well drilled in 1959 by a previous license holder.
More ominous still, the structure seems much larger than previously thought, and one or several reefs have been spotted on seismics. And that's not nearly the only possible catalyst for the stock price. Negotiations are ongoing with strategic partners to take a stake and function as the LNG operator. Considering Antelope has 8.59Tcf and wells with 1175ft and 2277ft of net payzones with a reef on top and world record flow rates (382MMcf/d and 704MMcf/d), the 50 cents per Mcf the shares are trading can be considered a bargain still.
We are also awaiting government approval of a revised project agreement, originally signed in December 2009, which has created a bit of consternation the last months. This is because the plans on the ground are somewhat different from those in the agreement, and it remains unclear what has to give, the agreement (which would be the simplest by far) or the plans.
We always argued it would not be in the interest of the Papua New Guinea government (a 22.5% stakeholder in the project, apart from expecting a rather large tax windfall from it) to force InterOil to change the plans, as this could involve significant delays. But there are no iron clad guarantees here, at least we are unable to provide them.
Part of the plan involves a floating LNG plant with Flex of Norway, build by Samsung. The project specific FEED has been done, and basically they are twisting thumbs waiting for orders from PNG. Since FLNG is a bit of a hot concept these days, they might not wait forever. There was a not so subtle hint of that in a recent Flex PR.
Technicals
If we have one concern, it's the technical situation of the stock. It's now quite heavily overbought and we would feel happier if it cooled down for a couple of days to work that off. Unless there is bad news we don't really expect any meaningful sell-off, there are simply too many shorts still, faced with too many possible positive news releases.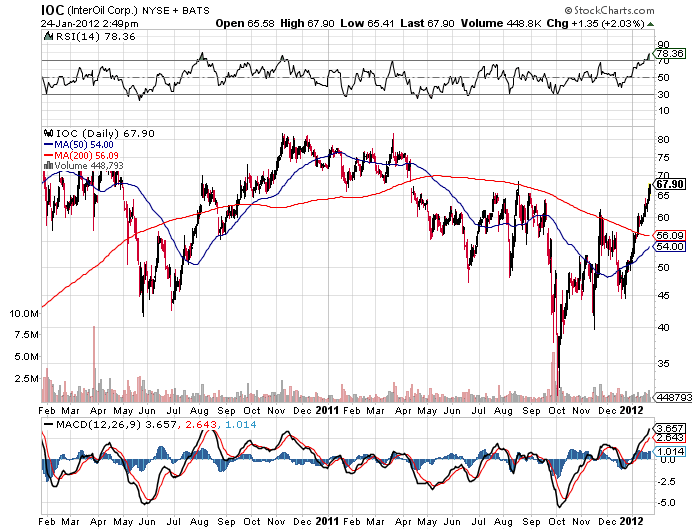 The fact that the stock kept on rallying well within an overbought situation is likely to simply reflect their state of uneasiness. They never really believed InterOil could pull if off, relying on rather silly, and totally unsubstantiated arguments casting doubts on the Elk/Antelope resource, as notable short Whitney Tilson has done. That resource has been validated by GLJ of Canada three years running, we have yet to come across even a single data point or argument why GLJ would be wrong.
Looking at the chart, we see a good deal of similarity between the rally now and the one in July 2010. We expect a pause and a slight pullback anytime soon, so taking some money off the table might seem a good idea. We don't believe any correction will be large as there are too many possible catalyst for this company to attack the all time high ($84) soon.
For instance, if a reef at the top of Triceratops 2 is confirmed, this is likely to have enormous implications for the size of InterOil's resource base. That could be twice as big when that happens, while a reef guarantees easy delivery. This would also meaningfully increase the price any strategic partner will have to pay for a part of the company, needless to say.
Disclosure: I am long IOC.