By Joseph Hogue, CFA
Colgate-Palmolive (NYSE:CL) releases 4th quarter earnings before the market opens on the 26th with revenue estimates at $4.5 billion and estimates of $1.31 per share. This would be flat per share net over the most recent quarter but an increase of 2.7% in revenues. The following analysis is a summary of the full report available free on our site.
Institutional ownership, the smart money funds and billionaire investors, has an imposing interest in Colgate with 71% of the shares outstanding. This is somewhat expected as the company is included in many indices like consumer staples and dividend payers, and would need to be included in funds that track those indices. However, we see institutional ownership in competitors at significantly lower percentages, 65% for Clorox (NYSE:CLX) and just 53% for Procter & Gamble (NYSE:PG). State Street alone owns 7.7% of the company for an investment of $3.3 billion, almost twice as much as the next largest institutional owner.
So much interest, especially relative to peers, is a strong vote of confidence for the shares but the smart money has been proven dumb before and I maintain my neutral position on the company.
A diversified product line-up with geographically diversified revenues
Colgate-Palmolive is a leading consumer products company operating in two primary segments: oral, personal and household care; and pet nutrition. The oral, personal and home care segment accounts for approximately 87% of total sales but is itself split into: oral care (43%), home products (22%), and personal care (22%). Segment sales as a percentage of total revenues have been fairly consistent over the past three years. Percentage of sales from the oral care segment has increased from 41% while home products and pet nutrition have both fallen as a percentage of total sales by one percent.
In keeping with the company's focus on faster-growing markets, revenues by region show a trend toward emerging markets over the last three years. The graph below shows revenues by geographic segment and a well-diversified mix though the aggregate numbers hide some volatility in volume and pricing.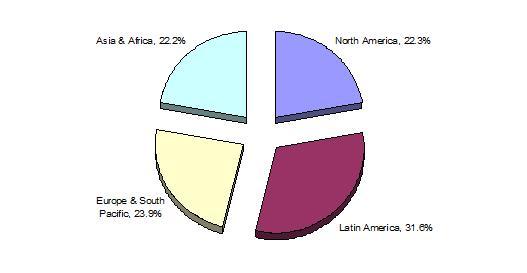 During the 3rd quarter, sales in Latin America grew about 1.5% over the past year with a 7.5% increase in organic growth, but suffered a 9.0% negative impact due to foreign exchange. Sales in Asia and Africa increased by 13.0% on strong volumes and a 4.0% positive impact from foreign exchange. Europe was again the weakness in the last quarter with a decrease in revenues of 1.5% as volume growth of 2.0% was offset by a 3.0% decrease in prices and a 0.5% negative impact on foreign exchange.
Competitive pressures squeezing margins
The weakness this quarter for Colgate may be margin growth. The consumer environment turned negative in the most recent quarter as the debt crisis in Europe escalated and the United States saw its sovereign debt rating downgraded. Competitive pressures and flat real-wage growth are limiting the amount of price increases that can be passed on to the consumer. While sales may increase slightly, especially in the emerging markets, a negative impact from foreign exchange may again limit gains.
Cost-cutting and a focus on key markets may help improve margins over the next few quarters but the most recent quarter will most likely see profitability decline slightly on higher commodity prices.
Weak relative valuation and lower dividend yield
The company is marginally more expensive on a trailing earnings basis and the dividend yield is lower when compared to peers and the industry average. Though the operating margin and return on equity is favorable, it is not enough to merit an outperform given other fundamentals.

Headline Risks
The company completed its acquisition of Sanex personal care from Unilever (NYSE:UN) in June 2011 for a purchase price of $960 million. Sanex is a personal care brand with approximately $265 million in 2010 net sales, primarily in Western Europe. It is believed that the acquisition will strengthen the company's position in the region but risk to operational transitioning could occur. Additionally, the risk of further weakness in the European market may cause the company to adjust sales projections and value of intangibles.
The company took a one-time, non-cash after tax charge of $271 million as a result of a required accounting change related to the transition to hyperinflationary accounting in Venezuela as of January 2010. The company continues to do business in Venezuela with approximately 4% of net sales. Any further devaluation of the bolivar fuerte or other political risks could impact earnings.
Valuation
Organic growth continues to be positive in emerging markets but is starting to attract increased competitive pressures. Commodity pressures continue to weigh on margins and will most likely continue into the year on strong emerging demand and geopolitical uncertainties. Further cost savings and pricing may help to offset some pressure in raw material prices.
A 12-month target of $90.95 is based off of fiscal year 2012 EPS estimates of $5.35 per share and a multiple compression to 17 times earnings. A discounted cash flow analysis yields an intrinsic value of $90.16, assuming a weighted average cost of capital of 8.9% and a terminal growth rate of 2.8%. Neutral position is warranted given valuation and limited upside in intrinsic value.
Disclosure: I have no positions in any stocks mentioned, and no plans to initiate any positions within the next 72 hours.