by Brendan Gilmartin
Overview
Cloud-based computing companies have delivered solid earnings releases so far this quarter, evidenced by the results from VMware (VMW) and F5 Networks (FFIV). The next on tap is Citrix Systems (CTXS). Citrix is scheduled to report 4Q 2011 earnings after the close of trading on Wednesday, January 25 with a conference call to follow at approximately 4:05 p.m. EST.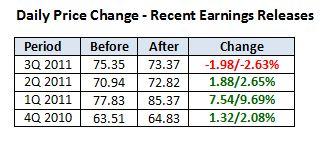 Outliers & Strategy
Back in October, Citrix provided the following outlook for 4Q 2011:
Non-GAAP EPS is expected to be in the range of $0.75 to $0.76. The consensus estimate is $0.76 (Source: Yahoo! Finance).
Revenue is expected to be in the range of $610.0 million to $620.0 million. The estimate is $618.61 million.
Given Citrix Systems' practice for providing quarterly guidance, the results for the current reporting period, may be priced into the shares. Therefore, keep an eye on the following guidance measures for the 1Q 2012:
Adjusted Earnings Per Share: The current estimate is $0.56.
Revenues: The estimate is $561.4 million for 1Q 2012.
Stronger than expected earnings from VMware bodes well for Citrix. VMware posted a 27% increase in in revenues thanks to increased adoption of virtualization and cloud computing. Similarly, F5 Networks delivered a solid quarter thanks to strength in some of its virtual applications.
Recent News
01/13: According to a report on Barron's, Citigroup upgraded Citrix Systems from Neutral to Buy, while cutting its rating on VMware from Neutral to Sell. The positive outlook for Citrix is based on desktop growth in 2012, enhancements to its sales model, and strength in its virtualization and cloud-computing segments. The firm sees 3Q revenues toward the high end of guidance.
01/04: Cowen & Co. upgraded Citrix Systems from Neutral to Outperform, according to a report on Forbes.com. The report cited increased adoption of desktop virtualization and notes that this year's EPS and revenue estimates are too low.
Technical Review
Citrix Systems recently clawed its way back to the 200-Day SMA near $69.50 before stalling out at this key resistance barrier. Should earnings and guidance surprise to the upside, the $70-level is the first area of resistance, followed by the recent highs near $75. Conversely, support is at the 50-Day SMA near $67, followed by $65 and $61. (Chart courtesy of StockCharts.com)
Citrix Systems is widely expected to deliver solid quarterly results after the close on Wednesday, stemming from increased adoption of desktop virtualization software, coupled with the growth trends in cloud-computing. Recently upbeat reports from F5 Networks and VMware also support the bullish argument headed into the release, while the shares have risen more than 15% off the December lows. Guidance for the upcoming 1Q period is expected to dictate the trading direction.

Disclosure: I have no positions in any stocks mentioned, and no plans to initiate any positions within the next 72 hours.