In this article we want to review the pros and some cons associated with investing in Terra Nitrogen (NYSE:TNH). There are positive qualities that attract us to the name: the yield and the fact that the product they sell is literally a necessity for life. The problem might be that what is obvious to us might not be obvious to the market, so we want to work out whether this is a good entry price or not. Specifically, because the cash flow yield (at 7.5% as of May 28, 2015) is the obvious investor attractant here, we want to think about how sustainable that yield is. We'll do this by reviewing the history of operating profits at the firm and the strength of the capital structure. We also want to comment on the market attitudes embedded in price at the moment. If the market is too optimistic, it would be a good idea to sit on the sidelines for a while (because there's nothing worse than signing up for a 7% yield and losing a pile of capital in an overpriced name). We'll conclude with a discussion of future risks associated with the business.
Background
Terra Nitrogen's main products are anhydrous ammonia and urea ammonia nitrate (NYSE:UAN) solutions, the latter of which represents the bulk of sales. All manufacturing takes place at a single facility in Verdigis, Oklahoma. The products are sold wholesale and are used by farmers to improve the yield and quality of their crops. It's a fairly straightforward business and one that is easy to understand.
Viability of Distribution
The first thing to note about Terra Nitrogen is that it is debt free, so the capital structure is quite solid. There's little risk of a liquidity or a solvency crisis with this name. That said, the operations are quite volatile for a company that sells such a necessary product. The reason for this is that the demand for that product is quite variable in the short term. Over the longer term, though, the company has managed to increase operating profit at a CAGR of ~21%, although at a choppy rate.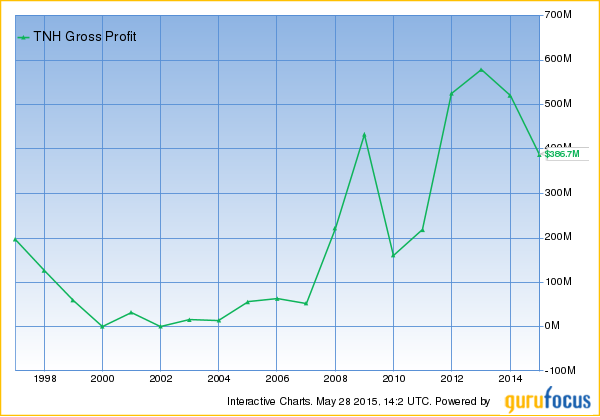 Source: Gurufocus
In addition, we note that the margin is high and growing (in the order of 50%+) and the company trades very inexpensively on an EV/EBIT basis of 7.7 (with an implied cash flow yield of 13%). It's not all rosy, though.
Optimism Embedded in Share Price
The current P/E for the company (and we're aware that P/E may not be the most appropriate metric to use, but we want to compare current apples to future expected apples, so please indulge us) is 12.1 and the forward P/E is 9. In other words, if we hold price constant, the market is forecasting earnings to grow at a rate of 34%. While we don't believe this is impossible, but it would be a strong reversal of a recent trend and we would say therefore that shares are optimistically priced. We note that the shares are still trading at a discount to the overall market, but this is a company about which people have great expectations. Such expectations are dashed more often than not, which causes us to be somewhat cautious.
Operational Risks and Risks to the Shareholder
Natural Gas Input Cost
Another risk associated with Terra Nova is the fact that natural gas is an input cost. According to the company's most recent quarterly filing, "natural gas is the largest and most volatile component of the manufacturing cost." The company obviously hedges the price of natural gas, but if prices for this input cost rise, at some point cash flows (and therefore distributions) may be impacted. Investors in this company should therefore keep a keen eye out on what's going on in natural gas markets.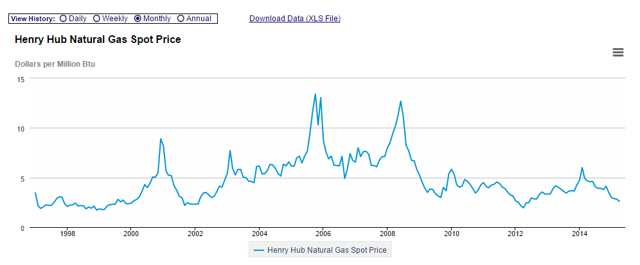 Source: EIA
Given what's going on in energy markets, particularly the natural gas market of late, we're not worried in the short term, but investors should be aware that natural gas is a significant input cost. For that reason, if natural gas begins to rise in price, we recommend reevaluating any positions here.
Single Point of Failure
The company operates out of one plant. While this has some efficiency advantages and may help reduce waste and overhead, there is what we call a "single point of failure risk." Specifically, when a company has 100% of its operations in a single location (in this case, Verdigris, Oklahoma), any number of events may shut the entirety of the business down for an extended (possibly very extended) period of time. We developed this risk radar after one of Cameco's mines flooded and had a material impact on the firm. We do not believe there's any imminent danger, obviously, but we note that Acts of God can be capricious and acts of man, more so. It's something about which we believe investors should be made aware.
Risks To Unit Holders: Be Aware of Tax Treatment
We're not tax experts, and we're certainly not tax experts with regard to American limited partnerships, but we should caution that anyone considering these must consult their tax adviser before taking the plunge. The reason for this is that limited partners' tax structure is different from that of simple dividend paying stocks. In particular, much of the distribution can, and often does, come in the form of a return of capital. LPs provides the unit holder tax free income at the time of distribution, which has the effect of lowering the investor's adjusted cost base. By reducing the adjusted cost base, of course, the acquisition price goes down and therefore any potential future capital gain is higher and taxed more onerously. Please put the above advice in the context of your own situation when considering this investment. Also, for our Canadian clients, unfortunately the hassles associated with buying this structure domiciled in the United States makes it more trouble than it's worth (it's taxed as interest income and it's withheld by the IRS at the highest marginal rate). And we naively thought there was free trade between our countries!
Conclusion
We believe this company represents excellent value for income investors with a long-term perspective. There is some operational volatility, but the company sells a product that is literally necessary for human life. That said, we suggest being slow. In our experience, income investors are a patient group. We'd urge investors to be patient in acquiring this company. There's no harm in taking a ¼ position per quarter over the next year. This "time diversification" will help minimize the risks associated with investing during what may be an overvalued market. We believe the cash will be there for the taking over time, but we're nervous about committing too much at what might be considered optimistic pricing.
Disclosure: The author has no positions in any stocks mentioned, and no plans to initiate any positions within the next 72 hours.
The author wrote this article themselves, and it expresses their own opinions. The author is not receiving compensation for it (other than from Seeking Alpha). The author has no business relationship with any company whose stock is mentioned in this article.