In 2011, U.S. financial stocks collectively posted the worst performance of the 10 major economic segments. Not only did the SPDR Select Sector Financial Fund (NYSEARCA:XLF) decline 17%, but the P/E ratio for the sector contracted 22%.
In 2012, the skies have been a little brighter for banks, insurers and property developers. The S&P 500 SPDR Trust (NYSEARCA:SPY) has rallied for nearly 4.8%, but the SPDR Select Sector Financial Fund (XLF) has posted a blistering 9.0%.
Are the super-sized, percentage gains a function of recent earnings reports? Probably not. JP Morgan Chase (NYSE:JPM) experienced weaker-than-anticipated revenue, Goldman Sachs' profits plunged 56% and Citigroup badly missed earnings-per-share expectations.
Then, are stock prices of financial corporations simply riding an audacious wave of hope? Perhaps. Bank of America (NYSE:BAC) did beat ridiculously low estimates with a 4th quarter profit of .15 cents per share. And fears of its survival appear to have dissipated.
However, the hope for the financial sector may be tied to a different potentiality. Investors may be "banking" on a Mitt Romney presidency.
Obviously, Gingrich isn't going to make a Romney nomination easy. And even if Mitt manages to win the Republican slot, Obama doesn't appear likely to fade into obscurity. In fact, the wildly popular prediction site, InTrade.com, currently shows a 56% likelihood that Obama will win re-election.
That said, the U.S. economic recovery is tenuous. Most economists believe Europe will survive its current debt crisis, but struggle to stay out of recession in 2012. High oil prices may also drag on the U.S economy. In brief, a Romney presidency may be a whole lot more probable as the year plays out.
Of course, the stock market is a forward-looking creature. Since it is unlikely that banks will be lending a whole lot more in 2012, and since current regulations are brutalizing the investment giants like Goldman Sachs, it seems that financials are factoring in something (or someone) else.
In truth, I'm not the only one who has been thinking that Mitt may have something to do with it. Analysts at FBR Capital Markets Corp. expect Goldman Sachs (NYSE:GS) and JPMorgan Chase (JPM) to rocket by mid-summer, as economic realities begin weighing down incumbent politicians. Keep in mind, Romney vows to repeal the 2010 Frank-Dodd regulatory law and that a Romney regulatory team would be far friendlier to big banks.
One might also consider the price action of XLF. When Romney won New Hampshire, XLF vaulted 1.2% the following day. In the two trading days since Gingrich won in South Carolina, XLF has gone nowhere… not necessarily because Gingrich won, but because the Republican nominee may not be known until the summertime.
I still wouldn't recommend investing in Bank ETFs at this time. European debt woes still weigh on banks and the macroeconomic picture remains blurry.
The safer way to get exposure to financial companies is through their preferred shares. Yet even iShares S&P Preferred (NYSEARCA:PFF) appears overbought with its RSI reading well above 70. If you're going to make a foray, wait for a pullback.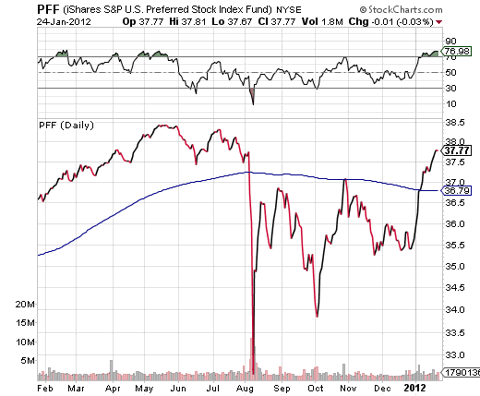 Disclosure: Gary Gordon, MS, CFP is the president of Pacific Park Financial, Inc., a Registered Investment Adviser with the SEC. Gary Gordon, Pacific Park Financial, Inc, and/or its clients may hold positions in the ETFs, mutual funds, and/or any investment asset mentioned above. The commentary does not constitute individualized investment advice. The opinions offered herein are not personalized recommendations to buy, sell or hold securities. At times, issuers of exchange-traded products compensate Pacific Park Financial, Inc. or its subsidiaries for advertising at the ETF Expert web site. ETF Expert content is created independently of any advertising relationships.