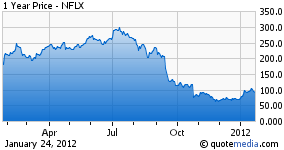 The majority of analysts blame the Netflix (NASDAQ:NFLX) price hikes and Quikster decision for the stock price decline and potential company downfall, but that's all just a charade. It's like blaming the drop in Enron on Lay's snobbiness during questioning.
Unsustainable Model:
Content costs are skyrocketing and DVD delivery costs are increasing as well. NFLX attempted to help stem the problem by raising the rates from $10 for both to $8 per ($16 for both). This caused such an immediate backlash in the consumer world that most analysts were finally forced to quit their honeymoon antics (look up Ingrid Chung Goldman Sachs -- she had a $350 pt on NFLX at one time last summer). In all of last summer, only one firm, Wedbush Securities, had a reasonable target (pretty sure it was $80).
The whole NFLX/Quikster thing wasn't a "random mistake," it was a desperation ploy by NFLX to split the company in two so that they could auction off the DVD side to raise $1-2B in capital. When this failed, they were stuck with the DVD model. Thanks to Rocco Pendola for pointing out the twin-business fallacies.
When NFLX was $10 for both, there were tons of DVD customers (myself included) who would get a DVD and forget about it for a week-2 weeks while watching online. This helped balance out the massive users who watch and mail instantly. With $8/per, most people switched to streaming only. The only DVD users left are (presumably -- I'm speculating here) heavy users who watch about 6 movies a month. Each DVD costs (sepeculating) between $1.50-$2 roundtrip (postage, package handling costs, marginal cost of buying DVDs, packaging)-that's $9-$12 or a marginal loss of $1-$4 per customer on the DVD-only side.
Cashflow and Liability Issues:
NFLX is hurtling towards bankruptcy, they have $2.4B+ in offsheet liabilities, and they continue to sign contracts left and right for more streaming (plus NFLX is paying for two unique programming shows). More on the liabilities here (thanks Liqddynamite)
For evidence of NFLX's financial decline, look at their financing activity last fall. They had been repurchasing treasury stock for about 7-8 straight quarters and then "Bam!" $200M of issued debt (WITH A $85.80 conversion strike) + $200M of issued stock (at approx. $70). Wow, buying back stock for an average of $180 and then selling it months later for $70 ... Is this a sign of mismanagement or a sign of impending doom?
The terms of the debt issuance required a simultaneous $200M equity raise, and with such a low conversion premium (especially considering NFLX has recently hit $300), this is signalling extreme high risk by the debt-issuers.
Marketing Blunders?
For recent waves, on the 20th , they effectively fired Leslie Kilgore who had served as CMO for 12 years:
Last time with management changes, when their CFO stepped down, trouble awaited, but it took the market 7+ months to find out … I'm guessing this is more damage control. Perhaps they can "blame" her on last year's performance. NFLX is also running an obscene amount of TV and radio ads, so I expect their marketing costs to skyrocket this quarter and next. They will be sure to blame it on the international expansion of course … even though these are domestic spots. Maybe they can blame her on the out of control marketing costs? Or maybe they are embarrassed about this ad.
Forget the hype: latin America expansion is a horrible idea, Canada (which has the best chance to succeed) has been sputtering for months, and UK/Ireland is going to be a stomping ground with Amazon's (NASDAQ:AMZN) Lovefilm. Let the losses abound!
The Subscriber Numbers:
On the previous financial release (Q3-11), under "about the company" NFLX listed: "With more than 25 million members in the United States, Canada and Latin America, Netflix, Inc. [Nasdaq: NFLX] is the world's leading Internet subscription service for enjoying movies and TV shows."
On the last release (Kilgore stepping down), NFLX listed: "With more than 20 million streaming members in the Americas, the United Kingdom and Ireland, Netflix, Inc. [Nasdaq: NFLX] is the world's leading internet subscription service for enjoying films and TV programmes."
While the 5M drop is obvious, notice the shift from "members" to "streaming members?" They are going to play this out by spinning the story to boast "increases in streaming members!" to help hedge the int'l losses, the higher marketing, and the overall declines. Here's another question? Are the total #s down? Basically, are there 5M+ US members who ONLY use DVD and ZERO streaming. I'd say no-but here's some #s to play with:
Q3 '11 : 21.45 domestic streamers + 13.93M domestic DVD AND 23.79 domestic uniques … Looks like 2.34M DVD-only in Q3-11.
In Q3 ' 11 there were 21.45 domestic streamers + 1.48 international streamers = 22.93M total streamers. The have since pushed Latin America AND UK/Iceland, and STILL are only saying "over 20M streamers" -- if that's not a devil in the details not sure what is ...?
Background Credibility:
For some background credibility, check out this article from January 2011. LOOK at the first comment. When NFLX was at $215, I was on record saying 1y PT of $80. Now, yes-I did get in a bit early, and almost lost my shirt, but the thesis panned out accordingly. With the cash flow issues-- compounded by the recent debt/equity offerings-- I believe the only road for NFLX is either acquisition or eventual bankruptcy (although likely not for at least a year or two).
Disclosure: I am short NFLX. Short via a variety of puts which include (1w) puts for January 27th and February '12 puts. Due to the short window of my puts, this article may contain conflicts of interest.