Excel Trust, Inc. (NYSE:EXL) recently announced the pricing of an underwritten public offering of 3,200,000 shares of its 8.125% Series B Cumulative Redeemable Preferred Stock. The preferred stock has the following characteristics:
Liquidation preference of $25.00 per share.
Dividends for the Series B Cumulative Redeemable Preferred Stock will be cumulative and payable quarterly commencing on or about April 15, 2012 at the rate of 8.125% per annum of its liquidation preference, which is equivalent to $2.03125 per annum per share.
The company may not redeem the Series B Preferred Stock prior to January 31, 2017, except in the event of a change of control and in limited circumstances relating to its continuing qualification as a REIT.
Upon the occurrence of a Change of Control, each holder of Series B Preferred Stock will have the right (unless, prior to the Change of Control Conversion Date, the company has provided or provides notice of its election to redeem the Series B Preferred Stock) to convert some or all of the Series B Preferred Stock held by such holder on the Change of Control Conversion Date into a number of shares of the company's common stock.
The Company estimates that the net proceeds from this offering, after deducting the underwriting discount and other estimated offering expenses, will be approximately $77.2 million exclusive of any net proceeds received if the underwriters exercise the over-allotment option in full.
The Investment Strategy
As I wrote back in June, Excel Trust is a small-cap (under $1 billion in assets) San Diego-based shopping center REIT that has a focused investment strategy of acquiring attractively priced retail assets (in mid-markets) and utilizing low-cost capital. Since the initial IPO in April 2010, Excel has been successful with building a high-quality platform with over $700 million of assets under management. This credit-anchored investment platform has built its strategic growth model on four separate transactions. The initial IPO (April 2010) was formed with a common stock offering of $210 million and the second offering was a $50 million convertible preferred offering (private placement). The third raise was a $157 million follow-up common offering and the latest transaction is the 8 1/8% perpetual preferred offering anticipated to deliver net proceeds of around $77.2 million.
As mentioned in my previous article, Excel Trust has exceptional leadership run by shopping center veteran, Gary Sabin. Not to be confused with the original Excel Trust, Excel Realty Trust was Mr. Sabin's initial vehicle when he started his career (in 1978) and later formed a public non-traded REIT in 1989. Mr. Sabin's former company, Excel Realty Trust, went public in 1993 and had several exceptional years where his company was a top REIT performer (1995 and 1997). After a series of mergers, most of the assets at Excel Realty Trust were rolled into Kimco (NYSE:KIM) in 2004. The "new" Excel Trust has over three decades of shopping center investment experience and his leadership is an essential ingredient to the success of the company.
It is clear that Sabin's decades of success has been a common thread in the interwoven Excel story and his veteran team has helped build a focused model that delivers sound risk-adjusted yields and exceptional growth. The diverse high-quality tenant base has a majority (69%) of high-quality "best brand" retailers as evidenced by the snapshot below: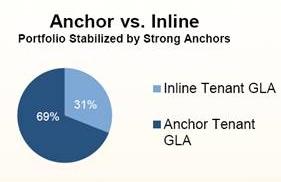 In addition, the portfolio has NO legacy assets and the REIT's risk-aligned leases are strategically modeled such that the anchor credit revenue stream provides a high "margin of safety" for the shareholders. In addition, the conservative capital structure (debt to gross undepreciated assets of 35.5% as of Q3-11) is also well-balanced providing sound financial flexibility relative to the previously referenced capital initiatives. Here is a snapshot of Excel's Lease expiration schedule:
(Click chart to expand)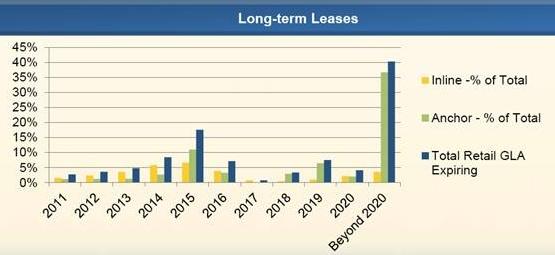 As explained by Gary Sabin, Excel's Chairman and CEO, "Recent transactions involving REIT preferred stocks have demonstrated the strong appetite investors have for yield. Given the strength of our pipeline and the ability to access the preferred markets at an attractive price, we felt it made sense move forward with the preferred stock offering." Excel's pipeline is exceptionally strong as the company announced around $300 to $400 million in potential transactions and the REIT just announced its latest "crown jewel" acquisition, Promenade Corporate Center in Scottsdale, AZ. This $56 million transaction marks the second half of a larger deal involving the Scottsdale Promenade for a total consideration of $166 million. Excel took on management responsibilities for the entire project when it purchased the Scottsdale Promenade. Regarding the (Scottsdale) acquisition, Mark Lucescu, president of Lucescu Realty, says, "Scottsdale Promenade will be a flagship property for Excel Trust. It is one of the most well-known properties in the Phoenix MSA and amongst the most successful mixed-use projects in the western United States."
In Closing
Seeking Alpha writer, Michael Terry CFA, sums up the risk-aligned Cumulative Redeemable Preferred Stock:
"The issuance of preferred stock was and is in the best interest of Excel at its current stage. The reasons for this are: 1) preferred stock (series A and B) is perpetual, eliminating the need to refinance in the future, (2) the dividends paid on the preferred are considered distributions to shareholders, allowing the REIT to retain more of its earnings for future acquisitions and development, (3) there are no financial covenants contained within the preferred stock as there would be with traditional REIT debt, and (4) it allows the company to reduce dependence on mortgage notes thereby increasing the amount of unencumbered assets. Financial flexibility at this stage of the company's life cycle is essential as it allows them to acquire, develop and stabilize their property portfolio, which ultimately helps lower the risk profile of the company."
Excel Trust is continuing to build on its promise to grow a successful risk-aligned retail portfolio and the latest preferred stock offering is indicative of the strong shareholder demand. In addition, Gary Sabin's organization has executed a performance based model in which shareholders are compensated with risk-aligned yield (8.125% on EXL.PB) and sound total return performance (EXL closed today at $12.26).
As Seeking Alpha writer Doug K. Le Du pointed out, the new Excel Trust issue, once it starts trading on the NYSE, will have the symbol EXL.PB. As you may know, different online systems use varying preferred stock symbols for the same preferred stock. You may want to refer to Seeking Alpha's preferred stock trading symbol x-ref table.
Disclosure: I have no positions in any stocks mentioned, and no plans to initiate any positions within the next 72 hours.