Earlier this month, Alibaba (NYSE:BABA) posted its quarterly results. The group's revenues continue to grow at over 40% year-on-year. Non-GAAP EBITDA margin was well over 50%. Can Alibaba continue to maintain its high level of growth for a couple of years more? Can its stock price regain the peak of $120 it had reached in November last year?
A Qualitative Look at Alibaba
Let us first take a look at Alibaba and at the business environment Alibaba is in.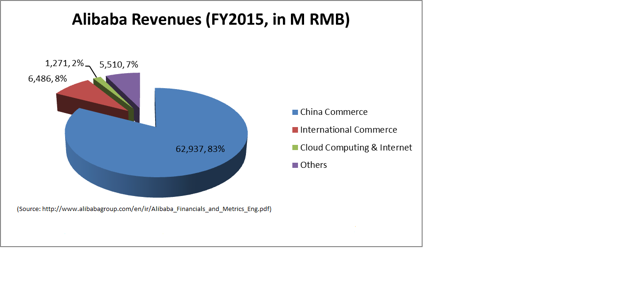 83% of the company's revenues comes from its 'China Commerce' business and 9% from its 'International Commerce' business. Clearly, the key to Alibaba's growth has been the 'China Commerce' business. To continue its phenomenal growth of the last few years, Alibaba either needs to continue its phenomenal growth in China or find big rapid growth areas in the 'International Commerce' business or find niches in its other businesses such as Cloud Computing, Payments etc. Faced with tough competition elsewhere, Alibaba is unlikely to grow as phenomenally as it could in the 'International Commerce' business. This means China is likely to remain Alibaba's predominant growth engine in the near future.
The key to Alibaba's success so far has been first, satisfying a crucial need of Chinese manufacturers to cost-effectively find customers. In other words, this means being one of the first players in e-commerce in China. Second, Alibaba developed an e-commerce infrastructure which helped them build trust, a trust in being able to transact online without being cheated. Third, the network effect is strong on a platform as large as that of Alibaba, and it becomes increasingly more valuable as the number of buyers and sellers increases.
Now, the extent to which these competitive advantages still hold true would determine whether or not Alibaba can continue to show outstanding results. Alibaba's first mover advantage means that Alibaba is a widely known and respected brand in its market. It means that an ecommerce user in China is more likely to have transacted on Alibaba than on any other ecommerce platform. Users reluctant to buy or sell online trusted Alibaba and did their first transaction on Alibaba. Did this result in a development of trust only in Alibaba or in Alibaba as well as in e-Commerce? I suspect it was the latter.
In that case, it would be fair to say that Alibaba created a market in China for e-Commerce, the fruits of which would be enjoyed by both Alibaba and its competitors. The network effect could have been another source of advantage for Alibaba. However, the network effect in e-Commerce is not as strong as in social networking. A buyer has almost no switching costs between different e-Commerce platforms. The buyer often times compares cost, product availability or some other parameter before making a buying decision online. Similarly, a seller will be tempted to list his products on all the popular e-Commerce platforms as long as the listing costs are not exorbitantly high or the terms of listing cumbersome.
It is naive to believe that the key competitive advantages that Alibaba had are still exclusive to Alibaba. Its competitors such as Tencent (OTCPK:TCEHY), JD.com (NASDAQ:JD), Baidu (NASDAQ:BIDU) etc. are also in the process of acquiring those advantages or at least have the ability to acquire them. This means that Alibaba must now be considered as just a top competitor in the Chinese e-commerce segment rather than a breakout player. The days of breakout growth are over. Its growth and profitability expectations must be close to the market average, not higher than the average.
A more simplistic way to look at the above line of reasoning is to look at Alibaba's market share in its main market - China.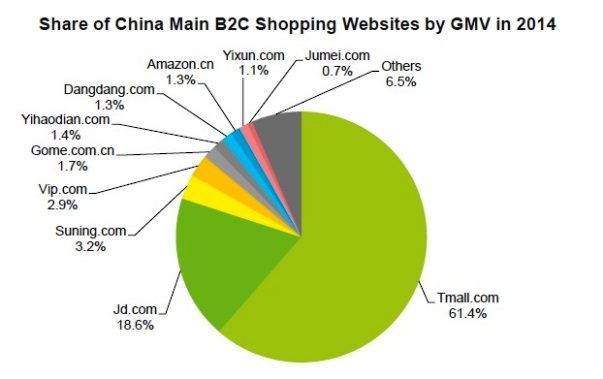 (Source: alizila.com)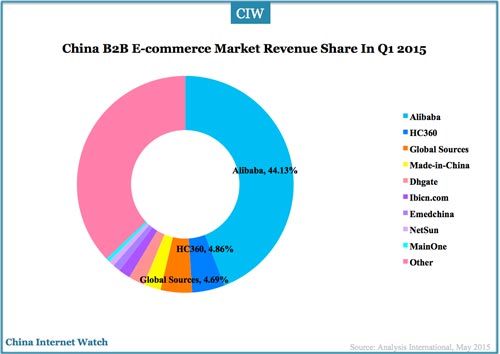 Source: Chinainternetwatch.com
In the B2C segment, Alibaba had a market share of 61.4% in 2014. In the B2B segment, Alibaba had a market share of 44.13% in Q12015. Business intuition tells us that it is easier to increase your market share when you are in the No. 2 position than when you are the leader. But, intuition must be backed by business sense. Does Alibaba have some big advantage vis-à-vis its competitors? Could its huge scale be a big advantage? Unfortunately for Alibaba it is in an online business in which the barriers to entry are lesser compared to a traditional bricks-and-mortar business. A marketplace based ecommerce business is easier to scale up. A marketplace based ecommerce business is easier to copy. There are hardly any moats, if any. In short, expecting Alibaba's competitors to breathe down its neck in the near future is not a remote possibility, but a highly probabilistic scenario.
Valuation Multiples
Let us now take a look at some of the valuation multiples.

(Source: Google Finance, 23rd May 2015)
Alibaba is trading at high premiums to all its Chinese competitors and to eBay (NASDAQ:EBAY). Alibaba's P/E ratio is almost twice as that of eBay. Alibaba's Price-to-sales ratio is close to seven times that of eBay. The region of operation of Alibaba which is China, a high growth market, partly accounts for this difference. Alibaba's P/E ratio is around 1.33x that of Baidu, its Chinese competitor. Alibaba's Price-to-sales ratio is around 3x that of Baidu. Again, some of this can be accounted by the fact that Alibaba is a large player and well-entrenched in the Chinese e-commerce market. The rest is difficult to explain. Alibaba appears to be overvalued or at best investors seems to have already accounted future earnings and future growth in its current share price.
Conclusion
The bottom line, Alibaba is overvalued. It's time to sell. In terms of Alibaba's business growth, we can safely say the honeymoon period of growth with little competition is over. Can Alibaba or Jack Ma execute a second honeymoon for the company? Of course yes, if they have some innovative business model up their sleeves for their non-ecommerce business or other businesses. Else they need to beat Amazon (NASDAQ:AMZN), Lazada, Flipkart and others hands down in their own playgrounds.
Disclosure: The author has no positions in any stocks mentioned, and no plans to initiate any positions within the next 72 hours.
The author wrote this article themselves, and it expresses their own opinions. The author is not receiving compensation for it (other than from Seeking Alpha). The author has no business relationship with any company whose stock is mentioned in this article.