The past 12 months have not been kind to unitholders of Natural Resource Partners LP (NYSE:NRP):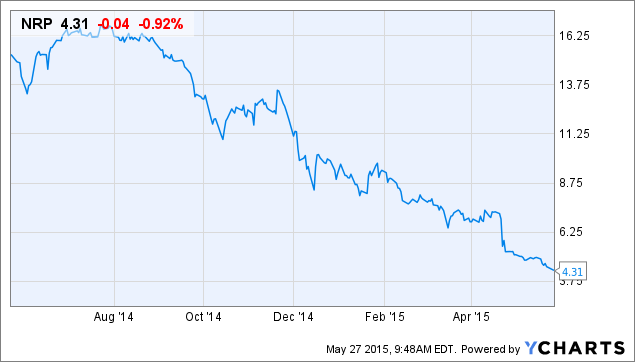 Units have fallen from over $15 to $4.31 in the past 12 months alone. However, as is often the case when fear takes hold, I believe that the collapse has been overdone.
The Structure of Their Business
NRP is a Master Limited Partnership that owns and manages mineral reserve rights. They lease these rights to operators who then extract the minerals from the deposits. NRP collects royalty income based on tonnage sold from their respective properties. Due to the nature of this business, they have little to no capex requirements, minimal administrative cost, and have been able to turn a profit in an industry that is going through a historic collapse.
Their properties are predominantly located in the higher-cost Appalachia Region, but they also have significant holdings in the Illinois Basin, Northern Powder Ridge Basin, and Gulf Coast. All together, their properties contain 2.3 billion tons of proven and probable coal reserves.
NRP produced $184 million in coal royalty revenue in 2014, down from $213 million in 2013, and $261 million in 2012. The lower revenue was due to lower production in the Appalachia region, and a reduction in the average coal royalty per ton across the board. Despite the reduction in royalty revenues, NRP still turned a profit of $109 million in 2014, which translates to $.94/common unit. In fact, the partnership has averaged a profit/common unit of $1.49 per year since its inception in 2002. This comes out to a current Price to 12-Year Average Earnings Ratio of 2.89. Not bad for a company that also pays a current distribution of 8.3%.
However, it has not been all roses for NRP the past few years. They have been diversifying their business away from coal, and in order to do so, they have taken on a large debt burden. Their long-term debt is $1.28 billion as of this writing, up from $897 million in 2012. This debt load carries an annual interest expense of $80 million. They are also obligated to pay $81 million per year until 2018 in principal installments due to their senior notes. They should be able to meet their contractual obligations of $161 million this year using a combination of distributable cash flow ($218 million in 2014), cash on hand ($33 million), and $75 million borrowing capacity on their revolving credit facility.
The liquidity picture for 2016 is a different story, though. They have contractual obligations of $429 million, due to the maturity of their $200 million floating rate revolving credit facility. They also have other principal and interest payments of $229 million due at various times in 2016. NRP must refinance this debt because it does not have enough liquidity or distributable cash flow to cover these payments. I believe this is the main risk to investing in NRP at these levels. The risk is that they will be unable to refinance their 2016 debt and will default. I believe that this is a small risk, but it is worth discussing nonetheless. Now that we've talked about the negatives, let's mention the positives.
Historically High Distribution
Much fanfare has surrounded NRP's recent 75% distribution cut, but I believe that it was the necessary move required to survive the current conditions. Once one gets past the sticker shock of a 75% cut, they realize that it is still paying $.36 annually, which at current prices equates to 8.3%.
Further, the 12-year average annual distribution to NRP unitholders is exactly $2/unit. If management can effectively reduce debt, increase liquidity, and establish diversified income streams, they will position themselves for a substantial distribution increase in the future. Their debt reduction plan can be read here.
Also, the American coal industry is going through one of the worst shakeouts in recent memory. Formerly reputable companies like Patriot coal have gone bankrupt, while others, like Walter Energy (NYSE:WLT) and Arch Coal (ACI) are on the verge. While much has been made of EPA regulations phasing out coal long term, the reality of the matter is that thermal coal provided 39% of electricity generation in the U.S last year. Even if it does eventually get phased out, it is such an integral part of U.S energy production that it will take decades to do so.
The fact of the matter is that companies will continue producing coal, just not profitably. NRP makes money on royalties from production, and thus remains insulated from the capital intensive business of mining. This is why it is one of the only companies in the entire coal industry that has managed to stay profitable the past few years. However, they will still stand to benefit from increased production and royalty rates once the industry begins to recover.
Expansion Into Other Industries
In an effort to increase revenues amidst the coal collapse, NRP has acquired interests in trona ore/soda ash, building materials, and oil and natural gas. Their 49% equity stake in OCI Wyoming, one of the world's largest trona ore and soda ash operations, provided NRP with a cash distribution of $47 million in 2014, and $11 million in Q1 2015.
NRP also acquired VantaCore in October of 2014, which operates hard rock quarries, sand and gravel plants, asphalt plants, and a marine terminal. VantaCore produced revenues of $27 million and $4.3 million in operating profit in Q1 2015.
Finally, NRP owns various oil and gas assets in the Appalachian Basin, Williston Basin, Louisiana, and Oklahoma. Most of their holdings are minerals and royalty interests, but their Williston Basin holdings are non-operated working interests. They added significantly to those properties in 2014 by acquiring 6,086 acres in the Sanish Oil Field in North Dakota.
Altogether, revenues from their non coal assets were $56.7 million in Q1 2015. This represents just over half of NRP's total revenues. These new ventures will help NRP weather the storm in case the American coal industry continues to suffer.
Low Valuation
In 2014, NRP generated $184 million in coal royalty revenues and $43 million in other coal related revenue, for a total of $227 million. Even after subtracting $80 million in interest, $80 million for depreciation, and $10 million for administrative costs, the coal business alone produces roughly $57 million in annual income. Attaching a modest price to earnings of 10 to that number leaves the coal royalty business with a valuation of $570 million. With the current market cap of NRP at $525 million, a buyer at today's prices is getting a coal royalty business at a discount with a trona ore/soda ash operation, building materials company, and oil and gas assets thrown in for free.
Conclusion
An investor in Natural Resource Partners at these prices is getting a steal. Not only is the buyer getting much more value than the price paid, they get to collect an 8.3% distribution while they wait for the macro environment to turn in their favor. Once the tide turns, the company will be less leveraged, healthier, and in a position to increase their distribution to quadruple its current level. As long as NRP can work with its banking syndicate to find a solution for its 2016 debt, the future looks bright for NRP unitholders.
Disclosure: The author is long NRP.
The author wrote this article themselves, and it expresses their own opinions. The author is not receiving compensation for it (other than from Seeking Alpha). The author has no business relationship with any company whose stock is mentioned in this article.