Even though he blocked me on Twitter, I still find value in many of the things Jim Cramer has to say. Cramer constantly preaches that room always exists, in practically any portfolio, for at least some speculative activity. I could not agree more.
In this article, I discuss speculative stocks that, for one reason or another, you might want to consider.
Ecotality (ECTY). I don't actually want you to consider ECTY, but the company's CEO, Jonathan Read, does. I received an odd email from him on Tuesday. I say odd because Read, in reference to my articles that included ECTY, told me that "guess work versus fact is not good."
I replied, thanking him for "reaching out" and offering an education, while asking exactly where I employed "guess work" in the sparse mentions of the company he runs. As much as I hate to face this "fact," I hardly "slighted or slammed" ECTY as I misguidedly suggested readers consider it as a long play on the EV space last summer. That goes down as one of my worst picks of 2011. I should have tossed it in the short bin alongside Netflix (NASDAQ:NFLX) and Research in Motion (RIMM).
Have a look at the chart since I first spoke the company's name on Seeking Alpha:
Click to enlarge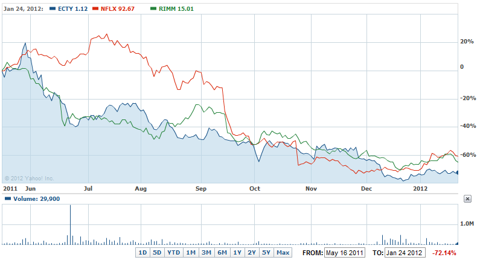 Incredibly, you actually would have been better off in NFLX or RIMM since last May. Read tells me, however, that his company is "beaten down and poorly understood," you know, the type of investment that "Buffett made a fortune on."
But, as Reed Hastings proved, Read has an open forum in which he can respond and make his case. That worked out so well for Hastings that Read might want to try it himself. But, really, what I would like to see is a toe-to-toe "debate" between Ecotality's CEO and Seeking Alpha's top contributor on the EV space John Petersen.
A123 Systems (AONE). Speaking of John Petersen and the EV space, AONE appears set to enter that category where the mere mention of its name sparks heated debates between bulls and bears.
I will tell you this, however, if Petersen says to take a look, I am more than willing to take a look:
While I'm an unrepentant critic of electric vehicle hysteria on purely economic grounds, A123 makes a fine battery based on an objectively safer chemistry that's important to our energy future and can offer compelling value in several important markets. Since April of last year I've said the market over-reacted to an important financing transaction and A123's price decline was excessive. Since I argued A123 was reasonably valued in the $6 range, I believe its current price of $2.10, a 25% discount to book value, is attractive for investors who want exposure to the lithium-ion space. It's possible that A123 will suffer further price erosion, but for now it looks like the price is ready to begin an impressive turn to the upside.
Petersen's excellent writing about the EV space tempered my outlook on it. Thanks to him, I'm really only bullish Tesla Motors (NASDAQ:TSLA) and that's on the basis of what amounts to a fad momentum play. Telsa will succeed because it has a top-notch product that it can produce in limited quantities, creating pent-up demand among a relatively small core of very affluent buyers.
What worries me about AONE, and ECTY for that matter, is the following boilerplate from A123 System's latest quarterly report:
Our ability to develop and market some of our products depends upon maintaining our U.S. government contract revenue and research grants obtained, which are recorded as incremental revenue and an offset to our research, development and engineering expenses, respectively. Many of our U.S. government contracts are funded incrementally, with funding decisions made on an annual basis. Approximately 12.3% of our total revenue and 7.5% of our research, development and engineering expenses during the year ended December 31, 2010 were derived from or funded by government contracts and subcontracts. Changes in government policies, priorities or programs that result in budget reductions could cause the government to cancel existing contracts or eliminate follow-on phases in the future which would severely inhibit our ability to successfully complete the development and commercialization of some of our products.
President Gingrich or Romney does not have a nice ring to it after reading that, particularly if you're long AONE or ECTY. Or maybe, as Read claims, I am employing "guess work." This is something I would certainly like to hear an authority like Petersen address in a future article.
Sirius XM (NASDAQ:SIRI). There's an interesting dichotomy between people who follow SIRI. On one hand, you have the impressive, not-so-quiet confidence that long-time longs exude: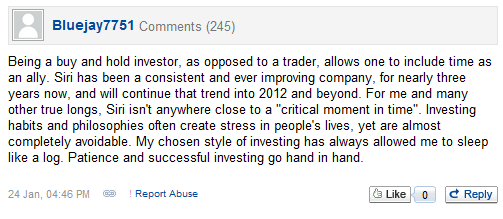 And then you have people such as Cameron Kaine and I who believe the stock sits at a critical moment in time. I actually subscribe to the notion of buy-and-hold investing. That's what I do (with a fair bit of speculation on the side). At the same time, I recognize that not every company is Apple (NASDAQ:AAPL).
The most impressive thing about Apple's blowout quarter is that it's merely the tip of the iceberg. No other company - not Google (NASDAQ:GOOG), not Amazon.com (NASDAQ:AMZN), not Starbucks (NASDAQ:SBUX) or McDonald's (NYSE:MCD) - proceeds along essentially unchallenged and unabated like Apple does. There's no end in sight. Apple successfully built a bridge between iPad 2 and iPhone 4S and the forthcoming iPad 3 and iPhone 5. Now, investor confidence will notch in somewhere closer to where it should have been all along.
You can say that about very few companies. And, if you cannot say it about GOOG, AMZN, SBUX or MCD, you sure as heck cannot say it about SIRI. It remains a speculative stock. Not one you should buy today, tuck your head in the sand and look up again in 1, 5 or 10 years. While that strategy has worked out well over the last couple of years in SIRI, it's not a true buy-and-hold stock in the same way as AAPL is or even in the same way as a blue chip like MCD is.
As I noted in an article yesterday:
If the company simply tells us more of what we already know (great 2011, new radios are out, 2012 is on track, cash flow is strong, we might return capital to shareholders, etc.), expect the stock to swoon and stagnate, not necessarily in that order.
You simply cannot ignore this if you're in a speculative stock like SIRI. Had Apple done what everybody, even bears, expected by meeting consensus estimates or simply beating them by a little, the stock would have suffered. It blew the numbers away and finally, after quarters of sluggish, albeit outperforming stock price appreciation, nailed $450 and appears ready to hold and sustain in that neighborhood.
If the quarterly report from your favorite speculative stock tells you more of what you already know, proceed with more caution than you would in the normal flow of events. You can put very few stocks on auto-pilot. Those that fall in the speculative category certainly do not qualify.
Disclosure: I am long AAPL.
Additional disclosure: I am long NFLX June $40 put options.