Techcrunch reported (on Seeking Alpha) that a leaked report states that BlackBerry 10-powered devices will be available by the 2012 holiday season. This is big news; Research in Motion (RIMM) has attempted to keep investor focus on the ever-forthcoming BlackBerry 10 (BBX) as shares have shed about 75% of their value over the past 12 months.
(Click chart to expand)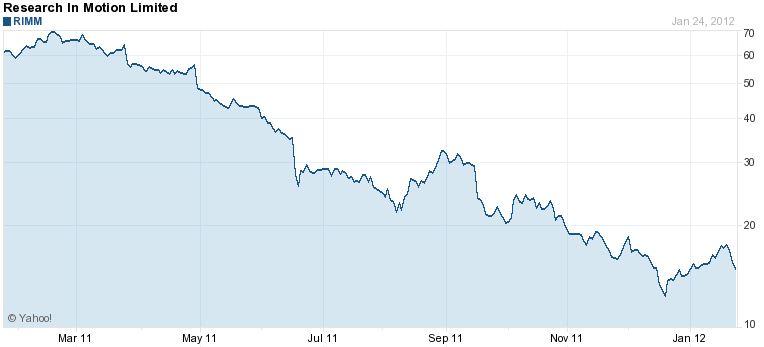 Though this rumor is not confirmed, it may still provide the investing public with a hint that this is the time to buy.
Obviously, BlackBerry phones are not the sought-after devices that they once were, as Apple (NASDAQ:AAPL) and Android (NASDAQ:GOOG) phones are now the (significantly) more popular and cutting-edge devices. However, the company still has a loyal (albeit shrinking) user base, and Android's emergence proves that a new (or refreshed) operating system can grow to challenge the market leader. Disappointingly, the leaked report suggests that the first BBX device may be touchscreen-only, which may not mesh with the keyboard-loving typical BlackBerry enthusiast. However, it states that there will also be a keyboard/touchscreen hybrid device released not long after the initial phone.
Equally important when pondering buying shares is the fact that Research in Motion still is very financially solid. The company still is very profitable, and the balance sheet is great - it has plenty of cash, no significant debt, and shares are trading at around book value.
Additionally, Research in Motion's patents may also be worth a significant amount of money if sold. I won't try to put a value on those patents - I'm not a telecommunications patent expert and others have already analyzed that topic thoroughly - but when buying at this level, they're really just an added bonus.
I bought Motorola Mobility (NYSE:MMI) based on a similar thesis not long before Google made an offer for the company. Motorola's scenario wasn't exactly the same; its patent portfolio may have been more robust and relevant, but it was also not profitable, as Research in Motion is. While it's possible to think that I (and other MMI shareholders) got lucky when Google made that offer, it also demonstrates the value of telecom intellectual property.
I believe that downside on RIMM shares is limited at this point, while upside could potentially be significant. In a best-case scenario, BBX rejuvenates the company, and RIMM is able to make a lot of money selling a lot of devices to consumers in the United States and abroad, resulting in a potential doubling or tripling of the stock price. In a middle-case scenario, RIMM may be able to milk its strengths (the back-end systems, BBM, BBX [if the product is good] by licensing to other companies, and shares may double over time. Even in a worst-case scenario, shareholders probably wouldn't lose much (or any) money if the company decided to sell patents and business segments and liquidate if unable to rekindle demand for products. Therefore, I think that it seems like time to buy.
Disclosure: I have no positions in any stocks mentioned, but may initiate a long position in RIMM over the next 72 hours.