By Stephen D. Simpson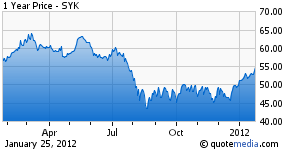 Diversified med-tech company Stryker (NYSE:SYK) gave us all a preview of earnings two weeks ago that painted a fairly uninspiring picture in many respects. With the details of the full earnings release now in hand, it's clear that the company has some significant challenges ahead in 2012. Given today's valuation and management's history of navigating past challenges, investors would do well to consider these shares for their portfolios.
Results Broadly As Expected
Stryker reported that revenue rose 11% in the fourth quarter, or a little less than 4% on an organic basis. All of the growth came from MedSurg (up 11%) and Neuro/Spine (up over 46%), as the orthopedics business was up 1% as reported, but down 2% organically.
Margins were less impressive, however. Gross margin fell about two points year-on-year as reported and about a point and a half on an adjusted basis. Operating performance is a little more nuanced. Reported performance by GAAP was up 8%, while adjusted numbers show growth at a more sedate 5% rate.
Ortho Marking Time
Although Biomet had a pretty fair quarter in its ortho business, Stryker and Johnson & Johnson (NYSE:JNJ) reported similarly mediocre results with Stryker being arguably even more mediocre. Stryker and JNJ were more or less similar with virtually no growth in hips (whereas Biomet was strong), and Stryker continues to see weakness in knees. JNJ is doing just about as poorly here, though, and Zimmer (ZMH) has been even weaker leading up to this quarter, as Smith & Nephew (NYSE:SNN) is about the only company doing well here.
While spine is now part of "Neurotechnology and Spine" at Stryker, many others in this sector treat it as part of orthopedics. Stryker is not doing especially well here, but the overall softness from both Stryker and JNJ may suggest some weakness for Medtronic (NYSE:MDT), though Medtronic has better product cycles working in its favor.
There's no real reason to expect orthopedics to get better soon for Stryker. The company does have some shape-fitting cutting guides coming out that should help revive the knee business, but management believes procedures are being delayed across the market. If so, that business will eventually come back, but it's going to pressure margins in the meantime.
Making The Beds
MedSurg has been a strong spot for Stryker through much of this med-tech malaise. The company's bed business was quite strong this quarter (up 17%) and it very much looks as though Hill-Rom (NYSE:HRC) is losing share.
Although weak procedure volume is a threat to the tools and endoscopy business, Stryker may stand to gain a little incremental share from all of the disruptions at Olympus (OTC:OCPNF) right now.
A Fixer-Up Year For 2012
With surgical procedure volume and implant pricing weak, there's not going to be all that much sales momentum for Stryker and single-digit sales growth looks like the order of the day. If the whole market is going to be doing laps under caution, this isn't a bad time for management to work on the company's margin structure.
In particular, it would make sense for management to focus on material and conversion costs, as well as further "right-sizing" in the business Stryker has acquired in the past year or two. None of this is likely to amount to a full-scale overhaul, but rather more like fine-tuning.
The Bottom Line
The overall healthcare market may be clouding Stryker's prospects beyond 2012. Weak ortho results will pressure margins, but it's not as though those ortho sales are gone forever. Moreover, investments made into R&D in the last few years should start to bear fruit in 2012 and 2013 and boost growth.
Investors underestimate Styker to their own detriment. Management has a long record here of delivering not just growth, but cost-effective growth as well. With only mid-single digit free cash flow growth assumptions, Stryker jumps out as one of the cheapest of the quality med-tech names today.
Disclosure: I have no positions in any stocks mentioned, and no plans to initiate any positions within the next 72 hours.