Xerox (NYSE:XRX) reported earnings today and Wall Street was not happy, sending shares down as much as 10%.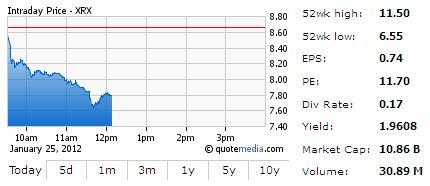 The company reported a revenue miss and lower operating margins due to a mix of European slowdown in its technology segment and contract ramp-ups on the service side. But it was probably 2012 guidance that spooked investors as management lowered expectations across the board.
Unlike Wall Street, I do not pay much heed to quarterly earnings and fluctuations. Companies have to adjust to changing conditions, whether it be the economic environment or increased competition, and at times, financial results will adversely affect this. Long-term investors can profit from Wall Street's unhealthy obsession with short-term earnings.
Readers will recall that I wrote a bullish XRX article back in Sept 2011, where I laid out my investment thesis based mainly on two themes: 1) Xerox is transforming itself into a service company and 2) its copious free cash flow, which averaged $1.5B over the previous 5 years, was massively undervalued. At the time, management guided 2012 FCF at $2.0B - $2.3B. The company has now significantly lowered projected 2012 FCF to $1.5B - $1.8B, a ~25% decrease.
While this is not a welcome development, my bull case for XRX built in a significant margin of safety in terms of operating results. I valued the stock at $12 - $14 based on FCF of $1.5B - $1.8B, which matches exactly 2012 guidance. While things could slip even further, we are still a ways from my bad-case scenario of $1B FCF in perpetuity. Even then, I would value shares around its current trading price. If I am right, it is a case of heads, I win and tails, I don't lose much -- a perfect scenario for long-term value investors.
As such, I believe today's drop presents another opportunity. Back in September, I wrote in-the-money naked put options for a 12% premium. Those options expired worthless last week, allowing me to pocket the entire premium just before this earnings slip by the company. Today, I opened another naked put position, this time out-of-the-money Jan 2013 $7.5 puts for a 13% premium. While this trade is not as attractive (the premium is slightly higher but the contract duration is 12 months vs 4 months for a much lower annualized return), it still allows me to pocket a significant premium and set my price to own XRX. If I am assigned the shares next year, my cost basis will be ~$6.50, 17% below trading's trading price. Of course, conditions at the company could deteriorate significantly in that time to justify such a drop but nothing in today's earnings report suggests this is the case.
Disclosure: I am short XRX naked put options.