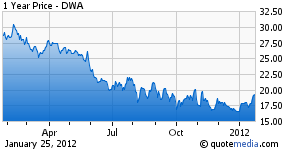 Recently, I wrote here about some possible explanations as to why Dreamworks Animation (NASDAQ:DWA) seemed out of favor with investors, along with some counterpoints to those explanations. In response, one Seeking Alpha message board poster raised an interesting point worthy of exploration. Investors may be concerned with what DWA has coming out next.
DWA has two movies scheduled for release this year: Madagascar 3: Europe's Most Wanted, currently due out on June 8, 2012, and Rise of the Guardians, currently scheduled for release on November 21, 2012. The Madagascar series stars Ben Stiller, Chris Rock, and Jada Pinkett Smith, among other celebrity voices, as a group of animals that have to brave the real world after life in a New York Zoo, leading to various comedic adventures. This time around, like the comedic Griswold family searching for fish-out-of-water-sequel-success decades ago, the comedy leads the protagonists to Europe. Unlike the Griswold family, viewers will have the option of viewing the adventure in 3D.
Rise of the Guardians is based on the upcoming William Joyce series of novels the Guardians of Childhood, and is being co-directed by Joyce. In the film version, Santa Claus, the Easter Bunny, and Tooth Fairy must work together to help save child-kind from the Bogeyman. If marketing familiar children's characters sounds like a familiar strategy to you, that's because you may recognize it from DWA's Shrek series, which featured long-familiar fairy tale characters portrayed in unconventional ways, leading to a successful franchise.
In addition, last March, DWA announced its planned release slate through 2014. Since the Madagascar sequel will receive audience and investor response to box office results sooner than the rest of DWA's slate, I will focus on some of the factors that may impact the financial results of that movie in this article.
1. Sequels often do not gross as much as originals.
The first Madagascar movie was released in 2005 and grossed $193,595,521 domestically, while the sequel, Madagascar 2: Escape to Africa was released in 2008 and grossed slightly less, at $180,010,950, according to Boxofficemojo.com, which I will use as the source for all box office information in this article. As mentioned in my previous DWA article, the global market is becoming increasingly important for Hollywood, so, it's worth noting that Madagascar 2 actually grossed more worldwide, grossing $603,900,354 vs. $532,680,671 for the original. Both movies were equally liked by audiences who voted at the IMDB web site, each currently rated 6.7 out of 10. While a bad sequel certainly may not do as well as the original, with growing worldwide film revenues sequels have the opportunity to do better, even if audiences feel the sequels are equal in quality.
2. Why are a bunch of zoo animals going to Europe? Don't they know there's a major financial crisis there?
If we look at the foreign numbers for the last Madagascar movie, we can see that the film did quite well in many European countries, grossing in excess of $40 million in both France, and Germany; about $35 million in Italy, and the U.K.; $20 million in Spain, and depending on whether your grade school geography teacher taught you Russia was part of Europe or Asia, over $40 million in that country, too. So it's not surprising that the Madagascar crew have wound their way into a European traveling circus, likely to visit popular European destinations, as can be seen in the trailer for Madagascar 3.
3. Will audiences like the story?
DWA CEO Jeffrey Katzenberg recognizes that a good story is the most important aspect of a successful film, as he outlined in a memo written in his days as head of Disney's (NYSE:DIS) film studios in 1991, according to lettersofnote.com. For those of us who haven't seen the Madagascar 3 script, we can only look at the film's writer and director to try to predict whether it will have a good story, but while doing so, investors must consider the words from the 1991 memo: "... there is nothing scientific about the movie business."
Noah Baumbach is credited as the writer of the film. He previously co-wrote 20th Century Fox's (a unit of NWS) stop-animation flick Fantastic Mr. Fox with director Wes Anderson. The duo also worked together on the Life Aquatic With Steve Zissou.
Fantastic Mr. Fox earned an impressive 93% fresh rating from critics on Rotten Tomatoes, with 80% of audiences liking the film. It was also nominated for a Best Animated Feature Film Oscar. However, results at the Box Office were weak compared to other recent animated features, with the film only grossing over $46 million worldwide. That may appear worrisome to more risk-averse shorter-term investors, but I believe that talented writers who can pen the type of subtle absurdist comedy of movies like Fantastic Mr. Fox or Life Aquatic, possess the talent and skill necessary to write the kind of humor that will please the kid and parent fan base of the Madagascar series. Further Eric Darnell, who co-directed the first two Madagascar movies with Tom McGrath returns for the third installment, and accordingly has the experience to convey the styles of comedy he thinks are necessary to succeed in this franchise.
As my last article mentioned, Dreamworks' only 2011 releases, Kung Fu Panda 2, and Puss in Boots, were among the top grossing films worldwide of 2012. And it was just announced they have both been nominated for the Best Animated Feature for this year's Academy Awards. While this is impressive given that there was more competition in this category this year than in the days where DWA and Pixar were the only games in computer animation town, it is also proof that Katzenberg is able to inspire those involved with DWA to create the kinds of stories that global audiences, and in the case of this year, members of the Academy, will enjoy. So while DWA had a large number of shares short as of December 30, 2011, given Katzenberg's ability to do well with sequels, understand international markets, and retain talented screenwriters, hopefully this will collectively lead to results at the box office that live up to DWA's investors' dreams for its near and longer term slate of releases.
Disclosure: I am long DWA.