Over the course of 2011, following the much-discussed IPO of General Motors (NYSE:GM), the price of the "new" GM was cut in half from around $40 to $20. Then, on November 30, 2011 I recommended to buy GM as an incredible opportunity for a turnaround play.
Since my initial recommendation, the stock price of GM has raced to around $25, and we have accumulated approximately 25% unrealized profit on this trade in less than 2 months.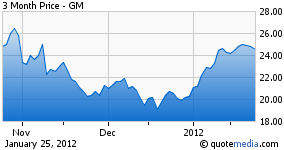 Lately, in light of a sudden pullback in GM's stock price, I have been receiving quite a few questions whether this is a good time to cash on our 25% in profits on this trade.
In contrast to another turnaround recommendation of Charming Shoppes, Inc. (NASDAQ:CHRS), when I recommended to close our position for a hefty 36% profit in under a month, I believe that the potential for a 100% upside move in GM is much greater than most people believe. Often it is very tempting to take profits quickly off the table, but in this case we will resist this urge.
Lately, I have also found out that David Einhorn of Greenlight Capital is of the same opinion. It appears that GM is one of his top 5 current holdings. My recommendation is, unless you terribly need the cash right now, keep this position open. Do not sell GM.
Disclosure: I am long GM.