I penned an article earlier in the month on why I thought EMC Corp. (EMC) was on the verge of an important breakout. The stock is up over 12% since the piece was published and both EMC and VM Ware (NYSE:VMW), which it owns 80% of, have come out with earnings reports since the publication. Based on what was in those reports, I believe EMC has further to run and it would not surprise me to see the stock hit $30 by the end of the first half of the year provided the markets continue to be supportive to equities overall.
See the full EMC Earnings Call Transcript
Key highlights from EMC's earnings report
Earnings were up 16% from the prior year and beat analysts' consensus by a few pennies.
Revenue growth was robust with a 14% increase over the prior year
EMC experienced strong growth from all its key segments with mid-tier storage (up 24%) and Services (up 19%) leading the way.
Gross margin expanded by 250 bps in the quarter
Operational cash flow came in at $2.18B compared with $1.29B the prior quarter
Key highlights from VMW's earnings report
Both revenue and earnings came in slightly higher than consensus
License and service revenue both grew over 30% for FY2011
Operating income and cash flow both grew over 70% in FY2011
It ended the fiscal year with cash, cash equivalents and short-term investments of $4.51 billion
4 reasons EMC is still a good buy at $25 a share:
Even after the January rally, EMC still sells for less than 13 times forward earnings and just 10 times operating cash flow.
EMC still sells in the bottom half of its five-year valuation range based on P/E, P/S, P/B and P/CF.
Based on the growth conveyed in earnings reports, both earnings estimates and analyst price targets should be revised up in the coming weeks, which should boost the stock. Credit Suisse just boosted its price target on EMC to $30 from $27.
The stock continues to gain strength and just crossed its 200-day moving average (See chart - click to enlarge).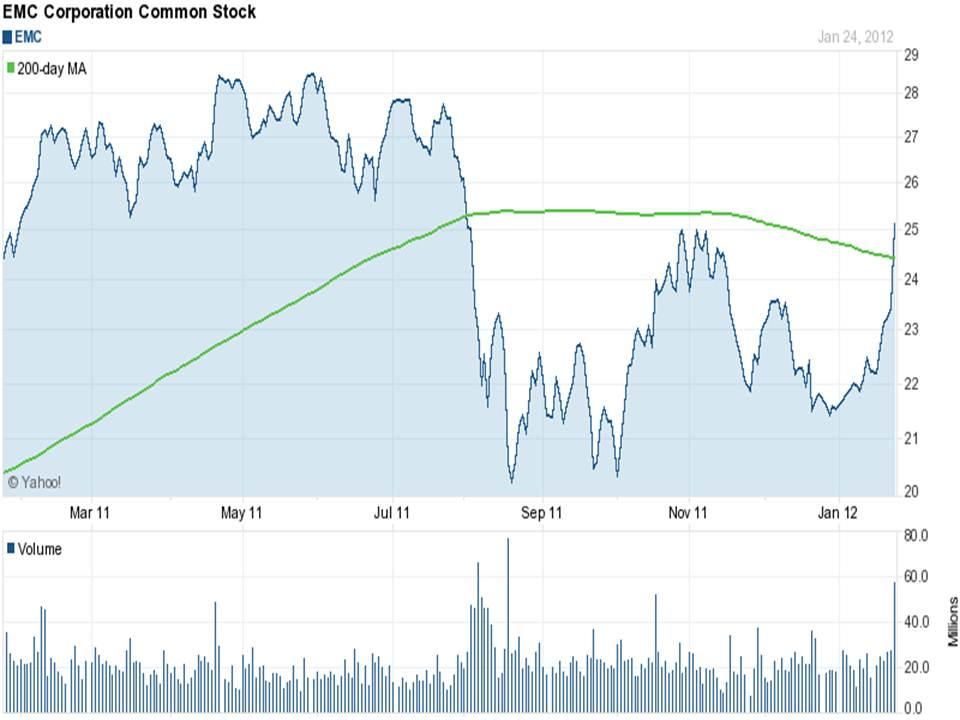 Disclosure: I am long EMC.