There's a well-known link between the demographic composition of a population and the returns different assets provide. This comes from the lifecycle of attitudes toward saving and investing that people, on average, go through as they age.
In researching this issue, one can find many different approaches. Here I'll present two that came to about the same conclusions.
Demographics, Stock Market Flows and Stock Returns
The author, Amit Goyal, finds support for traditional lifecycle models, showing that an increase in people over 65 leads to higher outflows from the stock market, as these people consume their savings in retirement, and an increase in people between the ages of 45 and 65 leads to decreased outflows or increased inflows (and thus, is correlated with higher stock returns).
In terms of prediction for the stock market, the author provides a chart illustrating the expected path of outflows in the next few years, in line with the retirement of the baby boom generation, thus implying high outflows for the next decade and, predictably, low stock market multiples and, eventually, returns.
Click to enlarge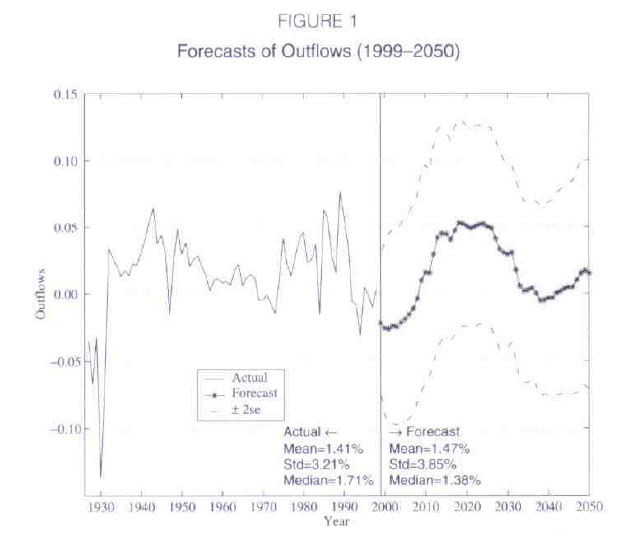 Demographic Changes, Financial Markets and the Economy
The authors, Robert D. Arnott and Denis B. Chaves, go one step further and not only relate demographic changes to returns of stocks, but also bonds. Their main conclusions are that stocks perform best when the number of people aged between 35 and 59 is particularly large, as well as when the number of people between 45 and 64 is growing quickly, much as in the former study.
Regarding bonds, they're best when the roster of people aged between 50 and 69 is growing quickly, which is what one expects for the present decade as the boomers rapidly retire. Indeed, this effect is already in full swing, given that the lower bound is just 50 years of age.
The authors also provide maps detailing the expected relative returns taking into account demographic changes over the next decade.
Click to enlarge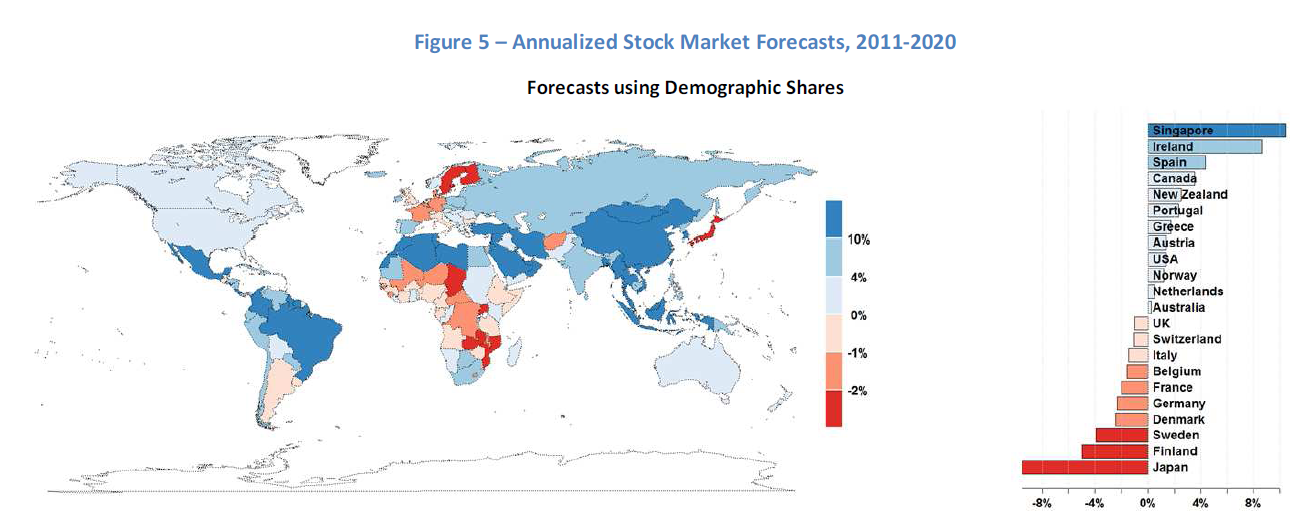 Conclusion
Many studies and authors have come to similar conclusions, that demographic changes have a deep impact on market returns. Given the demographic importance of the baby boomer generation, these trends might be powerful enough to shape part of the returns to be expected in the next decade.
Right now, and according to these studies, it would seem that the returns over the present decade will be under severe demographic pressure, because of the retirement of the baby boomer generation.
Given this, we would expect mostly rather low stock market multiples over the next decade. Such a market return profile could make dividends a larger component of stock market returns over the present decade, leading to a preference for stocks such as those identified in my article "Panning For Dividend Diamonds: 3 Sparklers To Consider": Intel (NASDAQ:INTC), Novartis (NYSE:NVS), NYSE-Euronext (NYSE:NYX) and others such as H&R Block (NYSE:HRB), General Electric (NYSE:GE) and Hasbro (NASDAQ:HAS) where low earnings multiples coexist together with a good fundamental background and the kind of cash generation that allows for a high and sustainable dividend yield. In this search for dividends, however, care must be taken to not fall into the trap of selecting stocks just based on their high dividend yields with no regard to their sustainability and growth.
Disclosure: I have no positions in any stocks mentioned, and no plans to initiate any positions within the next 72 hours.