This is the second installment in a series covering high-quality technology stocks that possessed the two keys to long-term performance. The first key is above-average expected earnings growth, and the second key is sound valuation. When investors have the opportunity to buy exceptional growth at a reasonable price, they are offered the best possible chance for above-average long-term returns at below-average levels of risk.
The foundational article in this series collaborated more on these investing principles, and others, and can be found (here). Our first article introduced 10 high-profile technology companies that appear to possess the two keys to long-term performance. We elaborated on two of these technology stalwarts, Intel Corp. (NASDAQ:INTC) and Taiwan Semiconductor (NYSE:TSM), two leading semiconductor companies. In this article we will elaborate on the next 2 of 10 companies from our list of dividend paying technology stalwarts, Harris Corp. (NYSE:HRS) and KLA-Tencor (NASDAQ:KLAC).
Since these articles are primarily focused on the operating fundamentals of these technology companies, we will refrain from any elaborate dissertation on each company. If potential investors are intrigued by what they see, we will leave that task of digging deeper into each company's business models to their own interests or desires. Our goal is to introduce the technology titans that appear to possess the two keys to above-average long-term performance discussed above. However, we will offer a brief description of each company's business for introductory purposes.
Harris Corp. : A Communications Equipment Company
Here is a brief description of Harris Corporation taken directly from their website:
"About Harris Corporation
Harris is an international communications and information technology company serving government and commercial markets in more than 150 countries. Headquartered in Melbourne, Florida, the company has approximately $6 billion of annual revenue and about 17,000 employees - including nearly 7,000 engineers and scientists. Harris is dedicated to developing best-in-class assured communications® products, systems, and services. Additional information about Harris Corporation is available at harris.com.";
Harris Corp.: Through the Lens of Our Graphs

Since a picture is worth 1000 words, the following 20-year graph on Harris Corp. that plots earnings and dividends only, tells an immediate story about the company and its past business success. From calendar years 1993 to 2003, we see a company that had approximately five years of exceptional growth followed by five years of very weak earnings results. Then, from calendar year 2003 to current time this technology stalwart strung together almost 10 years of exceptional growth. (We will focus more on those last 10 years in a subsequent graph below) Nevertheless, the overall growth rate of 11.7% significantly exceeds the growth of the average company as measured by the S&P 500. Note that all data is plotted, however, the data points are only typed in for every other year due to space constraints.
In our next graph we introduce monthly closing stock prices overlaid with earnings, and a mathematically calculated normal PE ratio. Here we discover that up into the great recession of calendar year 2008 the earnings and price relationship correlated almost perfectly. However, even though the company's earnings continued to grow, albeit at a lower than historical average rate, the company's stock price plummeted from a high of $66.71 to a low of $27.56 in calendar year 2008 (see the 10-year chart following the one below).
When we focus in on the 10-year period 2003 to 2012 (nine years plus the year we are in), we discover a powerful record of earnings growth exceeding 23% per annum. During the recession, the rate of earnings growth did slow, but earnings did not fall like many other companies experienced. Therefore, it can only logically be assumed that negative investor sentiment has caused this high-quality technology company's stock to be erroneously appraised by the market.
In other words, we submit that Harris Corp.'s exceptional earnings growth and consistent dividend increases warrant a valuation that is significantly higher than is reflected by the current PE of 7.7. This is more than likely attributed to investment fears of slowing in government spending which represents approximately 6% of Harris Corp.'s business.
Nevertheless, we believe those fears are overblown and are creating a rare opportunity for investors seeking a quality company with above-average growth potential and an increasing dividend. It is hard for us to imagine that this above-average quality technology company does not deserve a PE ratio above the current PE ratio of approximately 14 currently applied to the S&P 500.
When reviewing the performance associated with the above 10-year graph, we discover that Harris Corp. has rewarded shareholders far in excess of the average company as measured by the S&P 500, in spite of its current low valuation. Dividends have increased every year at a very strong level consistent with the company's strong and above-average earnings growth.
When examining Harris Corporation's historical PE ratio, we discover that has consistently fallen, in spite of the fact that earnings in dividends have consistently increased. We acknowledge that markets will behave this way from time to time, especially when there is a predominance of negative sentiment like we see today.
On the other hand, we also strongly contend that markets eventually come to their senses and normal and justified valuations will inevitably return. Put another way, we believe that true wealth creation is a function of business results more than from price volatility. When business is strong and prices are low, we believe the low risk opportunity to make outsized returns is manifest.
Another strong indicator that Harris Corp. is significantly undervalued today is their current price to sales of only .73. As you see from the graph, this company has normally commanded a price to sales of between 1 to 2 times sales.
Harris Corp. - The Future
The consensus of 14 analysts reporting to Capital IQ, expect Harris to generate a five-year estimated growth rate of earnings of 9.2% per annum. This number is significantly lower than their historical normal growth, and is perfectly aligned with their average earnings growth over the last two years of 9.1%. Therefore, we believe that these growth objectives are achievable based on the company's diversified portfolio.
If the market applied a fair market PE of 15 to Harris Corp.'s stock, as we believe it should, then the fair value on June 30, 2012 would theoretically be $77.10. This implies a large return "kicker" assuming the market eventually puts a rational valuation on Harris Corp. Consequently, Harris offers investors three upside return possibilities:
1. A return to fair value
2. An above market and growing dividend
3. Above-average estimated earnings growth
The 10-year earnings yield estimates table puts the picture above into numerical form. Notice that Harris Corporation offers investors a strong earnings yield exceeding 13% (see orange circle) for calendar year 2012. We believe that this is a reflection of how undervalued this high-quality technology company really is. The combination of, in our opinion, extreme undervaluation coupled with above-average earnings and dividend growth represents a strong opportunity for low risk, high total return.
KLA-Tencor : a Semiconductor Equipment Company
Here is a brief description of KLA-Tencor :taken directly from their website:
"About KLA-Tencor
KLA-Tencor Corporation, a leading provider of process control and yield management solutions, partners with customers around the world to develop state-of-the-art inspection and metrology technologies. These technologies serve the semiconductor, data storage, LED, photovoltaic, and other related nanoelectronics industries. With a portfolio of industry-standard products and a team of world-class engineers and scientists, the company has created superior solutions for its customers for more than 35 years. Headquartered in Milpitas, Calif., KLA-Tencor has dedicated customer operations and service centers around the world. Additional information may be found at www.kla-tencor.com. (KLAC-P)"
KLA-Tencor : Through the Lens of F.A.S.T. Graphs™
Since a picture is worth 1000 words, the following 20-year graph on KLA-Tencor that plots earnings and dividends only, tells an immediate story about the company and its past business success. In contrast to what we saw with Harris Corp. above,KLA-Tencor has a significantly more cyclical record of earnings growth historically. Even though KLA-Tencor's average growth rate of almost 22% is close to double what Harris Corp. achieved, the manner in which it got there is significantly different.
We believe this represents another classic example of how statistics alone can mislead. From just a quick glance at this company's operating history, the prospective investor should question how reliable any future expectations of growth or income might be. Even though the final earnings growth number is strong, and even considering that the debt to equity ratio appears very conservative, the earnings record is obviously tenuous at best.
When monthly closing stock prices are brought into the equation, the extreme unpredictability of this company becomes vividly apparent. KLA-Tencor's stock price history is just as erratic as its operating history. Yet, at the end of the day, the earnings and price relationship is clearly evident. With this example, stock price clearly reacts to the volatility of earnings from one year to the next.
When we focus in on the 10-year period 2003 to 2012 (nine years plus the year we are in), we discover that KLA-Tencor's business appears very sensitive to economic conditions. Both earnings and stock price fell precipitously during the recession of 2008. However, earnings did recover strongly over the next two fiscal years and the company's stock price recovery followed suit.
When reviewing the performance associated with the above 10-year graph, we discover that KLA-Tencor produced below-average results on its shareholders behalf. Although the company did avoid cutting their dividend during the recession, they were forced to freeze it for three consecutive years (see red shading). However, they did increase it by approximately 67% in calendar year 2011 to $1.00 share, and are currently on track to pay $1.40 per share in dividends for this fiscal year.
Although KLA-Tencor's current PE ratio is below historical norms, there have been periods in the recent past when it was much lower. Nevertheless, the current PE ratio of 12.4 is below what the market is capitalizing the average company at, as represented by the S&P 500.

KLA-Tencor's current price to sales ratio rests on the low side of normal. However, the cyclical nature of this company's sales and earnings could warrant this metric to being an unreliable indicator of fair value.

KLA-Tencor -The Future
When reviewing the estimated earnings and return calculator on KLA-Tencor, we discover that the consensus of 13 analysts reporting to Capital IQ expect KLA-Tencor to generate a five-year estimated growth rate of earnings of 10% per annum. However, keep in mind that the computer can only take that estimate and calculate it out into the future in a linear fashion. Therefore, the prudent investor needs to question the reliability of that prediction. However, if these numbers were to be true, then KLA-Tencor would represent a fairly valued technology company that pays an attractive current dividend.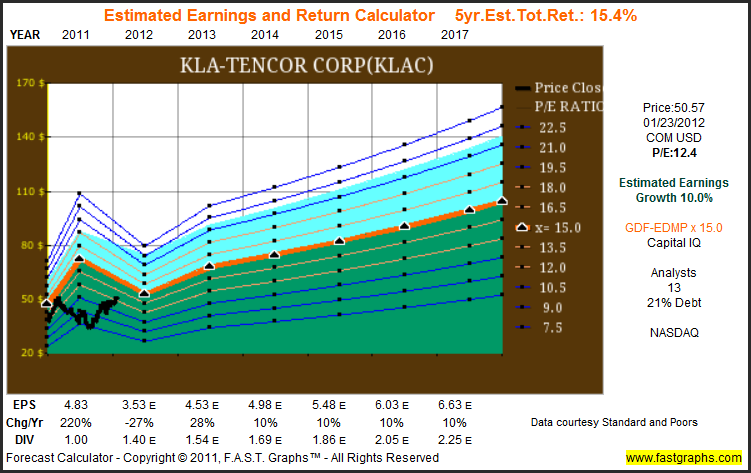 The 10-year earnings yield estimates table puts the above picture into numerical form. Once again, assuming that these estimates would come to pass indicates that KLA-Tencor offers a current earnings yield of approximately 7%. However, after reviewing the history of this company, a spotlight is placed on the importance of accurately forecasting future earnings growth when attempting to make sound investing decisions.
Conclusions
The concept of technology stocks as dividend growth stocks is rather new. Historically thought of as growth stocks and in other cases as cyclical stocks, wrapping your mind around technology for dividend growth is difficult and even confusing. This is especially true for the typical conservative dividend growth investor who is looking for a reliable increasing dividend income stream. There are some technology stocks that may be capable of delivering on that objective. However, in contrast to the typical stodgy old blue-chip dividend consumer stock, technology is a very different animal indeed.
Therefore, one of our primary objectives in producing the series is to put a spotlight on the many variations that technology stocks can come in. With only looking at the numbers, such as PE ratios, average growth rates, dividend yields, etc., it is easy to fall into the trap of believing that many of these technology stocks are very comparable. The two examples featured in this article illustrate how wrong that type of thinking could be. We've always believed that the smartest investing strategy is the one that builds a portfolio one stock at a time with a focus on the specific rather than the general. As always, we encourage the prospective investor to conduct their own due diligence. There is no substitute for a rigorous research effort.
Disclaimer: The opinions in this document are for informational and educational purposes only and should not be construed as a recommendation to buy or sell the stocks mentioned or to solicit transactions or clients. Past performance of the companies discussed may not continue and the companies may not achieve the earnings growth as predicted. The information in this document is believed to be accurate, but under no circumstances should a person act upon the information contained within. We do not recommend that anyone act upon any investment information without first consulting an investment advisor as to the suitability of such investments for his specific situation.