No company is as controversial on Seeking Alpha, or perhaps the broader investing world as Netflix (NASDAQ:NFLX). Netflix receives passionate support from bulls, and equally passionate criticism from the bears. Over the past year, both camps have had something to offer.

Since last year, Netflix has lost close to half its value, due to a variety of operational and financial missteps. Netflix angered many users and investors with its price increase in the summer and its aborted plan to split Netflix in two. These missteps were a cause of much celebration to the shorts, who gleefully claimed that the end was near for Netflix. But, so far in 2012, Netflix is one of the best performing stocks in the market, advancing over 37%. To investors bullish on Netflix, such as us (who bought the stock in the $60's), this rally has been a source of some great profits.

While it would be nice to say that Netflix is a buy because it is undervalued, the company is too complex for the arguments to be that simple. We must look at the data provided by the latest earnings release.
After the markets closed on Wednesday, January 25, Netflix posted EPS of 73 cents on revenues of $876 million, beating expectations of 55 cents and revenues of $858 million. And while this is one of the reasons Netflix stock has soared almost 16% after hours trading, other data from the company's release highlights that it is on the path to recovery.
Subscribers
Netflix now has almost 24.5 million US subscribers, and it has indicated that cancellations are stabilizing. Overall, Netflix reported that it had 24.858 million total unique paid subscribers in the quarter, compared to 22.843 million in the prior quarter. While this is admittedly not the kind of subscriber growth seen in the company's heyday, it is nevertheless a sign that Netflix is stabilizing itself. CEO Reed Hasting, in the shareholder letter, wrote that cancellations ebbed steadily through the quarter. And while churn is higher than at the prior time last year (3.7%), it improved from the third quarter. Churn came in at 5.3%, a full percentage point lower than the prior quarter. While churn is still higher than it should be, it is trending in the right direction. The cancellation wave is slowly but surely disappearing, and subscribers who chose to stay with the service after the price increase will most likely elect to stay. And while we do think that reporting churn and subscriber acquisition costs could be helpful, there is an element of truth in the company's argument that since subscribers can cancel and rejoin as they please, churn and subscriber acquisition costs can be exaggerated.
Internationally, Netflix added 380,000 new subscribers, giving the company a total of 1.86 million customers in Canada, Great Britain, and Latin America. At the end of the shareholder letter, Netflix breaks down the proportion of subscribers that are free and paid. 1.447 million subscribers are paid, with around 400,000 on a free trial. In the third quarter, Netflix had just 989,000 paying subscribers. Clearly the company is doing something right to attract customers to its service.
International
Netflix has now had international services for 5 quarters, with a total of 1.48 million members. In Canada, Netflix has stated that it expects to be around breakeven for two more quarters, and see profits from Canada in Q3 2012. In Latin America, the company reported that members are signing up at the same rate as in Canada. And the opportunities there are much larger since Latin America has 4 times as many broadband connections as Canada. Netflix is quickly tailoring the service to meet local tastes and needs, investing in new content, adding subtitles, and adjusting payment systems to local markets. In the United Kingdom, the newest international market, Netflix is reporting that subscribers are signing up at a faster rate than in Canada, and given the competitive dynamics in the UK, such subscriber growth is a good sign. The addition of strong Facebook integration is helping spread the service through the UK.
Financials
This quarter marked the first time that Netflix broke down its financials based on divisions, breaking down its results for streaming, domestic DVD's, and international. Below we provide a quick overview of this data, as taken from the Q4 shareholder letter.
Netflix Financial Results, Q4 2011
| | |
| --- | --- |
| | Q4 2011 |
| Revenue | $875.575 Million |
| EPS | $0.73 |
| US Streaming Profit & Margin | $52.11 Million (10.94%) |
| DVD Profit & Margin | $193.765 Million (52.33%) |
| International Profit & Margin | -$59.743 Million (-16.14%) |
What many critics of Netflix seize on is that the margins of the streaming business are much smaller than that of the traditional DVD segment. There is no shying away from that fact. The economics of streaming are such that Netflix simply cannot have DVD-like margins. TechCrunch's article covering Netflix's earnings focused on this very point, titling their article, "Netflix's Streaming Margins Suck." Yet even a streaming profit margin of 10.94% is much higher than the profit margins of Amazon (NASDAQ:AMZN), a company many bears see as being a source of Netflix's fall. (Amazon's profit margin was 0.58% in the third quarter) If margins of around 11% are unacceptable, then surely margins approaching zero will outrage investors. Yet article after article on Seeking Alpha touts how Amazon will destroy Netflix.
We fully recognize that streaming's margins can never match those of the traditional DVD business. But they do not have to. Would you rather have 52% of a shrinking pie, or 11% of a pie that is many times bigger? Netflix is thinking to the years ahead, where an 11% profit margin in streaming will result in higher net income than at the present. Netflix is confident in its ability to continue an expansion of its margins at a rate of around 100 basis points per quarter. Globally, Netflix can offer its services to a much larger audience with streaming than it can with DVD's. In addition, ARPU rose this quarter, to $12.35, up from $11.56 last quarter, and $11.68 per year ago. Netflix is making more money per subscriber now than a year ago, a time when it was perceived in a far more positive light than now.
Let us then move onto guidance. Netflix has in fact guided for losses in the first quarter.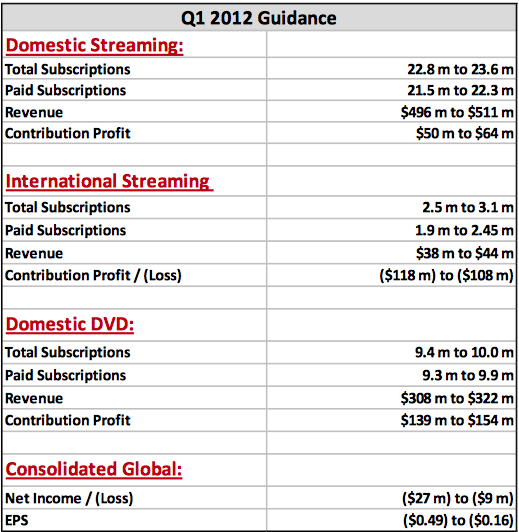 Using the midpoint of this guidance, Netflix will lose 33 cents per share in the first quarter. In streaming, the most crucial segment going forward, Netflix will have a profit of $57 million (using the midpoint of guidance), up from last quarter's $52 million in profit. Losses are due to international expansion (around $113 million), and 2012 will no doubt be a year of pressure on EPS, as Netflix ramps up its investment in its international business to build it for the future.
It is these losses that we wish to address. As with the profit margins of the streaming business, these losses are something that the bulls must address. Netflix will, in all probability, post losses for all of 2012. Current consensus estimates (likely to be revised in the days and weeks ahead) call for Netflix to post a loss of 2 cents per share for 2012. Many critics of the company have argued that this projected loss (very near the breakeven point), makes Netflix an unsuitable investment. But by the same token, any company with operating losses cannot be invested in. Following that logic means that young biotech companies cannot be invested in, nor can companies in new industries. These losses must be looked in the context of a longer time frame. Netflix is not running this business for investors who do not see beyond 2012. It is running the business for years far beyond 2012. People invest in new biotech companies because they see profits in the years ahead. If investors run from any company that has a loss at some point in its operating history, than the market itself would be thrown into chaos.
Competition
In its earnings release, Netflix addressed the competitive threats it sees. We too have discussed this, in our previous article on Netflix, where we recommended investors buy the shares. (Those who followed our recommendation have seen their investment appreciate by nearly 20%, compared to a 6.76% rise in the S&P 500 during the same time period)
Many critics have argued that Hulu Plus and Amazon Prime will take down Netflix. But usage statistics show that this is not the case. Netflix's data suggests that viewing hours on those 2 services are around 10% of Netflix's levels. We have argued before, and do so again, that these services are not competitors to Netflix, at least not in the way that the bears see them.
Hulu, and its associated Hulu Plus service, is designed to let people watch current season TV on their computers and portable devices. Netflix does not focus on current season TV. These services are more compliments to each other, not competitors. Furthermore, Hulu Plus users must put up with commercials, even though they are paying subscribers. As for Amazon Prime, it was never designed as a direct competitor to Netflix. For Amazon, Amazon Prime is a means to an end, that end being higher retail sales. For all its pretenses at being a "cloud" company, Amazon's core business is still online retail sales. And while Amazon Prime is a wonderful service, the video streaming component pales in comparison to Netflix. It is meant to drive incremental additions in the amount of Amazon Prime members. People do not sign up for Amazon Prime because of the streaming video that it offers. They sign up for the expedited shipping. We do not think that Amazon means for it to truly compete with Netflix. Nor do we think that it can. Amazon has stretched itself thin as it invests across its entire business in new warehouses, international expansion, and the Kindle line. Say what you will about Netflix's margins, but Amazon's are far worse. If Amazon were to truly attempt to wrest dominance of the streaming market away from Netflix, it would have to invest far more in its offering, pushing the company into the red.
Netflix bears also cite a parade of other companies that will come in and destroy Netflix, such as Apple (NASDAQ:AAPL) and Google (NASDAQ:GOOG). When the time comes for these companies to offer the same service as Netflix, we will reevaluate our thesis. But no company has yet to offer the same kind of service as Netflix. A la carte downloads (via iTunes and YouTube), are not the same as streaming. Furthermore, there is a logical inconsistency with the bears' argument. Bears argue that Netflix is operating an unsustainable business model at the same time that it will be destroyed by competition. Let us assume then, for a moment, that this scenario is true. If Reed Hastings and Netflix are truly incompetent, and are operating a business model that has no chance of profitability, why would anyone else wish to enter it? Bears argue that companies such as Apple and Google, two of the companies most often cited as potential competitors, will enter the streaming market and ruin Netflix. But why would these companies, seen as such good creators of shareholder wealth, wish to enter a market as unprofitable and unsustainable as video streaming? It is unreasonable to argue that Netflix has an an unsustainable business model while at the same time arguing that it will be destroyed by competitors who want to duplicate it.
Netflix, in its earnings release, has stated once again that TV Everywhere is its biggest competitive threat it sees in the long term. And while services like HBO Go certainly are competition, Netflix's much broader selection and unmatched recommendation engine will allow it to withstand this assault. TV Everywhere will allow consumers to watch content anywhere they wish, but it does not fundamentally change the content they watch. Companies will continue licensing their content to one another, and in that sense, Netflix is just another network that competes with others for viewing time, all while licensing content from them. That is the nature of the entertainment business.
Accounting
One of, if not the core bearish argument surrounding Netflix is the way it accounts for streaming content costs. Yet a look at the accounting shows that the controversy has been overblown. Netflix accounts for its content in full compliance with GAAP, and has a detailed presentation of its methods posted on its investor relations website. While we do not know the exact amount of obligations for the just-announced quarter (Netflix's 10-Q is not yet out), it is safe to assume they have grown. Netflix bears argue that the off-balance sheet content costs will bankrupt the company. But these costs are not true debt. There is no point in time where all of those costs are due at once. So long as Netflix can grow revenues to pay the costs as they come due, there are no issues. Revenue grew 6.5% sequentially and 46.93% year-over-year. Netflix's net income, already includes all content costs, for they are paid out of revenues, not income. The bears' arguments relating to accounting for streaming content should be directed at GAAP, not Netflix, for its accounting is done in accordance with GAAP, which spells out which content costs are to be on the balance sheet and which ones are to remain off balance sheet.
Conclusions
The days of astronomical gains in Netflix are long gone. But astronomical losses in the stock are a thing of the past as well. The bulls have had their turn, driving Netflix's stock to over $300. And the bears have had their turn as well, driving the stock down to the $60's. We think that it is now time for the bulls to once again take control, for Netflix is rapidly putting its issues behind it. Netflix has gone through one of the most tumultuous upheavals we have seen, but it has survived, and will continue to grow. Netflix has made a great deal of money for both bulls and bears, depending on when one entered or exited the stock. But going forward, we see much more opportunity for bullish investors than those who continue to bet against Netflix.