The fast-growing multi-billion mobile games industry is one more reason to stay (or go) long on Apple (NASDAQ:AAPL). Digi-Capital estimates that sales from mobile games will hit $29 billion this year (and $45 billion by 2018). Annual revenue from mobile games-related purchases also will enjoy a 15% CAGR.
Even though Apple does not develop mobile games, Digi-Capital still recognized the iPhone company as the leader in mobile games.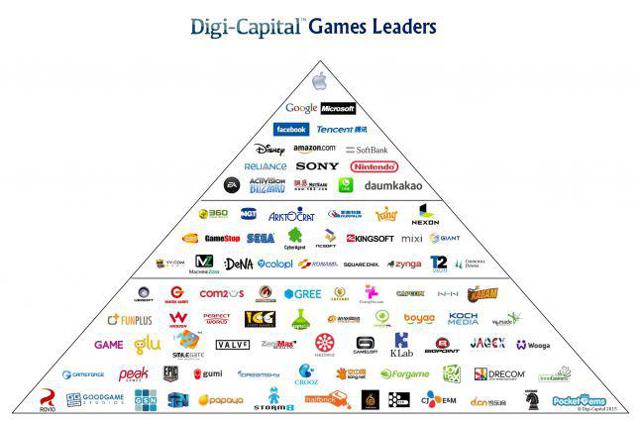 (Source: Gamasutra/Digi-Capital)
Digi-Capital's estimate is a little lower than Newzoo's previous assessment that revenue from mobile games will hit $30.3 billion this year and $40 billion by 2017. However, I strongly agree with the assessment from Digi-Capital.
iPhone/iPad gamers deliver 4x more in-app purchases than their Google (GOOG) (GOOGL) Android counterparts. After taking its 30% commission, Apple paid more than $10 billion to iOS app developers last year.
A Wall Street Journal writer also confirmed that Apple's App Store generated more than $14 billion in sales (Google Play had $10 billion). Apple therefore gained $3-to-$4 billion as commission from app store sales. This amount is higher than King Digital's (KING) $2.4 billion gross bookings in FY 2014.
As per the Q1 2015 report of App Annie, global sales from iOS apps increased its lead over sales of Android apps. This in spite of Google Play having 70% more number of downloads.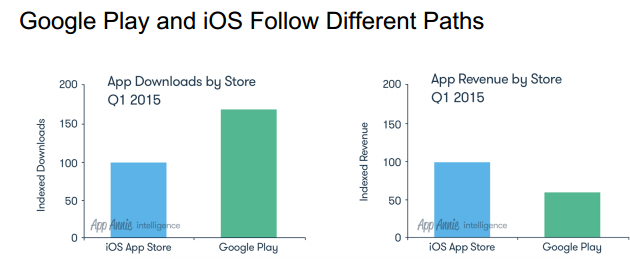 (Source: App Annie)
Why It Matters
Mobile games remain the dominant moneymakers in Google Play and iTunes Store. The better-than-predicted strong sales of the iPhone 6/iPhone 6 Plus in China could substantially increase Apple's share in mobile games. China has risen to become the top country when it comes to the number of iOS app downloads.
China is now also the third-biggest source for iOS apps-related revenue.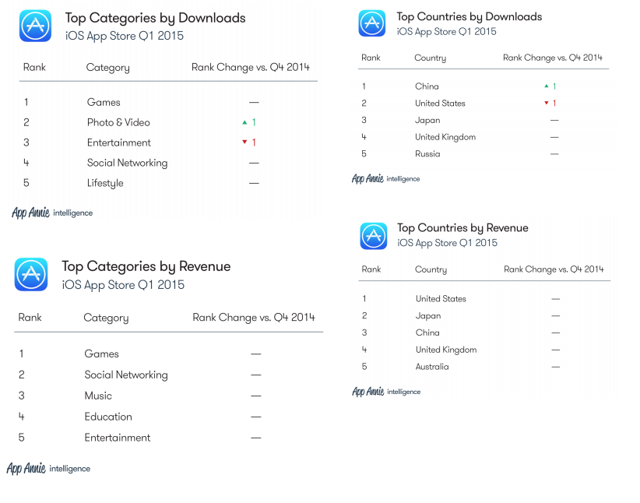 The pay-2-win nature of top-grossing games like Clash of Clans, Game of War: Fire Age and Marvel Contest of Champions is prevalent among big-spending mobile gamers. Newzoo reports that more than 40% of mobile gamers in the U.S., Great Britain and Turkey buy in-app premium items.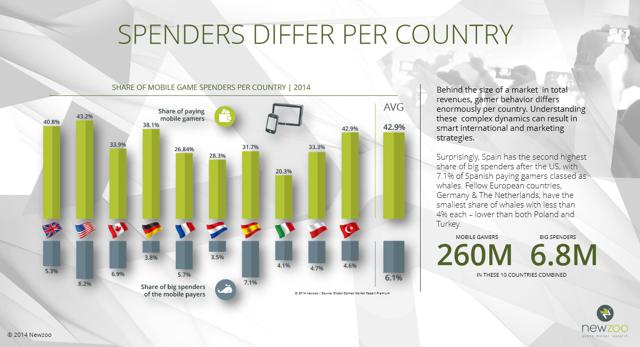 In the U.S. alone, Apple's 30% cut from iPhone games is already impressive. Top-grossing strategy games Clash of Clans and Game of War - Fire Age generate more than $1 million in average daily sales.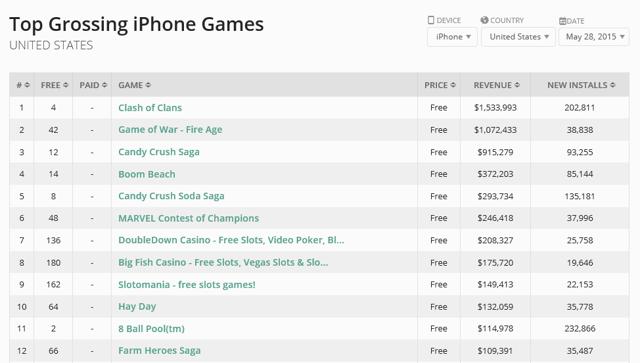 (Source: ThinkGaming)
Newzoo says the typical big-spending mobile gamer is usually a male person with a steady high-paying job. This is partly in line with Chitika's claim that the iPhone is dominant among U.S. users with college degrees/high-income employment. The testosterone-fueled competition in freemium strategy/fighting games inspire gamers to use the power of their credit cards to get ahead of other players.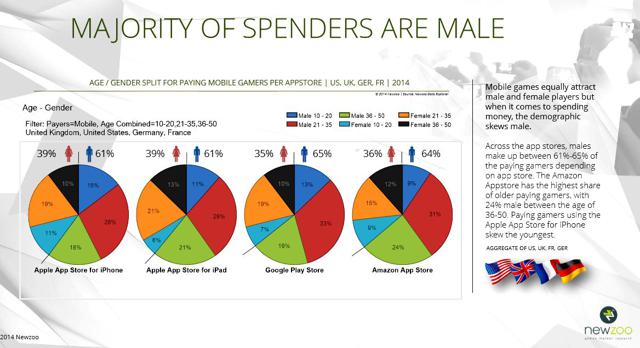 Asia Also A Gold Mine For iPhone Games
Apple should continue to leverage the popularity of iPhones in China and other Asia Pacific countries. This APAC region is still the biggest revenue generator for mobile games, $12.2 billion vs. the $4.9 billion of North America. The recent negotiations with Alibaba (BABA) over the possibility of bringing Apple Pay to China could mean more Chinese gamers could do in-app purchases on their iPhone games.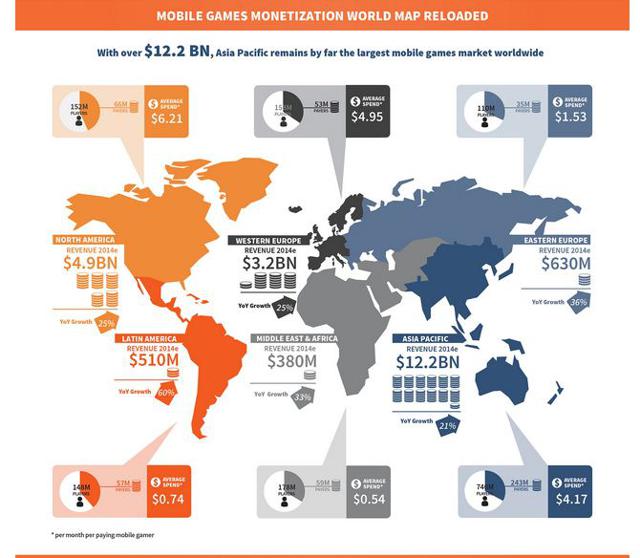 (Source: Applift)
Middle-aged and/or highly-paid Asians who bought $800 iPhones might also be the ones buying $100 Premium heroes in Marvel Contest of Champions. Kabam has launched Contest of Champions in China.
There are 383 million mobile gamers in China and some of them likely bought the iPhone 6 or iPhone 6 Plus. Chinese mobile gamers spend an average of $23.5 on in-app purchases every month.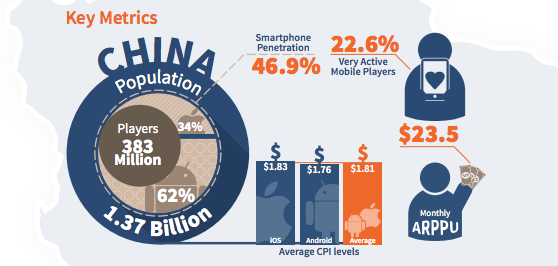 (Source: Applift)
Japan, where the iPhone also dominates, touts the most generous of mobile gamers in Asia.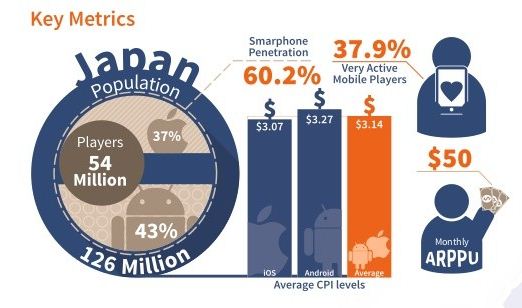 (Source: Applift)
I'm a 41-year-old Asian male who also sometimes use my credit card to remain competitive on pay-2-win mobile games. My latest sin today is to waste 1,650 Crystals (worth $37.99) to buy a package of three 3-star heroes in Marvel Future Fight.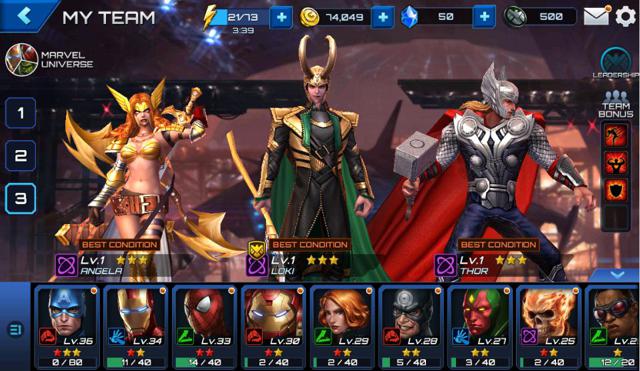 (Source: Alcaraz Research)
Conclusion
I agree with the 28 analysts who made a Buy Rating on AAPL. The persistent popularity of iOS devices in North America, Western Europe, Japan and China compels me to believe that Apple will continue to be the top beneficiary of the surging mobile games industry.
Tim Cook's bold decision to drop OpenGL ES in favor of Apple's proprietary Metal API is enabling mobile game developers to develop more console-quality games for the iPhone/iPad. The Metal API is a low-overhead/low-level graphics compute application program interface which allows programmers to better optimize advanced 3D games like Rovio's Plunder Pirates for iOS 8.
Metal API delivers faster graphics performance over the current OpenGL ES API because Metal gives developers direct control over the integrated PowerVR GPU of Apple's A7/A8 processors. The graphics performance advantage from Metal API will certainly help retain the loyalty of big-spending mobile gamers.
The iPhone 6 still outperformed the new Samsung (CCNLF) Galaxy S6 in gaming benchmark tests. The Galaxy S6 boasts octa-core processors and 3GB of RAM. However, the iPhone 6, which only has a dual-core A8 processor and 1GB of RAM, still delivers a higher frames-per-second performance on advanced, console-quality mobile games like Marvel Contest of Champions and Modern Combat 5.
(Source: Charts from Valuewalk/Vikas Shukla)