Last week, I wrote about the opportunities arising from the crash in natural gas prices. On the morning of January 24, CSX Corporation (NYSE:CSX), a railroad company, provided timely commentary on natural gas during its earnings conference call. In the transcript provided by Seeking Alpha, CSX's CEO made the following claim (emphasis mine):
…gas prices, in our view, are nearing the end of where the bottom of the gas market is…you're seeing the rig count start to do several things: One, they're changing. They're actually going down, particularly in the Marcellus Shale. Two, a lot of the drill rigging counts are moving from Eastern Pennsylvania over to Western Pennsylvania to go for the Utica oil reserves. So we see a stabilizing in the natural gas prices.
After reading that and noticing sharp bounces from last week's gut-wrenching slides in both the U.S. Natural GasFund ETF (NYSEARCA:UNG) and San Juan Basin Royalty Trust (NYSE:SJT), one of my favorite natural gas plays, I decided to add to my position in SJT far ahead of schedule. I still recommend staying away from UNG's death march to lower prices.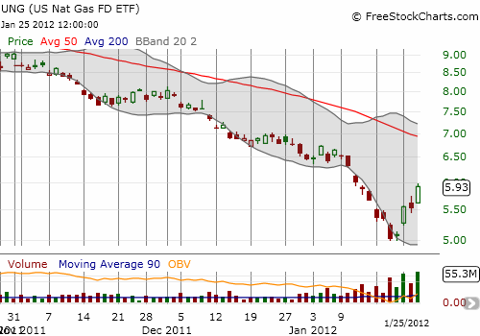 UNG gets a rare sharp bounce. Downtrend still well intact.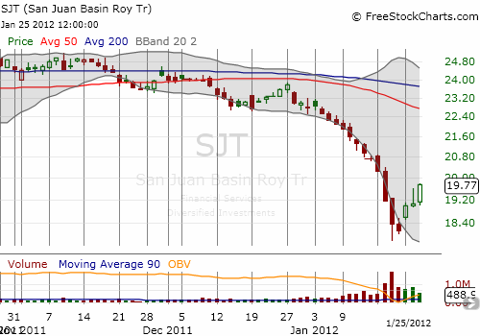 SJT bounces sharply off the bottom but buying volume is much lighter than selling volume.
I am probably a little early in adding to my SJT position, but at a 9.4% yield, I am willing to take on the extra risk. I have not yet decided whether to allocate a third (and final) tranche to this position.
After an analyst insisted that natural gas prices could still head lower based on over-supply, CSX responded that even lower prices are not likely sustainable:
…when natural gas starts approaching those $2 levels, as you're aware, there was a lot of speculation yesterday on that. One, the drill counts start coming down because it's very - it's not as profitable to drill for the natural gas at that low a rate. Number two, you saw some of the energy companies announce that they will focus more on shale that can produce the liquids, the oil. Number three, then you have to start taking into consideration, what are the mineral leases? When do they expire?…let me just say it and conclude it like this, I don't like natural gas this cheap.
The low prices of natural gas have motivated some domestic utilities to replace coal with natural gas, driving down the price of thermal coal. However, CSX surmises that most of the utilities in their region that can make the switch have already done so. The implication is not only that the negative impact on coal prices will likely subside, but also that these utilities will not generate further incremental demand for natural gas.
However, natural gas prices have been a boon to chemical companies. CSX indicated that these low prices have made the U.S. chemical industry "very competitive on a worldwide basis."
The stock market responded to that earnings report by sending the stock 3.7% lower. The very next day, CSX gained 3.7%.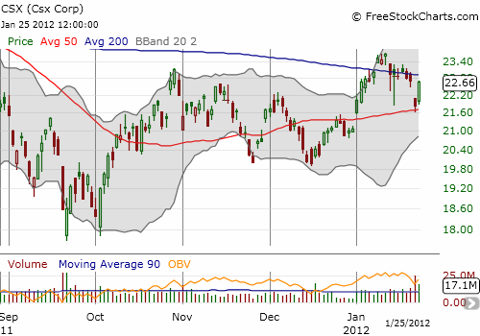 CSX has recovered its post-earnings losses but still needs to break free of the resistance provided by its 200-day moving average (DMA).
Be careful out there!
Disclosure: I am long SJT.