Baker Hughes (BHI) has provided rig count information for North America for years. It is the accepted authority. BHI provided the following chart of the rig count trends of both gas and oil drilling rigs.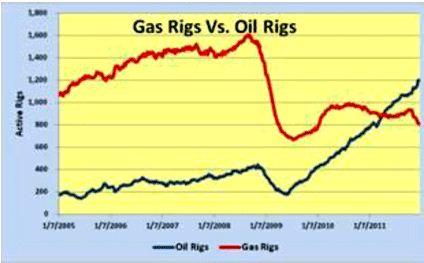 The oil rig line in the chart shows a strong trend upward since early in 2009. There are no signs of weakness in this trend yet. The natural gas rig count line in the chart shows a huge drop from the 2008 highs. After that there was a fractional recovery. Then there was a consolidation; and now there is the start of a downtrend. This downtrend seems to have started near the beginning of Q4 2011. The chart level seems to have fallen from a Q3E 2011 number of roughly 930 rigs (I can only read the above chart so accurately) to approximately 800 rigs near the end of 2011.
This number has since moved down to 780 gas rigs in the Jan. 20, 2012 North American Rotary Rig Count. The rapid downtrend is continuing. At the current rate of fall, the gas rig count decrease will approximately cancel out the oil rig count increase. This translates into little or no growth in oil well services for the duration of the gas rig downtrend.
The obvious question then is, how long will the gas rig downtrend last? I apologize for not showing the natural gas long term chart here, but I couldn't quickly find one that didn't have a copywrite. In 2008 the price of Natural Gas Nymex futures fell from a peak of $13.69 to roughly $6 at year end 2009. If you look at the above chart closely, there is a lag of 2-3 months before the gas rig count got to approximately the same point in the downtrend line. I note gas prices continued to fall at a slower rate in 2009 until they hit a low of approximately $2.50 in late Q3 2009.
If we postulate that history will repeat itself with respect to this new downtrend line in natural gas rigs, we might estimate that the gas rig count fall will level out in about another 2-3 months as the recent dramatic drop in natural gas prices seems to have bottomed a couple of days ago. With this theory, the North American natural gas rig count may logically fall to 650 or so within the next few months.
With Chesapeake Energy (NYSE:CHK) halting roughly half of its natural gas drilling, one might suppose this number might be destined for a much lower number in the near future. However, this is unlikely. Even though drilling for natural gas is unprofitable for many companies at the current US natural gas price, natural gas drilling is likely to continue at a significant rate. Many gas field leases can only be held by production. If a company does not want to have to pay for a lease again in a few years at perhaps a much higher price, it has to drill enough to keep its leases by production.
This means that significant natural gas drilling will continue. It means the roughly 650 gas rigs figure could be a bottom for this year, or at worst probably 500-550 gas rigs will be the bottom. Occidental Petroleum (NYSE:OXY), ConocoPhillips (NYSE:COP), EnCana (NYSE:ECA), and Ultra Petroleum (NASDAQ:UPL) also said they would cut back on their natural gas drilling. Others either have already made plans to cut, or they likely will soon. This is not a small move by one company, and the natural gas prices have already begun to rebound in response to these decisions. As I wrote this, the Nymex natural gas futures price was $2.78. This is significantly up from a low on January 23, 2012 of $2.23.
On the other hand, the number of oil drilling rigs has been in a strong uptrend since mid 2009 (see chart above). This trend has shown no recent signs of weakening. The latest data put the number of active oil rigs at 1223 in North America. Most of these are land drilling rigs. With high prices in oil, there has been no let up in the increase in the pace of land oil drilling. In fact the chart looks like the recent sharp downtrend in gas drilling rigs in North America is almost exactly offset by the increase in oil drilling rigs over the last three months.
This means approximately little to no growth in the total rig count in North America for the approximately 6 months after the beginning of Q4 2011. Taking BHI as a sample case this may mean that Q4 2011 and Q1 2012 earnings will be lower than originally expected (and later quarters too). However, the analysts have already lowered the FY2012 EPS expectations from $5.75 three months ago to $5.16 today. They may lower this latter number still further.
If you posit that the idled and to be idled natural gas drilling rigs will be idle for the entire 2012 year, then you can get an approximation of how big a difference in earnings and revenues there will be. My ballpark estimate was for an approximate 300 gas drilling rigs to be unexpectedly idled throughout 2012. This amounts to 300/2662 = 11.27% of the total number of currently active North American rigs unexpectedly idled.
Only the analysts who came up with the current estimates can apply this change to their estimates. These roughly 300 idled rigs do not all belong to one company. Some of the adjustments have already been made, although some of the lowered estimates were undoubtedly due to recently lowered world GDP estimates. For example, the World Bank recently cut the world GDP estimate for FY2012 from 3.6% to 2.5%. Plus some of the idled rigs will be able to be put to work in other areas, and some drilling service providers will be preferentially used as drillers if a an unexpected few of their "supposed to be booked" rigs are suddenly idled.
Such estimates will have to be made for each of the North American drilling service companies individually. As a ballpark estimate I would estimate that this number probably comes to no more than 5% of the full year growth percentage of each company. For example, 21% growth might become 20% growth for 2012.
In all likelihood the market has already scared investors into over selling these stocks by more than the amount indicated by such an adjustment to earnings and revenues. This likely means some of the top oil service drillers may rebound soon, or at least rise partially to their old stock price levels. The list of top companies includes such companies as: Baker Hughes , Halliburton (NYSE:HAL), Schlumberger N.V. (NYSE:SLB), Nabors Industries Ltd. (NYSE:NBR), Helmerich & Payne Inc. (NYSE:HP), etc. The approximately 300 unexpectedly idled natural gas drilling rigs also mean a decrease in the overall amount of tubular steel that will be used in North America in FY2012. Some of the idled rigs will be switched to oil. Some will be idled. Some may move to Non-North American locations. A ballpark estimate might be for an overall decrease of 5% in overall North American tubular steel sales in FY2012.
I apologize for the crudity of these estimates, but I am not covering each stock as many large brokerage analysts are. They may have (or will have to find out) the appropriate figures for each company. I hope I have given you a ballpark estimate of what is going on. It is usually better to have such a ballpark idea than to operate scared of a situation that you can not really begin to estimate.
Good Luck Trading.
Disclosure: I have no positions in any stocks mentioned, and no plans to initiate any positions within the next 72 hours.