Over the course of the next several articles we will highlight our Defensive Dividend Portfolio picks for 2012. Each article will focus on a specific low-beta, defensive sector:
Mortgages REITs
This article focuses specifically on the Consumer Staples sector.
Macro View
The U.S. economy continues to have significant headwinds (e.g., high unemployment, European credit contagion, weak housing market, high debt levels, etc.) and the current "relief rally" is likely to be short-lived.
The global economy is being weighed down by a debt problem that took over two decades to create. Given the significant build-up in peace time debt, we believe that the debt problem will take years to sort out, providing significant uncertainty and market volatility. The leverage that has been built up in the system will not unwind for years to come.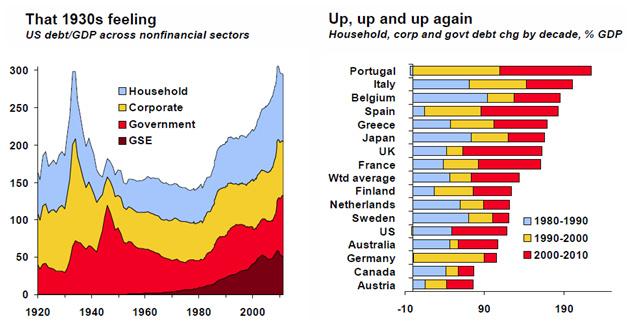 Source: Citigroup
Our central belief is that in a low interest-rate world, retirees and other income investors are experiencing dwindling incomes from their risk-free assets (e.g. government bonds and cash equivalents). With ultra easy monetary policy the Federal Reserve will continue to pick the pockets of savers by keeping rates low. We do not foresee interest rates at the short end of the curve rising any time soon as the debt burdens of sovereign governments as well as consumers are simply too high.
Investors Need to Focus on Stable Income Streams in 2012
As central banks drive down short-term rates to deal with high debt levels and low growth rates, investors have been flocking to dividend stocks in search of yield.
That said, any pullback in the market should be an opportunity to add to your low-beta dividend stock positions.
In the current market environment, it is important for income investors to choose their dividend stocks wisely as they are putting new money to work. As volatility increases (especially downside volatility), income investors may want to add some low beta stocks to their holdings to help dampen portfolio volatility. In general, companies with low betas will tend to be less volatile than the general market.
With a diversified portfolio of high-quality dividend paying stocks (like the ones on the list below), investors can generate a stable income stream that will perform well in bull or bear markets.
Defensive Dividend Portfolio: Part 5 - Mortgage REITs
As shown in the chart of the iShares FTSE NAREIT Mortgage REIT Index (BATS:REM) below, the near-term trend in the sector is still very strong and should continue in 2012.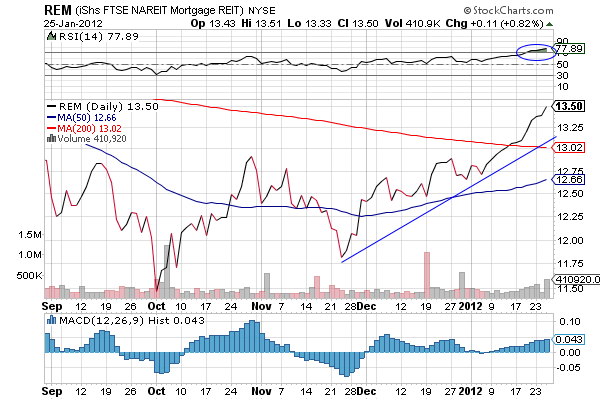 Mortgage REIT Overview
Mortgage REITs take advantage of a tax status to invest in mortgage related real estate assets. REITs can invest in both physical real estate assets and real-estate related securities like mortgage-backed securities ("MBS"). REITs electing the take advantage of the tax status must distribute 90% of taxable income as dividends. The primary advantage of using the REIT tax designation is that these companies do not pay state or federal corporate taxes on dividends paid to investors. Instead, the taxes are paid by the REIT equity holders (investors).
A mortgage REIT's principal business objective is to generate income for distribution to its stockholders from the spread between the interest income received on its mortgage-backed securities and the cost of borrowing to finance its acquisition of mortgage-backed securities. In addition, most mREITs utilize leverage to boost shareholder returns.
As discussed above, the "new normal" of sub-par, uneven growth with structurally high unemployment will likely persist for years to come. We believe that this is an ideal environment for mortgage REITs, which benefit from a steep yield curve with low short-term funding costs.
The Best mREITs to Buy Now
We think agency REITs continue to offer investors the best risk-adjusted yield due to (1) limited credit risk, (2) a relatively steep yield curve, (3) slower expected prepayment speeds, and (4) an accommodative Fed that has a stated plan of maintaining short-term interest rates (biggest risk to mREITs) for nearly three more years (late-2014). That said, we caution investors to watch interest rates and prepayment rates very closely if invested in the space.

Agency REITs with bias toward Fixed Rate Mix
Agency REITs with bias toward Floating Rate Mix
We are long-time holders of Annaly and American Capital Agency, which continue to be our two favorite mREITs in the space. Please see the links below for further details.

In addition, we have cautioned investors to stay away from non-agency focused REITs like Chimera Investment Corp. (NYSE:CIM) due to higher relative credit risks.