In its latest monetary policy proclamation, the Federal Reserve announced that it will likely extend the window for near-zero interest rates until at least late 2014. There was no hint of QE3, however during the conference call later in the day, Chairman Ben Bernanke indicated that "there is a case for additional policy action" if unemployment remains high and inflation remains low. I think these signals will add further pressure to central banks engaged in low interest rate policies.
Competitive devaluations are sure to continue with more easing to come in an effort to prevent currencies from appreciating "too much" over the U.S. dollar. For example, weak conditions in the U.S. will surely imply weaker conditions to come across Europe. At least until the next phase of competitive devaluations begins in earnest, I prefer to play the commodity currencies, especially the Australian dollar (NYSEARCA:FXA), against renewed weakness in the U.S. dollar. This is consistent with my note earlier this month that the QE3 rumors required an imminent repositioning against the U.S. dollar.
A economic slowdown in China is always a looming risk for the "Aussie." However, the prospect of increased buying of commodities by Japan further supports my decision to reverse a call in early December to moderate bullishness on the Australian dollar. Even if the Reserve Bank of Australia (RBA) cuts its rates further, it is starting from a very high base (currently 4.25%). Moreover, the lesson from the financial collapse is to use a crash in commodities as an opportunity to stockpile.
Such activity such put a natural floor under the Aussie. The Canadian dollar (NYSEARCA:FXC) is not quite as attractive given Canada is likely to keep pace with low rates in the U.S. (for more details see "Will the Real Safety Currency Please Stand?" from September, 2010). Moreover, I suspect the Bank of Canada still maintains a base case for its currency to track parity with the U.S. dollar, and it is at parity now (for more details see "Bank of Canada's Base Case Straps Its Dollar Around Parity With U.S." from January, 2011).
So far, the Australian dollar has risen with the general market. The Aussie has gained 4.3% against the U.S. dollar this year while the S&P 500 has gained 5.4%. (Note that last year, both of these financial instruments ended the year flat, excluding dividends). At this point, I would wait for a dip before buying more.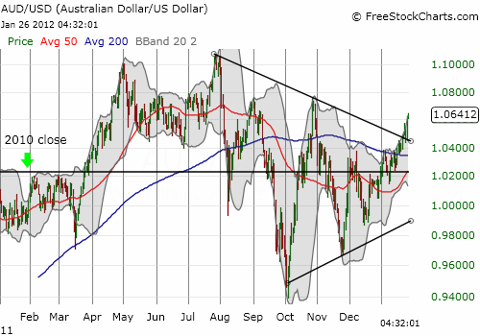 The Australian dollar is breaking out again versus the U.S. dollar
Gold (and silver) are also all the more attractive for buying on the dips. Indeed, gold broke out today above a downtrend from the recent peak in September and broke out above its 50-day moving average (DMA). The SPDR Gold Trust (NYSEARCA:GLD) shows this move: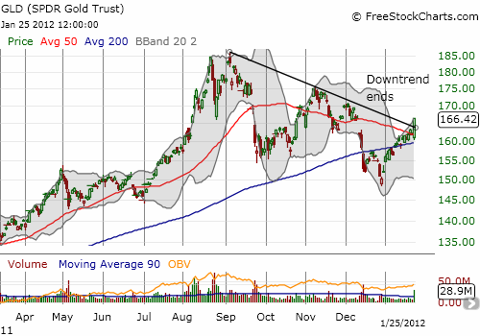 GLD breaks out
Gold miners like Goldcorp (NYSE:GG) had an even bigger day with a 6.9% pop.
Finally, the dollar index seems to confirm lower levels ahead as it has made no progress in a month and failed to break through overhead resistance set by highs from December, 2010 to January, 2011.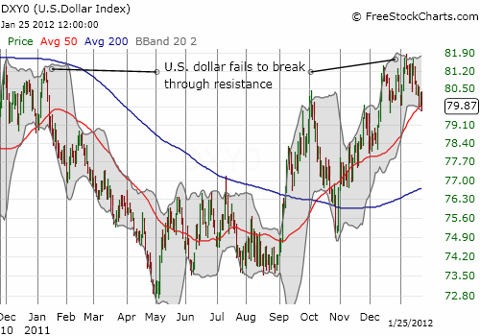 After a strong relief rally, the dollar index looks ready for an extended rest at lower levels
Source for charts: FreeStockCharts.com
Be careful out there!