A recent rather honest assessment of QE published earlier this year by an economist at the Congressional Research Service was rather brutal in documenting the failure of the successive waves of QE in achieving the objective of stabilizing inflation, neutralizing asset bubbles and increasing interest-sensitive spending. Due to the specific nature of the 2008 crisis, the focus has been primarily on the housing market and stabilizing that market. In the early stages of the crisis, lack of liquidity was the primary concern, with high delinquency rates on mortgages. Accordingly the Fed initially provided liquidity, through both traditional mechanisms such as the discount window and the creation of emergency credit facilities.
This having proved inadequate, unconventional monetary policy was launched in three successive waves (March 2009-May 2010, November 2010-July 2011 and finally October 2012-October 2014). These large scale asset purchases were primarily targeted to the housing market.
What about non-mortgage consumer debt? In general, while total debt value declines with inflation, debt service ratios decline when interest rates decline. QE, since its inception has kept short-term interest rates very close to the lower bound. But non-mortgage household consumer debt doesn't seem to have been affected by these efforts of the Fed, as the following four facts seem to bear out.
Commercial bank interest rates for credit cards have not been affected by the Federal funds rate.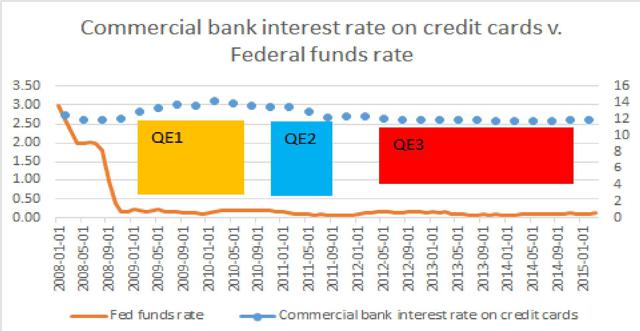 Sources: frb.gov and stlouisfed.org.
Over the successive QE's not only did the commercial bank interest rate for credit cards not follow Fed funds, sometimes (during QE1), it moved in the opposite direction. The risk premium represented between this interest rate and Fed funds here seems considerable-close to 10-12% average during the period. This goes against another fact that I found on non-mortgage debt service payments (below).
II. The non-mortgage consumer debt service ratio declined with the credit card interest rate with a lag.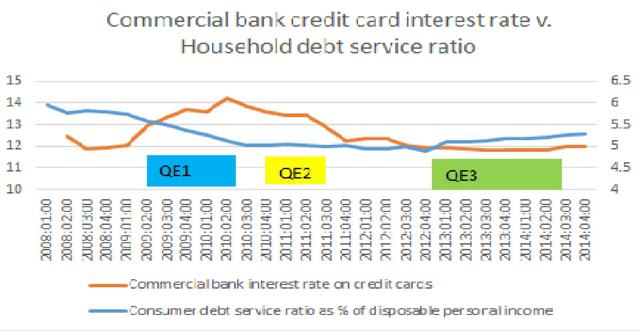 Sources: frb.gov and stlouisfed.org.
The buzz-word for consumer debt has been "deleveraging" since the 2008 crisis. One would think that consumers would have had ample opportunity to do so, given historically low interest rates. But as the following graph comparing credit card interest rates and non-mortgage consumer debt service ratio shows, debt service ratios declined somewhat only towards the end of QE. That period also showed a considerable decline in credit card interest rates (almost 200 basis points). If there is any relation between Fed funds and commercial bank credit card rates, the relation between the latter rate and consumer debt servicing seems to be pretty tenuous.
III. Quantitative easing has had a more marked effect on mortgage servicing.
Source: frb.gov.
Given the above, it should come as no surprise that the biggest effect of quantitative easing has been on mortgage servicing ratios. Both QE1 and QE2 have had quite a dramatic effect on mortgage servicing ratios as a percentage of disposable income. On non-mortgage consumer debt, not so much, with the level of this variable has been more or less constant throughout.
IV. There is very little effect (so far) on inflation rates and household deleveraging.
Sources: stlouisfed.org and frb.gov.
If the constancy of the non-mortgage consumer debt servicing ratio represents deleveraging of households (or at least not an increase in indebtedness), this ratio has not been much affected by changes in the inflation rate, as one would think. The close to deflationary time between the third quarter of 2009 and the first quarter of 2010 saw a small decline in the consumer debt servicing ratio-but one way or the other, there does not seem to have been much of an impact.
What conclusions can we draw? Non-mortgage consumer debt servicing seems to have been curiously and stubbornly constant throughout QE. One could conclude that, notwithstanding the high level of credit card interest rates, there has been some deleveraging as households have taken advantage of low interest rates. It seems that to the extent that QE has had some positive effect on clearing out sub-prime mortgages from the system (probably to a limited extent), any future increase in interest rates will probably increase the non-mortgage consumer debt ratios, any deleveraging starts to unravel.
Disclosure: The author has no positions in any stocks mentioned, and no plans to initiate any positions within the next 72 hours.
The author wrote this article themselves, and it expresses their own opinions. The author is not receiving compensation for it (other than from Seeking Alpha). The author has no business relationship with any company whose stock is mentioned in this article.